Ronnie Whelan

Euro 2012 Columnist

IF TRAP WANTS TO CONTINUE WITH LONG BALLS THEN HE HAS TO GO
The Football Association of Ireland (FAI) should have a good long chat with Giovanni Trapattoni now because the way we've played at this tournament is probably not going to get us through to the World Cup. This conservative style is not good enough. Every other team in the competition looks like they want to pass the ball, except Ireland. We can't go on hitting it long into the box, hoping for a lucky break, and if Trap wants to play that way, then I think that he has got to go.
This pattern of play may be engrained in the players after four years, but ultimately it starts from the manager. We've complained about it, but because we've got through to the European Championship, our complaints make no difference. I think the manager has to look at himself and ask why we did so badly.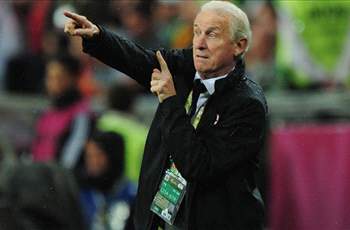 "His style of football doesn't work against the top teams"
He never made one big decision at the Euros; whether that was to leave Robbie Keane out in favour of someone quicker like Shane Long, or even to take Keane off, or to take someone like John O'Shea off when he looked off the pace.
The style of football he plays doesn't work when you come up against the top teams but I don't think he'll decide to change. He put out the same team in the Italy game because he wanted to play the players that got him there. That sentimentality has no place in this game. How many other managers in that competition would pick the same team after losing 3-1 and 4-0? None of them probably.
I think Trapattoni believes that his system is the one that gets results but I don't think that he can be too impressed with his own record at major tournaments. He has two wins in 10 games and one of those wins came against Ecuador.
I feel that we've got to look for a new, younger manager, with new and younger players, that will get the team playing football. It might not happen straight away and sometimes you have to go back before you can go forward but it has to be done. We've papered over a lot of cracks in getting to this tournament.
All along, it was obvious against teams like Russia and Slovakia that we were playing an inferior brand of football, but we pulled the results out, just about enough to get us through and somehow, stupidly, we went and thought that we could get out of a group with Italy, Spain and Croatia.
Our hearts took over and thought we could do it, but when you look at it sensibly, our style of play wasn't good enough to get out of the group. Everybody went there with great expectations but it's been a huge reality check. There's nothing there at the moment, not even one or two young players with a foundation to build on because Trapattoni kept playing the same team.
It's a phrase that's used a lot in football, but Trapattoni needs to 'bite the bullet'. Sometimes you just have to let go of sentimentality and make difficult decisions that might seem harsh on a few players.
There is not one positive to come out of this tournament.
SENIOR PLAYERS AT A CROSSROADS
After Ireland's tournament was officially finished, a few players came out and said they might retire, but I don't think this should be the end of the road for them all. Shay Given can still play international football and I would also want Richard Dunne to stay on. I'm not so sure about Damien Duff as it looks like he wants to call it a day but Robbie Keane wants to stay and I'm not sure about John O'Shea. I think we definitely need one or two fresh faces coming in. The starting line-up has six players who are over 30.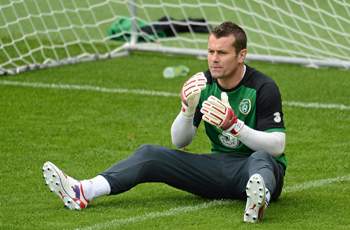 "I want Given and Dunne to stay on"
Maybe Shay's sharpness had gone with the injury. He was certainly fit but I think the sharpness that goalkeepers need just wasn't there, because it's very unusual for Shay Given to make the mistakes that he has made in this tournament. But he is the best goalkeeper we have and he is, on his day, still one of the best goalkeepers out there.
I'm sure he isn't happy with his performance and maybe he'll want to stay to prove that this was just something that happened to him. Unfortunately it happened at a major tournament.
I would say the likes of Richard Dunne will still be involved in a couple of years, but I don't know about Damien Duff, who'll be 35 coming into the World Cup in 2014. However, I think if they're even just part of the squad with young lads coming through, they can help bring them along with their experience.
I LIKE WHAT FRANCE ARE DOING BUT ENGLAND WILL STRUGGLE
I was very impressed by Portugal in their game against Netherlands. Cristiano Ronaldo played very well. The Germans have also been quite impressive.
I'm not overly convinced by the Spanish team, as much as you would normally expect to be by the tournament favourites. They struggled to win against Croatia and they struggled to get a draw against Italy. They demolished Ireland, but everyone can beat the Irish at the moment.
I like what the French are doing. They were quite good against England. As much as England have been getting results, France passed them off the park and I think they'll struggle against tougher opposition like Italy, Spain and Germany, who are easily ahead of them in terms of quality.