Gabriele Marcotti

Euro 2012 Columnist


Follow on
They say they aren't worried. They insist everything is fine. They assure us they will get stronger as the tournament wears on. Will they? Spain sound bullish by insisting that their glass is half-full. They trot out the usual litany of statistics: nobody has scored more, nobody has conceded less, nobody has taken more shots on goal and, of course, nobody has enjoyed a greater share of possession (that last one, of course, is thoroughly unsurprising).
So do we believe them after three games which included one average display against Italy, one good one, albeit against a horrible opponent like Republic of Ireland, and a decidedly poor one against Croatia? Yes. At least, I do. And you should too.
Because we have reached the knockout phase of the Euros, you would be a fool to say Spain are definite winners: in do-or-die situations like this, where the fate of a campaign rests in 90 minutes, the best side does not always win. But make no mistake about it, Spain are the best team here. And, what's more, they have several levels they can yet go to.
We can sit and debate who should play up front - whether Fernando Torres, Fernando Llorente, Alvaro Negredo or Cesc Fabregas - but the reality is that Fernando from that ABBA song could lead the line and Spain would still be favourites against anyone.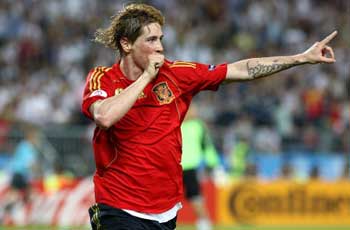 "Fernando from that ABBA song could lead the line and Spain would still be favourites against anyone"
Yes, Vicente Del Bosque needs to find the right combination. But he's had three games in which to do it and, you would presume, he has learned something along the way. Against certain opponents it may be
Torres. Against others, Cesc and the striker-less system. Against others still you go with the big man, Llorente. The point is that even if he puts the wrong guy out there, there's always a Plan B. And
a Plan C, for that matter. Probably Plans D through F too.
Besides, all the focus on the attack is also a function of the fact that most of the rest of the squad is falling into place nicely.
The creative bits of the midfield, of course, never needed much tweaking. But Xabi Alonso has found his space, a few yards ahead of Sergio Busquets, meaning the tandem of holding midfielders which sat so deep - almost comically so - against Italy is no more.
Sergio Ramos is his usual beast-like self, Iker Casillas reminded us why he's one of the top three in the world and Gerard Pique is back to the 2010-11 model.
Jordi Alba is growing nicely on the left flank, and, while Alvaro Arbeloa is still Alvaro Arbeloa, doing his wind-up soldier act with little quality shtick down the right, at least he doesn't do any defensive damage. Iron out those last two kinks and Spain will be just fine.
The good news is that the sparring partners on the way to the final in Kiev look a soft touch. France are coming off an ugly defeat to Sweden and a post-match dressing room bust up, of the kind that made you fear Laurent Blanc had an attack of the Domenechs. It's not quite that bad, but not enough to worry Spain.
Next up would be either the Czechs or, more likely, Portugal. And, sure, you can suspend disbelief and imagine Petr Cech saving everything in sight while Petr Jiracek invents something out of nothing and Milan Baros rolls back the years.
Or Cristiano Ronaldo turning into a one-man wrecking crew and carrying Portugal on his back while Pepe and Bruno Alves scare the pants off Spain at the other end. But let's be realistic here. Cech will be the busiest guy on the pitch, Jiracek might see very little of the ball and there's a reason why Baros was in and out of the starting lineup at Galatasaray.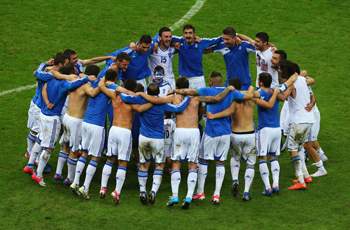 "Maybe Greece have another miracle in them and… actually, scratch that. This is football, not sci-fi"
As for Ronaldo, bear in mind that most of this Spain team sees him week in, week out: if anyone has the right kind of kryptonite, they do.
And the final? Well, that could be different. Germany could exact some revenge for 2008 and 2010, especially if Spain let them counterattack. Or maybe Italy will repeat the feat of the opener, only with better finishing. Or perhaps - why not? - it will be England whose banks of four choke the tiki-taka out of La Roja.
Or maybe Greece have another miracle in them and… actually, scratch that. This is football, not sci-fi.
The point remains. Against most opponents, Spain don't need to come up with anything out of the ordinary, they just have to execute.
And that is what they have been doing, with such ease in fact, that they've been quietly growing in other departments. They've set the bar so high, sometimes they don't reach it. But, don't forget, they're still jumping higher than everyone else. And, with every jump, they improve.
Gabriele Marcotti is a correspondent for The Times and a regular writer for Italian publications Corriere dello Sport and La Stampa. He is also a regular guest on British radio station talkSPORT, as well as ESPN's 'Press Pass' television show. Marcotti has also written three books; 'Paolo Di Canio: The Autobiography', 'The Italian Job with Gianluca Vialli' and 'Capello: Portrait of a Winner'.