Cristan Nyari


Germany Expert

Follow on
Not long ago, Joachim Low was labelled a man who was too easily influenced by the media, but over the last two years he has side-stepped and overcome all the scrutiny. After a strong start in the Group of Death at Euro 2012, he has put Germany in the best position yet to end their 16-year trophy drought.
Before the Euros began, German football publication
Kicker
conducted a poll to ascertain the starting XI their readers wanted to see at the tournament. In goal, the outcome was pretty unanimous. Only Manuel Neuer received more votes than talented young Borussia Monchengladbach custodian Marc-Andre ter Stegen, who many considered the best in his position in the Bundesliga this past season. And although he was called up to the preliminary squad, he was dropped in favour of both Tim Wiese and Ron-Robert Zieler in the final 23.
In defence, Mats Hummels was the clear first choice, receiving more votes than any other candidate. Yet he remained behind both Per Mertesacker and Holger Badstuber for the majority of the Euro 2012 warm-up games and only an injury to the Arsenal man pushed him ahead in the pecking order in time for the opener against Portugal.
Elsewhere, Marco Reus, Toni Kroos and Mario Gotze were all preferred ahead of Lukas Podolski, but none found themselves starting and two have yet to even feature in the tournament at all despite having outperformed Podolski for their clubs this past campaign.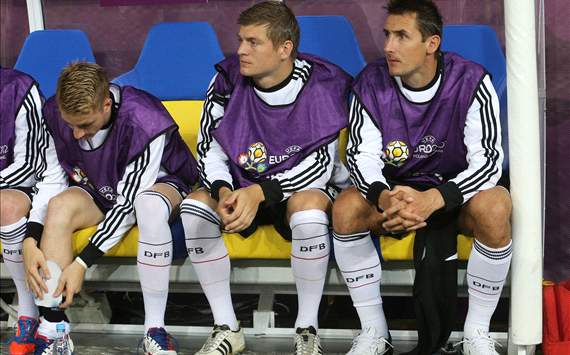 Helpless onlookers
| Low has been careful with his substitutions in Poland and Ukraine
With a seeming shortage of in-form strikers leading up to the finals, there was also pressure on Low to select Wolfsburg's Patrick Helmes and Bayer Leverkusen's Stefan Kiessling after impressive performances in the second half of the season. But Low refused to budge and instead selected the out-of-form Cacau in the preliminary squad and eventually excluded a third striker from the final selection altogether.
Mario Gomez was given the start in Germany's high-profile friendly against Brazil last year. After a fruitless first half for the Bayern Munich marksman, Low brought on Miroslav Klose at the break. It ultimately changed the game and Die Mannscaft beat the Selecao for the first time in nearly two decades. That game epitomised the discrepancy between the two strikers and why Klose, despite Gomez's great league form, had always been first choice.
With an international pedigree bettered only by the legendary Gerd Muller, Klose was also the expected preference for Germany going into the Euros. But Low shocked everyone and started the man who was still considered by many to be under-performing at international level. Even a match-winning goal in the opener against Portugal did not convince the masses, with pundits and fans singling out Gomez's subdued overall display. The most glaring of all criticism came from former international turned pundit, Mehmet Scholl, who suggested the player's lack of pace and workrate could have led to major problems.
Low could have easily given in to the intense pressure, but he approached Gomez in a team meeting after the match and reinforced his trust in the 26-year-old, praising him for his hard work and the crucial match-winner. Even so, there were rumours ahead of the clash with Netherlands that Low would pick Klose up front, but he stuck to his guns and gave the Bayern man another start. Of course, Gomez repaid the faith with arguably his best performance in a Germany shirt. Scholl retracted his comments and the Bayern hotshot quickly turned into a national hero.
Low recognised the importance of maintaining a player's momentum while Gomez relies on the confidence and trust of his coach to perform at his best. Because of Low's astute man-management abilities, the striker has not only stepped up his game but the team also benefitted in the end. Had he benched Gomez it could have undone all the progress he made and prevented the team from settling into the comfortable position they are in now to reach the quarter-finals.
Reus, most people's choice for Bundesliga player of the season, Andre Schurrle, a player with one of the best goals-to-minutes ratios in international football at the moment, and Gotze, two-time Bundesliga champion before the age of 20 and dubbed the 'German Messi', are not just some of German football's most talented players but three of the finest prospects in world football. They have not played a single minute for Germany at the Euros so far.
If Eriksen is not the key to open up the German defence on Sunday evening, then what can Denmark do?
All three of the goals that Denmark have scored at Euro 2012 have come from passes coming from the flanks, and since Denmark will continue with a 4-3-3 formation in the Germany game, this will again be the key to their chances of pulling off a shock victory.
Schurrle's seven goals in 14 matches have led many to call for his inclusion in the starting line-up in place of Podolski, while both Reus and Gotze have impressed in their brief time with the national team. Reus recently admitted his frustration with just watching from the bench, yet Low's substitutions in his first two matches have followed a more cautious pattern. Kroos, a more defensive option in comparison, Lars Bender, who did not feature in any of his country's Euro qualifiers, and Klose have all been introduced late on.
Die Mannschaft's opponents may have played a part in Low's substitutions, but the depth in quality has not been this good in a long time. As a coach previously lauded for his dynamic attacking qualities, taking a more conservative approach made it a bold and almost counter-intuitive move.
Should Podolski feature against Denmark on Sunday, he will collect his 100th cap for the national team, becoming the youngest German footballer to reach that milestone ... and in the quickest period of time to boot. Yet he might be the most controversial decision of all. Podolski has scored only three goals in his 20 games since the World Cup and has been unanimously selected as the team's most disappointing player in their first two games in Poland and Ukraine.
Wolfsburg coach Felix Magath recently voiced the sentiments of many when he speculated that Podolski's mind was focused on his move to Arsenal rather than on the task at hand, and that he will not be able to contribute much to his team on the field in this form.
Despite the left-sided forward's lack of goals and media pressure to use the plethora of options on the bench, Low has maintained his trust in the Arsenal-bound player. Following their win against Netherlands, Low singled Podolski out for his important defensive work, saying that he has rarely seen him play with so much discipline and that he was more than satisfied with his performances so far.
With this more defensive set-up, though, there might be a method to Low's madness, and Podolski could indeed play a key role. It would not be the first time the coach has gone against the grain.
For all the scrutiny and criticism, Low's decisions have proven to be the right ones so far. His substitutions helped see out important results against two tournament favorites and his man-management has improved the performances of key players. Whether everything works out remains to be seen, but Germany look much more likely to win a major tournament than they did four, or even two, years ago.