COMMENT
By Maximilian Bensinger
It is the 62nd minute of the 2010 World Cup final and Arjen Robben is one-on-one with Iker Casillas. He fails to score and Netherlands lose the final in extra-time to Spain. Barely one month before, he had lost the Champions League final with Bayern Munich. All of a sudden, a season which could have been the best of his entire career had become a nightmare.
FIVE BIG GAME FLOPS BY ROBBEN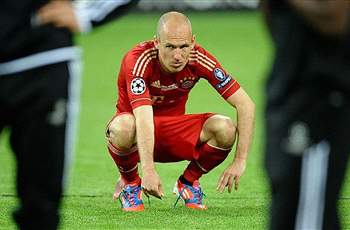 2010 CHAMPIONS LEAGUE FINAL
BAYERN 0-2 INTER

Fails to win the European Cup as Diego Milito inspires Italian side to victory
2010 WORLD CUP FINAL
NETHERLANDS 0-1 SPAIN

Misses a one-on-one with Iker Casillas as Spain win the World Cup in extra-time
BUNDESLIGA
DORTMUND 1-0 BAYERN

Misses a penalty chance minutes after playing Robert Lewandowski onside for the winner
2012 CHAMPIONS LEAGUE FINAL
BAYERN 1-1 CHELSEA
Misses a penalty in extra-time as Bayern lose to Chelsea in a shootout at the Allianz Arena
EURO 2012
NETHERLANDS 1-2 GERMANY
Holland lose again and Robben reacts angrily to being substituted, storming from the pitch
If the Bayern star had won the European Cup and had kept his nerve against Casillas, then being crowned the world's best player would have been inevitable.
But everything went the other way and since then nothing seems to be like it was before.
Facing the possibility of winning multiple titles is just a rather incidental detail which at the same time sums up the whole dilemma of the Dutch people.
Since then, Robben has given evidence of his incredible qualities, but the bright moments are getting less and less frequent and his game increasingly individual.
Additionally, as he highlighted in his first campaign with Bayern, he had to take an entire team out of a critical situation.
Whether it was stunning goals against Fiorentina or Manchester United or crucial standards like in Bremen, the Dutchman was there when the game was on the edge.
If you assigned the same attributes to the Robben of the present you would gain huge laughter or sad faces as a response.
The missed penalties against Borussia Dortmund and Chelsea are not the only evidence.
These days, the Oranje star appears to be invisible in many important games. His performances swap too often between light and shade.
Many ask themselves: what is going on? The European newspapers question it and quite often you read about so-called mental problems.
Still, there is a sparkle of truth within that. Since that fateful World Cup final Robben is missing old strengths.
The Champions League final is a characteristic example of his dilemma. Again and again Robben tried to find the back of the net with shots from distance, but only a few actually found their way to Petr Cech's goal.
Now Robben is 28 years old - often seen as a footballer's 'prime' - and both the Dutch and Bavarian people are asking themselves: will he ever be as good as in 2010?
Nobody can answer this question, but it should be remarked that this is a player who has already experienced several lows in his career.
What he needs is a feeling of success. In Netherlands, people want to see him playing on the left wing against Portugal. That is where his career started and where he shone in the recent friendly match against England as well. As soon as the knot is undone, the path will be clear for the old Arjen.