Peter Staunton


Ireland Expert

Follow on
COMMENT
Ireland are out of Euro 2012, the first team to have their exit confirmed. They have conceded seven goals in two matches, scoring only once, predictably, off a set-piece. Qualification to the tournament brought with it unbridled joy and optimism beyond any realistic scale, betraying the technique, skill levels and capabilities contained within the squad.
And the opening two Group C matches exposed Ireland on multiple levels. This team are not quick or strong enough, they did not compete as manfully as they have done in recent years under Giovanni Trapattoni and, most tellingly, their rudimentary play was blighted with embarrassing errors and mishaps. Individual mistakes, against the likes of Andorra and Macedonia, with all due respect, will only cost you so much. But against teams of esteem, in major tournaments, errors are punished and punished hard.
Croatia and Spain can scarcely believe their luck. To be given goals at the start of each half in both games is absolutely inexcusable. It is embarrassing. To concede goals from short corners, a farce. Failing to clear the ball, failing to pass the ball and facilitating, time and again, Spanish raids on goal show an incompetence unmatched by any team at Euro 2012.
Russia battered Ireland, twice, in the qualification campaign but took four points, not six. The draw in Moscow was the luckiest escape you are ever likely to see. It wasn't a success, it was a freak result. Not a victory for tactics, it was, instead, a defeat for football.
And at Euro 2012, Croatia and Spain showed what happened when that luck runs out. Ireland were hopeless and hopelessly equipped to compete. They ceded 75 per cent of the ball to Spain, who went on to complete 91% of their passes. That 75% equated to 890 passes. No team in a European Championship has ever gorged themselves on possession as Spain did in Gdansk.
PAIN FROM SPAIN


Shots
On Target
Possession
Total Passes
Bookings
Red cards

SPAIN
27
15
75.9%
860
2
0
IRELAND
6
2
24.1%
254
3
0
Xavi, alone, found a colleague 127 times from 136 attempts. Again, a tournament record. By the end of play, the only statistic Ireland were winning was 'Long Passes Attempted'. Telling. Chelsea versus Barcelona was the blueprint for the game against Spain but that lazy summation gives lie to the fact that Ireland's players are good enough to stifle Spain's. They are not.
Raymond Domenech, before the 2010 World Cup play-off, described Ireland as 'England B' and had opprobrium heaped upon him. But the truth hurts. Domenech is right. Ireland do play like an England B team ... an England team picked from the lesser Premier League clubs and also-rans in the Championship. Some don't even have clubs at all.
What is required now is a thorough post-mortem of, not only Euro 2012, but the slow disintegration of Irish football. We cannot be expected to hone a football identity while the collapse and neglect of clubs in the Airtricity League continues. Dundalk can barely submit a week-on-week budget and the list of defunct clubs stretches uncomfortably long in the recent past.
Ireland's fans have been praised for following their national team through the thick and thin of Euro 2012 but it is a conservative estimation that less than 5% of those present in Poland will be present at a League of Ireland ground next weekend when domestic action recommences. Instead, the Manchester United jerseys and the Liverpool colours will be back on and plans will be made for a trip to Old Trafford or Anfield.
Try explaining that to a Dinamo Zagreb fan or a Celta Vigo fan. I'm sure the reverence towards Ireland's fabled support would become dubious. The supporters were lauded for singing until the final whistle. Four-nil down and singing. Asking for more. Like the nation itself voting yes in the Fiscal Pact Referendum, asking for more punishment. Enough is enough. There should have been rebellion, distaste, disgust. People have spent money they simply don't have to go to Poland and watch that rubbish. It is an insult. But it won't change so long as the supporters are identified as the perfect football fan.
And while the shunning of domestic football continues, Ireland will lose its best talents, early, to England. Promising young players will have the football coached out of them, as has been the case for generations. The Irish national team was the only squad at Euro 2012 not to have a player supplied to it by its own domestic league. That must change.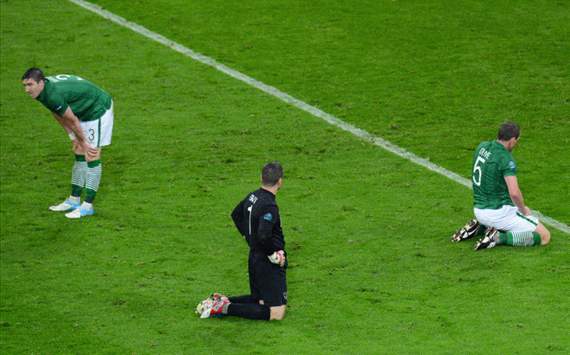 Boys will be boys | Euro 2012 exit gives Ireland a chance to pick themselves up
In the long term Ireland needs to develop a formation, for the senior team down to the Under-15s and stick with it, become comfortable in it and express it. In the meantime, Trapattoni simply must play three men in centre midfield and use the pace and guile of Shane Long up front as a reference point for attack. Roots must be put down and an Irish style of play developed through the teams in the league and through academies. Until then, we will continue to hoof the ball up field and hope Kevin Doyle can battle for a free kick. The ball retention issue will not go away.
Aside from Keith Andrews, at the tournament, there is not one single player capable, or willing, to put his foot on the ball and pick out a pass. While a change in the composition of the squad may rectify this problem in the short term, long term remains both the problem and the goal.
Croatia, with a population comparable to Ireland's, have produced, in the last 20 years or so Zvonimir Boban, Robert Prosinecki, Aljosa Asanovic, Niko Kovac, Darijo Srna, Luka Modric and more. Players adept at keeping the ball, players with technique, assuredness and technical ability. That should be our aim now. And that can only come through investment and support in Ireland's clubs.
The Trapattoni reign will continue. That's fine. The Italian can only be held accountable for so much at this tournament. He put his team out to defend stoutly and take chances on the break. They didn't do that. Individuals made unforgivable errors at vital times. Trapattoni is an astute manager and a loyal one. He remained faithful to the players who qualified Ireland for the championship and gave them one last day in the sun. But the curtain now needs to be drawn on this generation.
Shay Given, who has played as badly as he has ever done for Ireland at these finals, Richard Dunne, John O'Shea, Damien Duff, Robbie Keane and insufficient fringe men like Stephen Hunt and Paul Green need to take their cues and leave. There may not be a generation of world beaters challenging them for a place in the team but the time has come for fresh impetus. Aiden McGeady, Long, Darron Gibson, James McClean, James McCarthy, Greg Cunningham and Rob Kiernan now need to be given the chance to play and write their own legacies.
Euro 2012 is the end of the line for Ireland's old stagers. It should be the end of the line for the cursed Irish 4-4-2. That formation has been shown up as inept, archaic and damaging. It is tough enough competing against Spain three on three in midfield. Two on three is stupid.
Irish football fell far at Euro 2012 but it need not be the end. This should be time for renewal, cleansing. It should be a scrubbing of inferior attitude, inferior technique and an acceptance that we are doing things the wrong way. Lessons must be learned from this Euro 2012 debacle. New players, new tactics, a new mindset, new men in charge of the incompetent kleptocracy that is the FAI. This opportunity must not be wasted.
We need a new Ireland.