After appearing to choke on the biggest of stages against Spain, the Manchester City forward could be dropped, but can his likely replacement handle the physical pressure?
COMMENT
By Alex Mott
Sergio Ramos had just given the ball away on Spain's left-hand touchline. He knew, at this level, that conceding possession in such a position was tantamount to footballing suicide. He turned and sprinted back in the vain hope of trying to stop Italy from opening the scoring.
The 44,000-seater stadium in Gdansk was a cacophony of noise as the Real Madrid defender moved towards the ball. Against all the odds, the 26-year-old got back in time to slide in and knock the ball to safety. He could barely believe it.
And with that, Mario Balotelli had hammered the final nail in his own Euro 2012 coffin.
The Manchester City forward's hesitancy when bearing down on Iker Casillas' goal was the straw that broke the camel's back, and confirmed to all the naysayers why the 21-year-old should not be in the Azzurri's starting XI. He was petulant, often lazy and, in that instance, incredibly naive.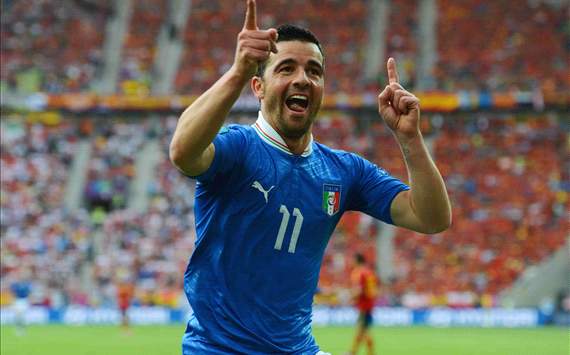 When a striker of Di Natale's quality is on the bench, is it worth waiting for Balotelli's instances of genius?
Coach Cesare Prandelli put it best when he said after their Group C opener: "I don't know what happened to Mario when he was alone in front of their keeper. He should have passed it to [Antonio] Cassano."
Some may say that that is the price you pay for the moments of magic that 'Super Mario' can often conjure up. But when a striker of Antonio Di Natale's quality is languishing on the bench, is it worth waiting for those precious instances of genius?
Many, of course, will say no. Four minutes after replacing Balotelli against La Roja, the Udinese forward had scored with his first touch; receiving the ball from Andrea Pirlo inside the area, opening his body, and slipping it past Casillas. It was a finish to which we have all been accustomed from a striker who has won two of the last three Capocannoniere awards as Serie A's top scorer.
But fitness is big sticking point as to whether he should start alongside Cassano on Thursday against Croatia. The 34-year-old has been plagued by knee injuries for a large part of his career, and the only reason why he has played the majority of Udinese's games this season is due to the fact that he trains from Monday to Thursday away from the team with his own physio, carrying out a personalised training programme. The fact that the Azzurri will be playing three group games in the space of eight days may just be too much for him.
What seems likely is that some sort of alteration will be made. "I have got a change in mind, a slight doubt that I am thinking about, but I will wait until the last minute to decide," Prandelli told a press conference ahead of the match.
"Whatever starting line-up we go with I can say now that we intend to use all three substitutes, and to give each time to get into the match and make an impression. Substitutes are absolutely crucial in the modern game, as we saw against Spain if you use them right they can come on and make a difference."
The coach remains cagey on whether Balotelli might be limited to such a role, straight-batting questions on the controversial forward by simply insisting: "He has been concentrating very hard in training."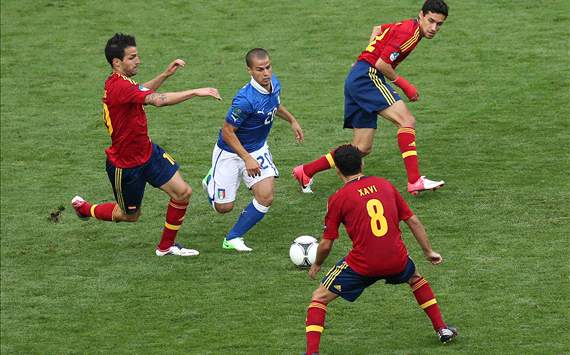 Creative spark | Giovinco caused problems when he was thrown on against Spain
Italy have, of course, shown their tactical flexibility. With many before the tournament expecting them to line up in a 4-3-1-2, they started the game against Vicente del Bosque's side with a 3-5-2 formation. It shows how adaptable this new Nazionale are, with an influx of options available to them throughout the 90 minutes.
That could work in favour of Parma's Sebastian Giovinco. The 25-year-old has had a magnificent season with the Gialloblu, and his ability to move between the lines of midfield and attack may be something that Prandelli will look to exploit.
Only once did Italy achieve that during the match against Spain, and that was when Pirlo drifted past Sergio Busquets to set up the opening goal. Up against an expected Croatian midfield of Luka Modric, an advanced Mario Mandzukic and Ognjen Vukojevic in the holding role, Giovinco's inclusion could be a viable option.
More wildcard picks such as Fabio Borini and Alessandro Diamanti could get their chance but, with only two caps between them, a starting berth is perhaps a step too far.
Republic of Ireland showed on Sunday that Slaven Bilic's side certainly look vulnerable defensively, but Prandelli will be careful to pick his best possible forward line from a wealth of varying options. Even if that means starting Mario Balotelli.