Mark Doyle


Italy Expert

Follow on

COMMENT
"If I say what I really think, then there's going to be chaos,"
Antonio Cassano
mused during a press conference on Tuesday as he addressed a question about gay players within the
Italy
squad.
The forward clearly has a rather poor understanding of what sparks chaos because, with his very next breath, he admitted that he hopes there are no homosexuals - or, as he put it, "froci" ('poofs', 'faggots', 'queers' - take your pick) - in the Azzurri dressing room. Cassano was therefore either being deliberately inflammatory or unintentionally ignorant.
The laughter which accompanied his words suggests the latter, the 29-year-old Barese presumably believing that there was nothing offensive about what he was saying. The AC Milan attacker was not laughing later, though, as his agent was readying an apologetic statement on the player's behalf.
One imagines, though, that Italy coach Cesare Prandelli had not seen the funny side at any point in the proceedings.
As Cassano himself admitted, his coach had warned him that he would be asked about journalist Alessandro Cecchi Paone's claim that there are two gay men and one bisexual within the Nazionale's 23-strong panel of players. In spite of this, Cassano elected to publicly express views that were always going to spark a media furore. Far more significantly from the Azzuri's perspective, though, Cassano's comments could also now cause a divide within the camp.
Cecchi Paone claimed that he knows for certain that there are two homosexuals are in the squad because he had a relationship with one, who told him about the other. The 51-year-old Roman also maintained that Prandelli knows the identity of both of the gay men. The veracity of these claims is known only to those involved, though it is worth noting that Prandelli wrote the foreword for Cecchi Paone's recent book on homosexuality in sport, 'Il campione innamorato - giochi proibiti nello sport (The champions in love - forbidden games in sport)'.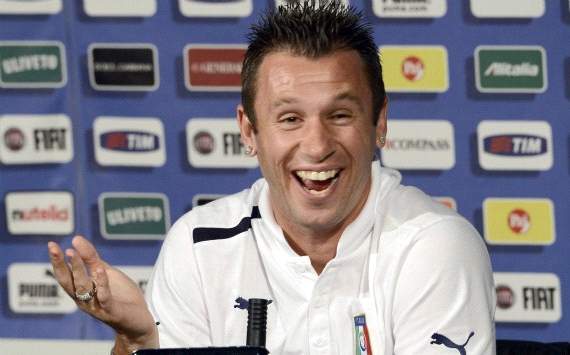 No Laughing Matter | Cassano sparked outrage with his allegedly homophobic outburst
If Cecchi Paone is telling the truth, Cassano's outburst would have only served to confirm the two players' worst fears about how some of their team-mates would react to their sexual orientation, thus intensifying their sense of alienation and detachment from their colleagues. In addition, there is also a chance that some of their colleagues would have already been in the know and would been left feeling both bewildered and enraged by Cassano's public display of ignorance.
Of course, there is another issue here: the timing. Why did Cecchi Paone choose to make his admission now? Coming as they have in the middle of Italy's Euro 2012 campaign, was the sole intention to generate as much publicity as possible, with little regard for either the Azzurri's hopes of success or, much more importantly, the feelings of the players concerned? Cecchi Paone may feel as if he is doing right by bringing the issue to the forefront, but people should certainly not be pressurised into 'coming out of the closet' and besides, isn't the issue here that what a person does in their private life their own business?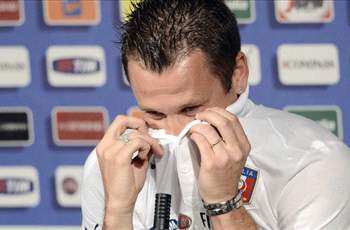 "Whether he meant offence or not, his words represented a setback in the fight against intolerance"
In addition, why exactly was Cassano asked about the whole affair two days out from Italy's crucial Group C clash with Croatia? The Rossonero should, of course, have kept his offensive opinions to himself, but what was the thinking behind the line of questioning?
It is difficult not to conclude the hope was that Cassano, one of the more engaging and jocular players within the Italian game, would provide the press with a soundbite. That he obliged in such a vulgar manner was terribly disappointing, and the criticism which has come his way is both wholly understandable and completely justified. Whatever his intentions were, he should have known better and his words represented another damaging setback in football's fight against intolerance.
However, it was disturbing to learn that some of the journalists who laughed with Cassano during the press conference later took up residence on the moral high ground as they lambasted the player for his homophobic comments.
It is worth remembering, too, that Gianluigi Buffon was last week forced to deal with thus far unsubstantiated claims of contravening Italian Football Federation (FIGC) rules by betting on football, just a couple of days after he had slammed the media for their sensationalist coverage of the Scommessopoli match-fixing scandal.
There is an overriding feeling here that Italy continue to be their own worst enemy; that there is a distinct lack of unity and understanding both within and between the Nazionale and the press. Indeed, nobody involved has come out of this well: not Cecchi Paone, not the press and especially not Cassano.
Truth be told, the obvious lack of respect among all three parties represents a depressing state of affairs for the Italian game, but not as depressing as the realisation that players' sexual orientation remains such an incendiary issue within football as a whole.