EXCLUSIVE
By Rob Stewart
Antonio Cassano has been branded "idiotic" by gay rights activists after revealing he hopes there are no homosexual players within Italy's Euro 2012 squad.
The 29-year-old AC Milan forward has since apologised for his admission during a press conference on Tuesday and is expected to represent his country in their Group C game with Croatia.
However, his comments have been met with a withering response from equality campaigners who have poured scorn on the international for his conduct.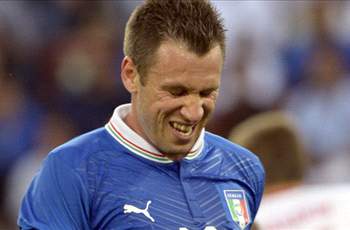 "Sometimes people say things that are not reported accurately in the press but it seems to be the stock excuse nowadays"
"The fact he is commenting on gay people in the first place seems a bit bizarre - it just seems to be a bit of an idiotic statement to make," Chris Basiurski, chair of the Gay Football Supporters' Network, told Goal.com.
"If he has not been misquoted then you would like to see the same kind of response from Uefa taken towards him as they would of their national FA as if he said I hope there are no black players in my team.
"We don't want any special treatment but we would like the sanction to be same as it would be for a player who would make a racist comment like that because it would be hefty.
"An England captain lost his job for allegedly saying something and he is now going to be hauled before the courts. I would be amazed if that happened to this guy. People would say it would be an over-reaction but I don't think it would be.
"I am not going to shout for him to be prosecuted because you have to see it in context first."
Consequently, Basiurski believes Cassano's comments showed that homophobia is still alive and kicking within football.
"Everytime a footballer opens his mouth and makes a homophobic comment it means that I don't have to answer the question of whether or not homophobia still exists in football," he continued.
"It clearly does. You can see it regularly. It is at a low level and an irritating level. Comments like this make it a less tolerant game and that fewer players or football supporters would be willing to come out to their team-mates or their friends.
"It just makes things awkward and it is unnecessary. Someone sexuality is of no relevance as to whether they can play football or not.
"It is amazing how often the issue comes up and I don't understand why straight footballers need to talk about this a hell of a lot more than anyone else. I don't get that and I never have. They seem to say things that they think fit in with the acceptable circumstances or community they are in."
Basiurski, who is based in England, also feels comments like those made by Cassano will have wider implications in that they will undermine the efforts of football becoming an egalitarian sport.
"These comments seem to be coming all the time now and he is not the first person to say this sort of thing," Basiurski added.
"There have been players making comments on Twitter and then saying their accounts have been hacked. I see this guy is now saying he was misquoted. Sometimes people say things that are not reported accurately in the press but it seems to be the stock excuse nowadays.
"It is just part and parcel of an underlying attitude that is being addressed better in this country than we are seeing throughout the rest of Europe but it just highlights the issue again that mainstream football is not particularly welcoming to LGB [lesbian, gay and bi-sexual] footballers or supporters.
"Why is that the case? Ignorance is a lot behind it. People tend to be fearful of the unknown; they are fearful of being labelled themselves. They are often brought up in clubs where it is not acceptable. It is also a strange thing that people seem obsessed with the issue.
"I don't know what context it came up in – whether he was asked about it or he just came up with it. I'd rather not give him the light of day. I had never heard of him before this.
"With him [Cassano] I don't know what Uefa should do because I would need to understand it in context but it is a stock excuse to say you have been misquoted or mistranslated. You know what – maybe he has been."