The first round of matches in Poland and Ukraine are over, but with some of the favourites struggling and the headed goals leading the way, what have we learned?
ANALYSIS
By John Stammers
Round one of
Euro 2012
is over, and what a round it has been. Goals, red cards, excitement and bad refereeing, it has had it all.
All nations involved can take a lot from their first games. Whether it be positives, negatives or a bit of both, lessons have certainly been learned.
Goal.com
takes a look back over the last four days of football to put into words what has been discovered.
THE CHELSEA MODEL WORKS WHEN PLAYED EFFECTIVELY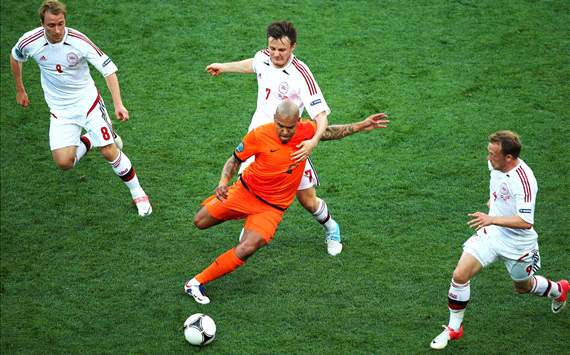 We all watched how Chelsea defended for their lives against Barcelona at Camp Nou in the Champions League semi-final, sealing progression with Fernando Torres' breakaway goal. They went on to be crowned champions of Europe, but can it work at international level where the coach has much less preparation time to organise his side?
Denmark managed eight shots when they opened their account against Netherlands, compared to the Oranje's 29, yet after some resolute defending, a clinical finish, and of course some luck (mixed with poor shooting from Robin van Persie and Co.) they came away with a 1-0 win.
To an extent, you can also look at unfavoured duo Italy and England's respective draws against Spain and France respectively. Granted, the Spanish did themselves no favours by playing without a striker but the Azzurri still had to dig deep, with Daniele De Rossi putting in a hell of a shift.
Roy Hodgson's men played a reactionary game and allowed the French to press onto them, so much like Chelsea that Patrice Evra made the comparison. Les Bleus equalised almost instantly but the underdogs held firm and secured a very good point against an in-form side. Credit must go to Hodgson for organising them so well in so little time, especially considering injury troubles.
But if a spanner makes its way into the works, it can be hard to recover. With Spain and Italy on the horizon, Giovanni Trapattoni's Ireland went into their opening game with Croatia knowing that a loss would be devastating. Three minutes in they conceded and their game plan was out the window, and they were eventually turned over 3-1.
CLUB COHESION IS THE WAY FORWARD
Of the sides who have impressed so far, the key thing they all share in common is how they have utilised players from the same club teams. Take co-hosts Ukraine, who did very well to come back from a goal down to defeat Sweden. Over half of the squad come from Shakhtar Donetsk or Dynamo Kiev.
The German back five, with the exception of Mats Hummels, play together at Bayern Munich and looked like a solid unit when defending against Portugal - who did not attack as much as they could have, but still offered the likes of Cristiano Ronaldo to deal with. The Italian side that almost took three points from La Roja boasted Juventus' Gianluigi Buffon, Giorgio Chiellini, Leonardo Bonucci, Andrea Pirlo, and indeed the 3-5-2 formation itself.
And arguably the side that raised the most eyebrows, Russia, started with just one player that does not play for either Zenit St Petersburg or CSKA Moscow. The midfield trio of Igor Denisov, Konstantin Zyryanov and Roman Shirokov have formed an impressive unit in St Petersburg in recent years, and were in fine form as they helped take apart the Czechs.
It's a fact that at international level, coaches do not get as much time with their players as club bosses. So if the majority of a nation's line-up has played a whole season together at club level, half of the job is already done.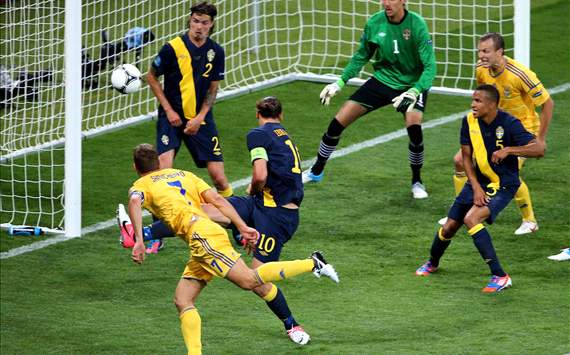 The first round of matches has produced 20 goals, and no scoreless draws. Whatsmore is that nearly 50 per cent of those goals have been headers. A lot of teams have set themselves up as counter-attacking forces that are very hard to break down from open play. Thus, the set-piece has been in its element so far.
In the opening game, Robert Lewandowski set the bar by brilliantly heading home for co-hosts Poland against Greece. Then, on day two, another fabulous header, this time from Mario Gomez of Germany, was the difference in a tight encounter against a defensive Portugal.
Yet more neck muscles were then flexed when Sean St Ledger and Mario Mandzukic (twice) both nodded home in Croatia's victory over Ireland, while Joleon Lescott fearlessly connected with Steven Gerrard's terrific free-kick on Monday. Finally, Andriy Shevchenko secured a vital three points for Ukraine thanks to his two clinical headers. Who needs feet? The head wins this battle of the anatomy.
It is not just the sheer number of headed efforts that have found the net in Euro 2012 that has been extraordinary, but the fact that nearly all of them have decided very close clashes. It shows that proficeny at both attacking and defending set-pieces will be a must over the coming weeks.
PLAYERS CAN PUT CLUB WOES BEHIND THEM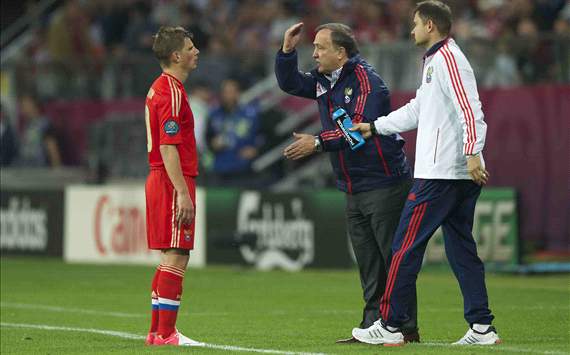 Andrey Arshavin has of course been the prime example of this. The diminutive midfielder had indeed been as quiet as a dormouse in many of Arsenal's games last season, yet when he lined up against the Czechs on the opening day he ran riot and was very noisy indeed.
The 31-year-old was part of a devastating Russian attack that, albeit against poor opponents, looked incredibly dangerous. Arshavin did not get on the scoresheet himself but the second goal was completely of his own creation as he set up Shirokov with a delightful pass.
Staying with the Gunners, before the tournament began Robin van Persie was heavily backed to continue his league form and storm the competition, while Nicklas Bendtner was, well, not. However, Denmark managed a shock win against Netherlands, with the Dane registering a good performance in helping set up rare attacks for his side, instead of selfishly chasing his own agenda.
Arsene Wenger must be experiencing mixed emotions. It is hard to tell if he would be happy that his let-downs are doing well and that his star man is not, but it may mean that interest in Van Persie cools down, while somebody may be willing to take Bendtner off his hands.
Unfortunately, the 'international tournament boost' logic cannot be said for Fernando Torres. He did well to make an instant impact when coming on for Spain against Italy by getting himself into two brilliant positions but, instead of winning the all-important game for his team by scoring them, he fluffed them both.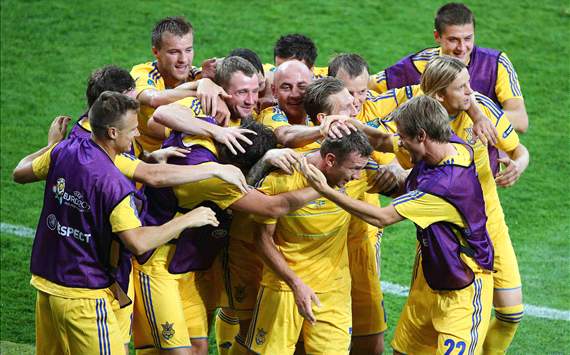 What a story. After struggling for fitness all season, the fact that the national hero was starting in their debut in the European Championship, on home soil to boot, was probably enough for Ukrainians. Oleg Blokhin had insisted that players would get in his side only on merit, not on name. Luckily for Sheva, class is permanent.
Ukraine fell behind to another star forward and pin-up boy, Zlatan Ibrahimovic of Sweden, but it was the former AC Milan striker that had the last laugh. Two perfectly placed headers, thanks to intelligent movement from the 35-year-old, were enough to secure victory for the jubilant co-hosts, whose fans duly raised the roof.
Shevchenko, by all accounts a true gentlemen off the field, celebrated with passion and emotion. Fellow players and team staff rushed to celebrate with him, while Blokhin and Ukraine supporters alike erupted. The nation's treasure has done them proud in the first game of his final bow but, with England and France still to topple, there is a feeling he is not done yet. Could it be?
Follow John Stammers on