Julien Laurens

Euro 2012 Columnist


Follow on

COMMENT
On Monday, when Laurent Blanc enters the magnificent Donbass Arena in Donetsk, his heart will certainly flutter.
Despite his vast experience as a player - 97 selections for the national team, a superb 1998 World Cup, Euro 2000 and all the major games he played during his immense career - it resembles nothing he's experienced before.
Blanc, the coach, is a novice. A true one.
Apart from a few games of Champions League when he was the coach of Bordeaux, he has no experience as a high-level coach, far from a Trapattoni, an Advocaat and even a Low.
His heart will be beating hard, of that there is no doubt.
During the anthems, he will surely think to his father, who died a short time ago and would doubtless be proud to see the sight of his son standing in front of his dugout in his suit, leading France in a European Championship.
Blanc has been in position for two years, but we already have the impression that it has been much longer.
The path to rejuvenate this France side scarred by hellish experiences has been sown with obstacles, yet he has succeeded.
He has been forced to build this team rather than rebuild it; 14 of the 23 players on his roster have never played in a European Championship or a World Cup before. He has managed to get this team to play how he wants; slickly, with the ball on the ground.
France are not yet Barcelona and during the qualifiers they were sometimes not very fluid. In their last four matches, though, the influence of Blanc has become more evident, with the team looking to attack.
He has also managed to unite this group of players torn by tensions and clans in past tournaments. Karim Benzema, who was in the bottom of a hole at Real Madrid in the summer 2010, has been rejuvenated and accompanied in his rise by the coach.
He managed to reconcile Franck Ribery with his true level in Bleu and has brought the fans back on side. And finally, perhaps his most difficult task, he has restored the passion for international football to a whole country, which is still traumatised by the scandal of Knysna and the 2010 World Cup.
Blanc did all that. It is a lot and only a little at the same time.
If France flop at the Euros, we can say that this progress was not enough and that he could have done more.
If France excel, we will say that he has done very well in swift time and can do even better in the future. Blanc's future will depend on this tournament. His contract at the head of Les Bleus ends on June 31.
A meeting with the president of the French Federation, Noel Le Graet, with whom relations are always a bit strained, is scheduled for July 2. A poor performance during the tournament, and he will be out of the door. Blanc will then focus on the search for a club.
On the other hand, if the performance is good, he will probably keep his position, which is what he wishes will happen with all his heart.
So, must we be indulgent with him during the Euros? Perhaps. But at this level, there is not much time for indulgence.
Blanc should produce the goods and immediately. No errors of coaching, no selection errors, not too much arrogance but a lot of humility.
Will he be demanding? Of course. At this level, the requirement is principle. Blanc and his players repeat that reaching the quarter-finals would equate to a successful Euro.
Must we reclaim this requirement and demand at least semi-final qualification? Do we need to be uncompromising with this team? Definitely.
With the strength he has and the technical players there, Blanc must ensure that this team produces an attractive style, based on the possession of the ball. This team doesn't know how to defend at the moment, so it is better that they focus on the attack.
Today we also can ask what is the state of the France team that will face England. What of their Fifa ranking of 14th? They are probably better than that.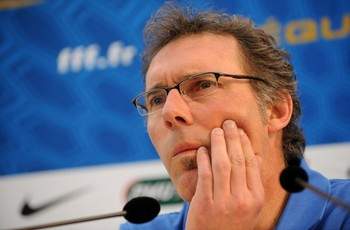 "If France's performance at the Euros is good, Blanc will keep his position, an outcome he wishes will happen with all his heart"
Their series of 21 games without defeat? It is already more significant. The victories in England (2-1) and in Germany (2-1), and at home against Brazil (1-0) all came in friendly games, but it was more difficult in the qualifiers against Albania (2-1), Bosnia (1-1) or in Belarus (1-1) and proved that this team has character and talent.
Their lack of experience? The squad is young - the fourth youngest nation at the tournament with an average age of 26.6 – and inexperienced.
This was previously the case in Euro '96, but this did not prevent Aime Jacquet taking his men to the semi-final.
France's stars? They are based on a player of international class, Benzema, and another who is not far away but not quite there yet, Ribéry.
As for the rest, some are very good players – Samir Nasri, Hugo Lloris, Florent Malouda - and some others – Yohan Cabaye, Yann M'Vila, Philippe Mexes and Adil Rami - who still have to prove that they can rise to this level.
Of course, if Bacary Sagna, Abou Diaby and Eric Abidal were not injured, France would be better still armed.
There is also much more certainty, as the players are now more willing to sacrifice themselves for the good of the team, and not only for themselves, as has been the case in the past.
Some matches, including the last three friendlies, stressed France's defensive fragility and their problems in recovering the ball. This is a worrying problem before facing a formidable England team, even if the Three Lions are in a state of adversity and are not well favoured going into the match.
It is an encounter which will be played in France's heads. In three recent major competitions (2006, 2008 and 2010), the France team have always drawn their opening match 0-0, against Switzerland, Romania and Uruguay respectively.
In French politics, it has been time for a change. It would be good if this also applied to the first match of the European Championship.
Julien Laurens is a French football journalist who is based in London and works for a number of publications including Le Parisien, RTL and Infosport.