Ben Hayward


Spain Expert

Follow on

ANALYSIS
Too many cooks, it is often said, can spoil the broth. And something similar happened to Spain on Sunday as Vicente del Bosque's false-nine experiment failed to completely convince against Italy.
All the pre-match talk had been about whether Fernando Torres or Alvaro Negredo would lead the line for La Roja in the absence of the injured David Villa. But in the end, it was Cesc Fabregas who was charged with finishing off the chances created by club colleagues Xavi and Andres Iniesta, and Manchester City's David Silva. The idea was to unnerve the Italian defence with intricate interchanging and fine forays from deep, but the plan proved flawed as Spain struggled in attack.
In the first half, Fabregas found himself in promising positions on a couple of occasions but was crowded out each time by a disciplined defence. Spain's play was over-thought and over-elaborate, but distinctly under-par as the Azzurri created the clearest chances of the opening 45 minutes.
Del Bosque's men were trying to play like Barcelona, but there were two problems: the presence of two deep-lying midfielders in Sergio Busquets and Xabi Alonso, and the absence of one Lionel Messi. Fabregas, fine footballer though he is, cannot cause chaos in the manner of his friend and club colleague - and it showed. Cesc is a midfielder and Spain had plenty of those on the pitch already. Essentially, La Roja were lined up in a 4-6-0 formation and with a false nine, and they made a false start.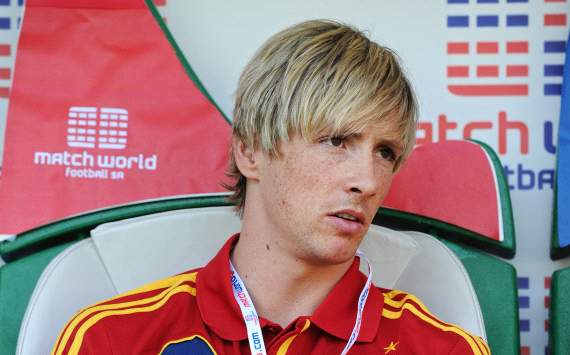 Frustrated figure | Torres watched most of the match from the bench


At half-time, Spain fans looked to the sidelines for Fernandos: Torres or Llorente. Either of them would have offered something different: Torres' pace is a real asset in tight games like this one, while Llorente's aerial ability would have been useful, too. But both watched on from the bench as Spain struggled.
WHAT IS A 'FALSE NINE'?

Pep Guardiola has a lot to answer for. The outgoing Barcelona coach revolutionised the game when he decided to use Lionel Messi as an unorthodox striker, dropping deep and making fine forward runs to bamboozle the opposition. It had been done before - including by Luciano Spalletti at Roma as Francesco Totti roamed around - but never to such devastating effect.

The decision to field Messi in the middle spelled the end for Zlatan Ibrahimovic at Camp Nou and saw the Argentine net 53 goals in 2010-11 and 20 more last term.

But Cesc can play there too and Guardiola tried the former Arsenal captain in the position just 10 days after his signing for the Catalan club, in the Gamper Trophy against Napoli. Fabregas opened the scoring and was impressive as Barca beat the Italians 5-0.

He netted Spain's equaliser against Italy at Euro 2012 but the jury is out over whether the experiment was a success.
Italy continued to look the more dangerous of the two teams as the second half got underway and Cesare Prandelli reacted quicker than Del Bosque as he sent on Antonio Di Natale in place of Mario Balotelli.
And the Udinese striker, a spot-kick villain from the teams' Euro 2008 quarter-final shootout, timed a run perfectly as he found his way through the Spain back line to slot home the opener in some style.
Spain feared the worst. But Cesc finally found himself in a scoring position moments later as he latched on to a wonderful through pass from Silva to slot the ball past Gianluigi Buffon.
Some 13 minutes later, though, the false nine made way for a real nine, Torres, and Spain saw what might have been as the Chelsea forward caused all sorts of problems for the Italian defence, twice charging clear and so nearly clinching victory with a lofted effort which sailed just over the crossbar.
Torres' inclusion, plus the natural width of Jesus Navas, gave Spain something different, but it nevertheless proved insufficient on Sunday and it remains to be seen whether the Chelsea striker can prove a successful stand-in for Villa.
He wasn't against Italy, as he was unable to convert chances he probably should have buried.
One thing, however, seems clear: the false nine is not the solution for Del Bosque. Crisis averted, then, but it's back to the drawing board for second-best Spain.


Follow Ben Hayward on