Three Lions coach must find ways to stop his players becoming restless if the national side are to stand any chance of winning Euro 2012 after fiascos of Rustenburg & Baden-Baden
COMMENT
By
Rob Stewart
England
will probably not win
Euro 2012
but the way things are going
Roy Hodgson
's men will win plenty of friends this summer and that could prove to help his underdogs.
With a dearth of talent, the depleted Three Lions squad might not have what it takes to win the competition but their arrival in Poland would suggest that the tourists will make a positive impact whatever happens on the field.
England teams are traditionally hampered by pressure on the big stage but as they head into the tournament the emphasis under Hodgson will be firmly on relaxation for the first time in living memory.
MIXED EMOTIONS FOR ENGLAND'S OPPONENTS France, Sweden and Ukraine suffered contrasting fortunes in the build-up to Euro 2012

"England have been weighed down by the weight of expectation since winning the 1966 World Cup," a Three Lions source was quoted as saying in The Sun.
"But the pressure is off the players for the first time and they're being encouraged to chill out and enjoy their football.
"Training and preparation will be as meticulous as ever but the atmosphere is different. Nothing is expected of the players and some pundits are writing them off. But we still have great players who are determined to prove the critics wrong. These underdogs have teeth."
The fact that the England squad will be based in a hotel in the heart of historic Krakow says much because they will be in the thick of the action in a city thronging with tourists.
When they are not putting the final touches to their plans to face France, Sweden and Ukraine, captain Steven Gerrard and his colleagues will be out and about sampling local delights and mingling with fans and local citizens.
As long as they do not copy the antics of the England rugby squad in New Zealand, that has to be a sensible move because no one can benefit from a 'them-and-us' attitude.
Hodgson and his Football Association paymasters are clearly keen to avoid past mistakes by giving the players greater freedom and it might just yield dividends.
Two years ago in South Africa, England lived in splendid isolation as they readied themselves for their World Cup campaign under the authoritarian Fabio Capello and the intense boredom was blamed for their humiliating exit against Germany.
Capello banned the WAGs, who had become synonymous with the 2006 World Cup campaign in Germany when the national side was based in the upmarket spa resort of Baden-Baden, and he also prohibited alcohol.
The result was that England players were climbing the walls and were probably relieved when Germany sent them packing.
In South Africa, reports of rifts were commonplace but Hodgson needs to maintain squad unity if his team are going to succeed at Euro 2012.
The players might be there to play football first and foremost but he needs to engender a team spirit similar to the one that helped propel Sir Bobby Robson's side to the World Cup semi-finals in 1990 or the one that Terry Venables fostered at Euro 1996.
England were happy campers during both campaigns and Hodgson will recognise from his country's past failings and his experience of international football with Switzerland and Finland that harmony is crucial.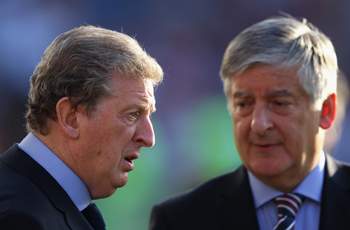 Hodgson is clearly keen to avoid past mistakes by giving the players greater freedom and it might just yield dividends

To achieve that coherence he must surely allow his squad to develop organically. There is no point pretending that everyone will get along fine because that would never happen.
There is a balance to be had. Whilst he must insist that his players all eat together and attend official functions together, they must be allowed breathing space to keep alive their hopes of glory.
His players must be treated like adults and allowed to get on with it rather than having Hodgson and his staff cracking the whip. Cliques will be potentially destructive so Hodgson needs to devise ways of making sure his players get along without them knowing it – even if it is just playing bingo like legendary Leeds United manager Don Revie had his team doing.
Training sessions will be intense but Hodgson must devise ways to make sure that their time in Ukraine and Poland is fun as well because, as Jack Nicholson once said in the Overlook Hotel: "All work and no play makes Jack a dull boy."
So Hodgson must be less strict than Capello was in South Africa to give England a fighting chance of emerging as unlikely heroes rather than the unlovable failures they were two years ago.
A former England coach told Goal.com: "Whichever way you look at it, England players are just not good tourists and it is as simple as that. They hate being cooped up for ages in a team hotel and they end up getting bored rigid.
"The Germans are a lot more focused than the English and there is no getting away from that so Roy will have to accept it and come up with ways to keep them all in line knowing that they have extraordinarily low boredom thresholds. It won't be easy but they will have done their homework to make sure they are happy campers."
Hodgson might insist that Rio Ferdinand is absent for footballing reasons but there can be no doubt that if he was anywhere near John Terry the team hotel would be a cinder box as the latter's trial for allegedly racially abusing Anton Ferdinand looms.
Hodgson might be getting a lot of flak for omitting Ferdinand but imagine the tension within the camp if those two were around and imagine the criticism if trouble flared up between the pair.
It is telling that Germany head coach Joachim Low has maintained that will give his players a free reign but they are still among the favourites to win Euro 2012 and his laid-back approach casts doubt on the need to run a strict training camp.
Low will allow his staff and players to smoke and drink and WAGs will be welcome as will social media even though Facebook and Twitter have been banned by Spain and Denmark.
"I respect that the players use it. It's their way of communicating, but not mine. I think this type of exchange is rather dangerous," he told Bild.
"For me, it is utterly incomprehensible how people share their private life, from truly confidential and intimate things, indiscriminately with thousands or even millions of people."
The pampered England stars have certainly set the tone well by signing autographs for schoolchildren when the blue-suited footballers' private jet arrived in Poland.
The charm offensive has started in earnest. Hodgson and his FA paymasters are clearly keen to win hearts and minds off the field.
They will also visit the former Nazi concentration camp at Auschwitz in southern Poland as well as Oskar Schindler's factory in Krakow.
It should go without saying that those are visits that put football into perspective but they will and those Holocaust memories might well spur on England. They should certainly put a stop to any petty rivalries within the team hotel. It could be the recipe for success.