EXCLUSIVE
By James Ranson
Former goalkeeper Joey Didulica believes the time is now for Croatia's 'golden generation' at Euro 2012 in Poland and the Ukraine, after they failed to qualify for the 2010 World Cup.
Didulica made four appearances for Croatia from 2004-06, making the tough decision to spurn Australia - the country of his birth - after failing to figure in the plans of then-Socceroos coach Frank Farina.
He was among the substitutes against Australia at the 2006 World Cup alongside current stars Luka Modric and Niko Kranjcar, just two years after changing his allegiance.
A famous 2-2 draw with Australia saw Croatia bundled out of the 2006 World Cup in the group stage and Didulica believes the squad will be primed to deliver after agonisingly losing out to Turkey at Euro 2008.
But passage for Croatia will be far from easy, with the Balkan country pitted against the past two World Cup winners Italy and Spain, as well the Republic of Ireland in Group C.
"I think we can [qualify for the knockout stages]," Didulica said.
"I think we will, this is definitely the golden generation of players that can do it for Croatia: Modric is peaking, Kranjcar is at a good age, [Vedran] Corluka as well, even Eduardo and [Ivica] Olic.
"Croatia are blessed, you've still got Modric and Kranjcar so we have those attacking fires. Modric really makes the side tick.
"A lot of the guys like Modric didn't get the chance to showcase their talents at World Cup 2010 and that was their prime.
"It's two years on and now they've played a lot of games, they're not too much older and it's great to be able to see them play in a big tournament," he affirmed.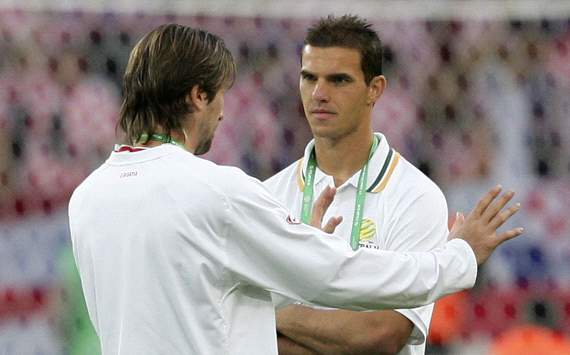 Keeper conference | Didulica talks the Ante Covic before a 2006 World Cup group match
Didulica played alongside may of Croatia's current stars in a career that was littered with highs and lows, from domestic titles in Holland and Austria to crippling head and neck injuries that eventually curtailed his playing days.
The shot-stopper's career was irrevocably changed when he was involved in a sickening clash with Socceroo and PSV midfielder Jason Culina while playing in an Eredivisie match for AZ shortly after the 2006 World Cup.
Didulica suffered months of amnesia and crippling headaches as a result, but remarkably returned to win his second Eredivisie title, with AZ in 2008-09, to go with his maiden triumph with Ajax in 2001-02.
The 34-year-old remembers fondly the move that transformed his career when he landed a contract with Dutch giants Ajax in 1999 from then-NSL club Melbourne Knights.
"I've been fortunate to have some of the best coaches in the world," Didulica recounted.
"Great coaches like Ronald Koeman who expected a lot. It wasn't only winning but you had to win in style."
Just years after Ajax had won the Champions League, Didulica found himself among stars like the de Boer brothers, Edwin van der Sar, Zlatan Ibrahimovic, Wesley Sneijder, Rafael van der Vaart and Nigel de Jong.
Slavan Bilic's Croatia have adopted a similarly stylish mentality and, while their star midfielders make the side tick, Didulica believes the added firepower up front - Eduardo, Everton's Nikica Jelavic and Bayern Munich's Olic - are capable of big returns.
"I think there's a plethora of strikers coming out of the generation with Jelavic and you've got Olic," he said.
"I know he's been coming off the bench for Bayern but he's a prolific scorer in the national team."
"... This is definitely the golden generation of players that can do it for Croatia: Modric is peaking, Kranjcar is at a good age, Corluka as well, even Eduardo and Olic"






- Joey Didulica

Add to that mix Dnipro Dnipropetrovsk star Nikola Kalinic, and Bilic's squad has an imposing look about it - particularly in the front third.
"Kalinic, if he gets the opportunity to play, is one to watch, he can score goals," Didulica said.
"Hopefully he can now have a standout tournament and get on the radar of some of the bigger clubs."
Former Blackburn Rovers frontman Kalinic is one of five players in the squad playing his club football in Ukraine - one of the co-hosts of the tournament - along with captain Darijo Srna [Shakhtar Donetsk, pictured right], Ivan Strinic [Dnipro Dnipropetrovsk], Ognjen Vukojevic [Dynamo Kiev] and Eduardo [Shakhtar].
That factor may have a positive effect later in the tournament, but all three of Croatia's group games will be played in Poland; against Ireland and Italy in Poznan and lastly against reigning champions Spain in Gdansk.
"I think we'll have no problem getting past Ireland," Didulica said.
"They are strong at home and passionate but it's a game Croatia has to take three points from, we have too much striking power.
"We've got a better system, playing the ball on the ground, and we can get nasty because we've got some physical boys in there like Mario Madzukic, and Ivan Strinic at the back."
Italy and Spain will be another story altogether, but Didulica believes the 2006 world champions are not the force they once were and that Bilic's side have a good chance of getting one over on Cesare Prandelli's men.
"We're traditionally quite good against Italy, we always come in as the underdog but we've given them a lot of grief in the past," Didulica said of their second opponents.
"And for Croatia it's great that we play Spain third, for Croatia, confidence is a huge factor so hopefully we'll have that six points by the time we play them."
Croatia face Group C rivals Ireland on June 10, Italy on June 14 before their final group game with Spain on June 18.