COMMENT
By James Goldman
So who had day 33 in the
Roy Hodgson
England
honeymoon sweepstake? After a month of relative calm,
Gary Cahill
's fractured jaw has brutally exposed the folly of ignoring
Rio Ferdinand
's
Euro 2012
credentials on supposed "footballing reasons".
Cahill's demise, the result of Dries Mertens' less than helping hand in the direction of Joe Hart during Saturday's workmanlike victory over Belgium, may have been unforeseen and unfortunate, but the consequences of his injury and reaction to it are all too predictable.
INJURED CAHILL RULED OUT A double jaw fracture means the Chelsea defender will miss out on Euro 2012

Rather than being allowed to concentrate on the finer points of back-to-back friendly victories, Hodgson will again find himself batting off questions regarding Ferdinand's omission.
As unhelpful and distracting as the fallout from Cahill's injury might be, the point, now more than ever, stands: What on earth has the most accomplished England defender of his generation done to deserve being ostracised in such an undignified manner?
With Hodgson seemingly intent on pairing, logically so, Chelsea colleagues Cahill and John Terry at the heart of his defence you could have made the flimsiest of cases for leaving Ferdinand behind.
There is very little to choose between Terry and Ferdinand in terms of footballing ability, while Cahill's prominent role in Chelsea's surprise run to Champions League glory had cemented his position in most people's ideal England starting XI.
With the former Bolton and Aston Villa defender out of the picture an unfortunate opportunity presented itself. Would the Football Association or Hodgson offer Ferdinand, a veteran of 81 caps, an olive branch? An emphatic no was the answer, with the ultimate slap in the face coming in the shape of Martin Kelly's call-up.
Ferdinand himself took to Twitter on Sunday afternoon to ask whether any of his 2.8 million followers could provide him with an answer. "What reasons," indeed. Few believed his excommunication had anything to do with football a month ago, fewer still now.
Essentially, from the outside it looks as if the situation boils down to whether two professionals could work together knowing that one is accused, and strenuously denies, racially abusing the other's brother. Only Ferdinand and Terry know the answer to that admittedly delicate conundrum. Was either asked? Again, only they know.
What we do know, however, is that Ferdinand was durable enough and his body able to withstand the rigours of being asked to play 11 matches for Manchester United between March 11 and May 13. "What reasons?"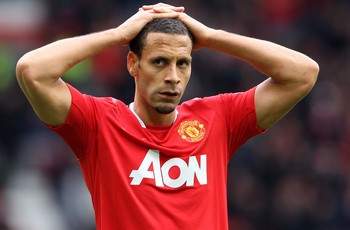 What on earth has the most accomplished England defender of his generation done to deserve being ostracised in such an undignified manner?
None of this is to denigrate Hodgson, nor Kelly who becomes the latest unfortunate pawn in this wretched mess. The former is canny enough to be able to dodge the arrows that will be hurled in his direction and sage enough to know that once you have made your bed, you must lie in it.
Liverpool's relative novice Kelly, meanwhile, is being pilloried by dint of not being Ferdinand, or Micah Richards for that matter. There is plenty to be gained from handing the next generation tournament experience and much of what the multifunctional 22-year-old has done so far in his career suggests he will go on to enjoy a long and distinguished international career.
Of course, it would be preferable to have a Premier League winner like Richards start against France in a week's time in Donetsk. But having reportedly turned his nose up at the opportunity to be added to the stand-by list, Richards, who lest we forget was deemed surplus to requirements during Manchester City's title run-in, effectively retired from England duty leaving the England manager with little choice.
The fact remains, however, that neither Richards or Kelly are better central defenders than Ferdinand, even if his age and error count are on the rise.
All in all, this latest episode in a saga that could have been concluded months ago will have reinforced in Hodgson's mind that this job is anything but the results-based business it is painted as being.
Public relations acumen and thick skin are as essential as the need to be able to call upon two trusted international veterans. Football reasons, you suspect, played very little part in restricting Hodgson to the choice of one.