COMMENT
By Kris Voakes | Italian Football Editor
And with that, the ticking time bomb went off. But then that's what happens in Italian football. This isn't a Hollywood blockbuster, where the world is saved with 00:01 showing on the timer. This is Calcio, where a major tournament rarely passes without some explosion being timed just as everything seems to be reaching an even keel.
Only a matter of hours before Cesare Prandelli was set to name his final 23-man squad for Euro 2012, there came the news that his first choice left-back was being investigated as part of the latest round of Calcioscommesse arrests. Unlike Calciopoli, this process has been far longer-running before reaching the national side, but right now it is perhaps more damaging.
Whereas in 2006, the Italy squad were holed up in Germany as hell began to break loose on the peninsula, the police cars at Coverciano this morning very much brought the reality home in terms of this latest scandal.
Of course, Domenico Criscito has not been arrested, let alone charged, but his being investigated at a time when 19 more have been marched off by police has naturally grabbed all of the headlines. The FIGC have made the decision not to take him to the European finals in Poland and Ukraine, either in a bid to allow him the chance to quickly clear his name, or in the fear that his mind would not be on the job were he to travel with the team. Either way, it is to be hoped that Criscito's innocence will be proven in time.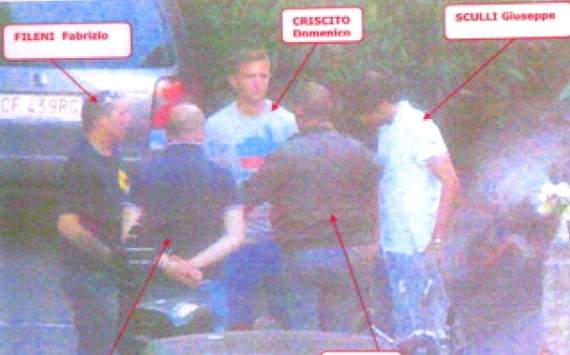 The 'meeting' | Criscito snapped with ultras, which has led to him being investigated
What the latest events have done is tarnish the great game of Calcio once more. With no Criscito, the world's press and football fans will have the constant reminder that there is an ugly backdrop to Italy's assault on a second European crown. Win or lose, this will be a testing month for the Azzurri and for the national sport.
One thing seems certain, and that is that there is an awful lot of smoke for there to be no fire at the heart of the case. Criscito may be innocent, but others are guilty. Again, Calcio fans must sit and wait, and watch the latest proceedings unravel until we find out what really has gone on. We know the cases of Marco Paoloni and Cristiano Doni already, among others. Let us hope for everybody's sake it is all over soon.
In the meantime, Prandelli must pick up the pieces. It surely wouldn't be an Italian summer without some kind of sensation – football or otherwise – and it would have been naïve to think we'd heard the last of the betting scandal. What is for certain is that the coach's job just got a hell of a lot harder.
Having finally found himself a left-back he could trust having gone through a countless stream of full-backs in his first two years in charge, he now has to come up with a Plan B. Federico Balzaretti is likely to step up, but will do so after his most unconvincing club form in years. Many have spoken of the versatility of Giorgio Chiellini and Angelo Ogbonna, but neither is a natural down the flank.
What's more, the back line as a whole suddenly looks thinner. To make up the cover, Andrea Ranocchia could well travel, and few more column inches need to be added to the reams of the past two years about his calamitous excuse for defending. The coach has a lot on his mind thanks to events completely out of his hands, both in terms of selection and team harmony.
But while the Azzurri have been rocked, this may just be the beginning. Italian football faces testing times once again.
Follow Kris Voakes on