Extravagant costs, poor infrastructure and a struggling team will see less that 6,000 Three Lions fans travel to watch their team at this summer's European Championships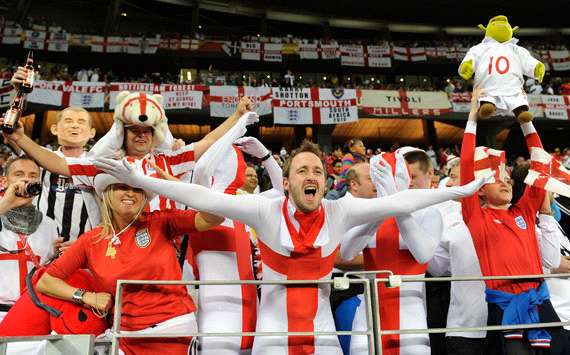 SPECIAL REPORT
By James Goldman | UK Deputy Editor

England fans have shunned this summer's Euro 2012 in their droves with fewer than 6,000 hardy souls prepared to make the arduous trip to Ukraine next month.

Concerns over safety, allied to the astronomical cost of flights and accommodation, have contributed to the sale of just 3,000 tickets out of the 7,000 made available by the Football Association, whose official supporters club boasts a membership of around 29,000.

Kevin Miles, international director of the Football Supporters' Federation, told Goal.com he expects a further 3,000 England fans to travel independently, but the overall figure still represents a drop in the ocean compared to the following that usually accompanies the Three Lions at major tournaments.

Supreme efficiency and its proximity to the UK encouraged around 100,000 England supporters, 20,000 through the FA, to travel to Germany in 2006 for the World Cup, but Miles has warned the likes of Donetsk, where Roy Hodgson's side play two group games, will not boast anywhere near the same level of infrastructure, nor value for money experience.

"Essentially Donetsk is an old industrial city with little in terms of major amenities or tourist attractions," he told Goal.com.

"It's not very accessible from England by air, while the roads aren't in the best shape and it can take up to 13 hours by train to get between the two main cities in Ukraine.

"When you throw in the fact we're in the middle of an economic crisis and they've wacked up the price of hotels it doesn't represent a particularly attractive proposition for England fans."

Approximately 50,000 England supporters made light of the distance to travel to South Africa for the 2010 World Cup, while in Portugal eight years ago, where Sven-Goran Eriksson's men reached the quarter finals, around 70,000 fans, 10 per cent of whom booked through the FA, soaked up the sun in Coimbra and Lisbon.

"Unlike Germany and Portugal, Ukraine, and in particular Donetsk, is not what you'd class a holiday destination," Miles added.

"You might get the hot weather over there but other than sitting in the pubs all day there's not much else to occupy your time with.

"That's fine for most supporters if you're only going to be in one place for a day or two but on day three I can tell you you'd be struggling. The advantage with places like Portugal is that it lends itself to package deals which just aren't available in Ukraine

"It's unfortunate there's little Uefa can do about the prices of hotels being hiked up but the end result is that people understandably aren't prepared to pay those sorts of prices while there's a recession taking place."

As well as the obvious economic factors, England's abject showing at the last World Cup, coupled with the recent managerial upheaval, has convinced some to stay away, according to England fans' spokesman Mark Perryman.

He told Goal.com: "For the hardcore fans who go to every game home and away the dip in expectation levels won't affect their decisions to go or not, but certainly there are football reasons behind some people opting not to go.


| | |
| --- | --- |
| | "For hardcore fans who go to every game, the dip in expectation levels won't affect their decisions to go or not, but certainly there are football reasons behind some people opting not to go" |

"I think after what went on in South Africa with the team it's going to take some time before that bridge with the fans is fully repaired. Having said that there are few teams who will attract a crowd of 90,000 for a friendly like we have for next week's match against Belgium – so the demand is still there.

"I think it's unfortunate we were drawn in Ukraine. Had we have ended up in Ireland's group and been based in Poland it might have been a different story. Poland is a country with a much bigger tourism industry and if you really felt it necessary you could base yourself in Germany.

"I just don't think people are prepared to pay all that money to take a step into the unknown and support a team who could just as easily go out at the group stage as make it to a semi-final. I think quite a few people have got their eyes on Brazil in 2014 and would rather save up for that."

Those sentiments are largely echoed by England fan Peter Checkley, a member of englandfans, the only official England supporters club, who opted against flying out to Ukraine this summer following the lacklustre showings in recent major tournaments.

"As well as the cost, there is also the increasing detachment that I think a lot of fans feel with the current England team," he said.

"There have been a number of occasions over the last decade or so when it feels like the fans have considerably more passion that the players.

"Many of them step up and perform in the Champions League, so we know they can do it, but it seems like that competition is the pinnacle of the game now and international football is just a distraction."


Follow James Goldman on