COMMENT
By Patrick Reilly
Where were you when Roy Keane exited Ireland's World Cup squad?
For a generation of Irishmen this was our 'JFK moment', when the nation stood still. Loyalties were split. The saga was dubbed the Irish soccer Civil War, with captain Keane cast in the Michael Collins role; a martyr for the cause in the eyes of his supporters.
His critics felt rather differently. A popular text message at the time read: "What do Roy Keane and Michael Collins have in common? They are both traitors from Cork."
The summer of 2002 when Coldplay's Clocks dominated the airwaves, Jade Goody became a star on Big Brother and Fianna Fail romped home in the general election. Was it really just a decade ago?



♫ Why'd you have to go and make things so complicated ♫





- Complicated (Avril Lavigne)
Inevitably any discussion about Saipan and Keane's exit leads to accusations of who was to blame. The angry skipper, the fed-up manager or an over-zealous media. None of these. You can blame Diego Forlan.
If the Uruguayan's late lob for Manchester United in their Champions League semi-final, second leg against Bayer Leverkusen had gone in, then Irish football history may well have been very different. As it was, the ball was cleared off the line by Diego Placente and the striker's search for his first goal as a Red Devil went on a bit longer.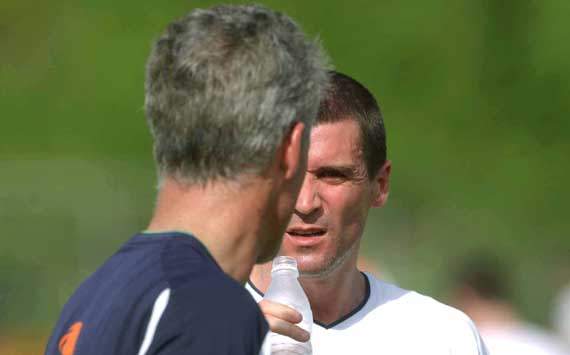 Tension
| Keane & McCarthy were already at loggerheads prior to his exit
Had United reached the final at Hampden Park, against Real Madrid, then Keane would never have gone to Saipan and instead joined up with the Ireland team in Japan. The squad's World Cup base was considered to be second only to reigning world champions France in the preparation pecking order.
As it was Keane arrived in Saipan angry after a rare trophyless season with his club. The press had given him grief for not playing in Niall Quinn's testimonial and he was itching for a fight. He didn't have to go far to find one.



♫

It's not like you to say sorry

♫





- How You Remind Me (Nickelback)

Copies of the
Irish Times
are usually easy to find in your local newsagent. Not so on May 23 when Keane's interview criticising the facilities in Saipan was published. It was a must-read even by schoolboys who were dwarfed by the paper's broadsheet format.
Keane was confronted by Mick McCarthy clutching the interview at a players' meeting. Two days after deciding he wanted to quit before performing a U-turn the skipper unleashed a volley of abuse in the direction of his manager.
What he said has been quoted and misquoted endlessly. Quinn, who was present, said it was a seminal moment in Irish history. The consequences were instant. McCarthy axed Keane from Ireland's World Cup squad on May 23 2002.
Back home an anxious Irish public reacted to the news using slow dial-up internet connections to watch fuzzy online news streams. The image of Keane standing in the airport with the word 'exit' was used ad nauseum and the circus was only just beginning.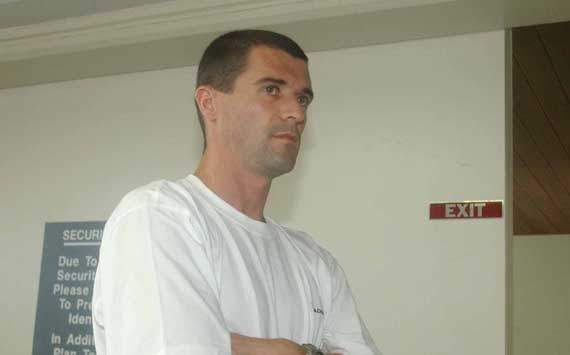 Exit
| Keane's strikes a solitary figure as he prepares to leave Saipan



♫

The lights go out and I can't be saved

♫





- Clocks (Coldplay)
McCarthy's decision to send his skipper home engaged the nation in a way those involved in the general election just days previously could only dream of.
Families were split, club allegiances came to the fore and the still-smoky pubs had only one discussion topic. You were either agreed with Keane for speaking out or sided with McCarthy for telling his captain to take a hike. The old Irish preference for neutrality was never an option.
Pollsters were dispatched around the 26 counties to gauge the mood of the nation. Newspapers printed the findings with lavish graphics such as: gender, Manchester United supporter - Yes/ No, county and all the rest of it.
In Cork there was strong support and sympathy for 'Keano.' His rant against the Football Association of Ireland (FAI) suits up in Dublin's Merrion Square was appreciated by his countymen. A delegation was dispatched to Dublin to campaign for Keane's instant return outside the FAI headquarters.
Old friendships were tested and in some cases destroyed. Eamon Dunphy, who was writing Keane's autobiography at the time, fell out with John Giles over the saga and they didn't speak to each other off camera for many years afterwards.
The "will he won't he" drama dominated the agenda for the next few days to the extent that Ireland's opener against Cameroon was practically forgotten. Taoiseach Bertie Ahern attempted to use his popularity and intervened to try and solve the matter.
Having negotiated with the IRA and staunch Unionists, surely the Northsider could work his charm on Keane and restore the morale of a wounded Emerald Isle. Surely?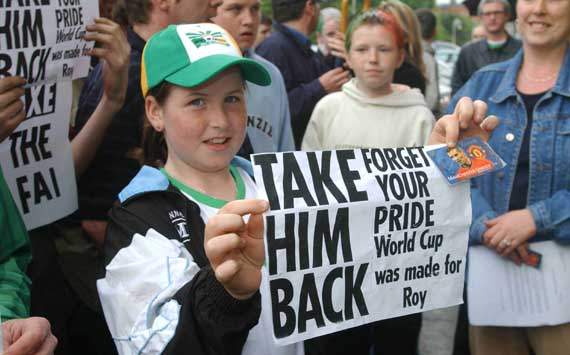 Demonstration
| Keane fans took to the FAI demanding their hero's return



♫

A little less conversation, a little more action please

♫





- A Little Less Conversation (Elvis vs JXL)
For the next four days the rumour mill circulated with story and counter story. Keane's diatribe at McCarthy in the Hyatt Regency was analysed and examined with particular attention paid to the profanity used in his rant.
It was time for the axed skipper to tell his side of the story and on May 27 he gave a one-to-one interview to RTE's Tommie Gorman. Not since the heady days of the Eurovision Song Contest had a programme on the state broadcaster been so keenly anticipated.
Veteran commentator George Hamilton had asked the nation to "hold its breath" during the penalty shootout with Romania at Italia 90. In much the same way the public hung on to Keane's every word with many clinging to the prospect that he would return.
The Corkman's lack of contrition in the interview allied to his refusal to apologise for his actions ensured the hopes of a reunion in the Far East never happened. Instead, we were treated to daily images of Keane walking his beloved dog Triggs and humorous interpretations of Tommie Gorman's interview done by the Apres Match crew.
When the public rose early from their beds on Saturday June 1 2002, to watch Ireland play Cameroon in their group opener, the prospect of Keane's return had been extinguished.
Although Saipan will forever overshadow Ireland's World Cup of that summer it is worth bearing in mind that aside from Ronaldo - in the final - only Robbie Keane scored a goal past Germany's Golden Ball winner Oliver Kahn.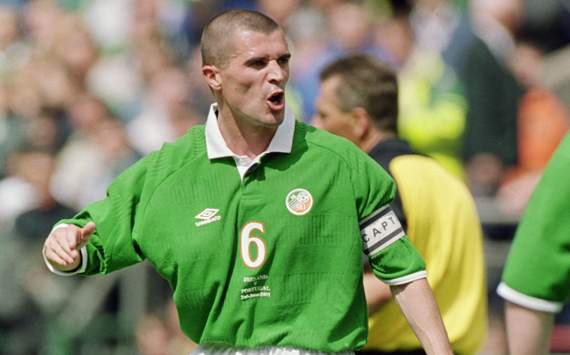 What if?
| Keane's presence may well have helped Ireland edge Spain out
Minus their best player and inspiration in qualifying, the Irish team performed admirably and were eliminated on penalties by Spain in the second round in a match voted game of the tournament.
There remains the nagging suspicion that had Keane been on the pitch against Spain, particularly in extra time, that his influence may have been enough to give Ireland the edge to book a quarter-final date with South Korea. Perhaps it is something even Roy thinks about now that a decade has passed. Perhaps ...