Former
Manchester United
midfielder Roy Keane has stated that Gary Neville was not as influential at the club as many people believe.
The retired Bury-born defender has recently been appointed to Roy Hodgson's England coaching staff, a move welcomed by fans and media alike.
But, though Neville has been something of a revelation since he began working as a television pundit this year, Keane does not expect his old team-mate to be a dominant figure in the dressing room.
THE OX GETS EURO BACKING Alex Oxlade-Chamberlain is being tipped to shine for England at Euro 2012

"It's important you are yourself," Keane told
The Guardian
. "Listen, Gary can talk but don't think for one minute he was as influential in the dressing room as people might think he was.
"Gary would say his piece but he wasn't running the show. Far from it.
"So don't think for one minute he will be going into England and calling the shots. He will be learning his trade and being a link between the manager and the players, and I think he will be good at that."
The former Republic of Ireland international also expressed surprise that the 37-year-old will be allowed to combine his new role with his burgeoning media career.
"I'm surprised he has kept his role with doing TV," he added.
"That can be difficult. You can get your way around criticising players by saying: 'I'd expect the player to do better.' He probably won't be as critical as me and speak in the terms I do.
"I know Gareth [Southgate] does it, but he's not in the dressing room, he's not on the training pitch, he's not working with the players.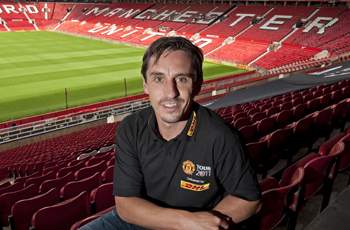 "He will be learning his trade and being a link between the manager and the players, and I think he will be good at that" - Roy Keane

"There's a lot of thumbs-up, everyone says it is a good appointment, but I'd say let's wait and see. We've got to give him a chance.
"He's not done any coaching before. I know he has done his coaching qualifications but sitting in a studio talking about teams is very different.
"What he has got is he'll be working under Roy Hodgson. It is not as if he will be calling the shots. He can learn his trade. I'm pretty sure if they have a decent tournament, or a decent couple of years, Roy Hodgson and his staff will get praise.
"If they don't, the manager will get criticism and people will start criticising Gary. Gary's a decent guy and he's played at a decent level, but that doesn't guarantee you success.
"You have to look at these opportunities when they come. You can't be too clever when you are outside of football and not involved in a team, and if an opportunity comes up.
"He is going to be working with top players and a top manager so there is no surprise Gary jumped straight into it. There is only one way to find out if you can do it or not - let's get into it.
"It's no good just talking about it. It's not a week-to-week job. He will still have a bit of time off and will be learning from a top manager."