ANALYSIS
By
Jamie Dunn
Some were underwhelmed, others unimpressed, but
Roy Hodgson's
England
squad announcement for
Euro 2012
gave everyone the clearest indication yet as to how the former
West Brom
manager's reign is shaping up heading to the tournament in Poland and Ukraine.
There were plenty of familiar faces, a couple of glaring omissions - some felt - and one or two surprises from Hodgson.
Now the official furore has died down somewhat, here are just a few things fans can expect when Hodgson's England lines up against France on June 11, and the thinking behind some of the new national team manager's selections.
Gerrard is certain to start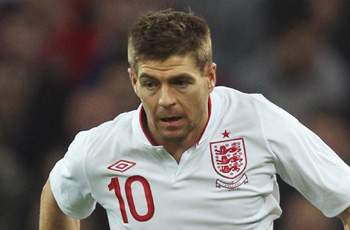 "Will Hodgson saddle himself with the conundrum of regimes past and play Gerrard and Lampard?"
The handing of the captain's armband to Steven Gerrard suggests the midfielder is the most certain to adopt one of the places in Hodgson's starting XI, with the possible exception of goalkeeper Joe Hart, who is likely to be unchallenged for the No.1 shirt by Rob Green and uncapped call-up John Ruddy.
Gerrard, despite a largely indifferent season in which he failed to capture his formidable best form in a stuttering campaign for Liverpool, will be looked to by Hodgson to be England's talisman, as he so often has been for club and country when injuries have not disrupted his preparation.
The Anfield hero was not always guaranteed a place in the side under Fabio Capello, but that looks certain to change after Hodgson's announcement on Wednesday.
But a few questions still remain. Will Hodgson saddle himself with the favourite conundrum of regimes past and play Gerrard alongside Frank Lampard?
Or will the 31-year-old or the Chelsea midfielder be deployed in a slightly more advanced position, allowing both Scott Parker and Gareth Barry a place in the starting XI?
ALEX OXLADE-CHAMBERLAIN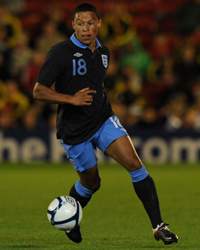 Daring Hodgson must hope Arsenal star can be more Owen than Walcott
The decision to select Stewart Downing, who has endured a difficult first season at Liverpool following a big-money move from Aston Villa in the summer, was perhaps the main reason Hodgson came in for criticism from fans and pundits alike.
The new England manager's choice of Arsenal teenager Alex Oxlade-Chamberlain, though, was greeted largely with positivity, with Hodgson also indicating he is willing to play the young forward if he survives being "slung in at the deep end".
Whether or not you agree with Downing's inclusion, his involvement, along with that of Oxlade-Chamberlain, Ashley Young, James Milner and Theo Walcott, suggest Hodgson will rely heavily on width, as has been the case in recent tenures in club football, particularly at Fulham, where the former Inter boss achieved much of his popularity.
One up front against France

Much has been made of Hodgson's favouring of a 4-4-2 formation, but in the opening game against France, it would not be surprising to see a traditionally cautious manager play it safe, with just one out-and-out striker in the side.
Hodgson has options in central midfield to accommodate a 4-5-1 or 4-2-3-1 system with Gareth Barry, Scott Parker, Frank Lampard and Gerrard, with the latter able to operate effectively behind a lone striker, with Oxlade-Chamberlain another possibility for the position.
With Wayne Rooney ruled out through suspension, who would play in the lone striker role would be contested between Danny Welbeck, Andy Carroll and Jermain Defoe. Due to Welbeck's inexperience and Defoe's stature, Carroll, a willing runner who is capable in the air and not afraid to shoot on sight, could get the nod for the opener.
Rooney could have partner on return

However, once Wayne Rooney returns from his two-game suspension, the Manchester United striker is surely set to walk straight into Hodgson's first XI, such was the England boss' obvious desire to include the forward at his very first press conference.
And having scored 35 goals in all competitions this season, Rooney would be unfortunate to miss out. But Hodgson's preference for 4-4-2, and the inclusion of plenty of wide options, suggests once the France and Sweden games have been negotiated, successfully or otherwise, the Old Trafford star will have company in attack.
Who that could be, though, is open for debate. Hodgson would surely be confident Rooney is capable of feeding off the work of Carroll, if the Liverpool man maintains his form heading to Poland and Ukraine, while Welbeck enjoyed a fruitful partnership with his club-mate for much of the season, and Defoe will be hopeful of making a place in the starting line-up his own.
Richards made way for utility man Jones

When Tottenham's Kyle Walker was ruled out of selection with a broken toe, Hodgson opted to pick Manchester United defender Phil Jones, over Micah Richards, a player who has been overlooked for selection by several previous managers but was in the squad for the friendly defeat to the Netherlands.
"I wanted seven back players...Phil Jones can play right-back or centre-half and I've been impressed with him."





- Roy Hodgson

In his press conference on Wednesday afternoon, Hodgson suggested Jones had earned his place due to his versatility. In his short career with Blackburn and Manchester United, the youngster has played in central defence and midfield, and most common in recent games, at right-back.
But Jones has looked less than convincing at full-back on occasions, and so the merits of picking a versatile squad player in place of Richards, an established right-back who can also play in the centre of a back four, as a possible replacement for Glen Johnson remain to be seen.