PGE ARENA, GDANSK


Opened: 2011
Official capacity: 40,000

Highest attendance: 38,000
Poland v Germany, Sep '11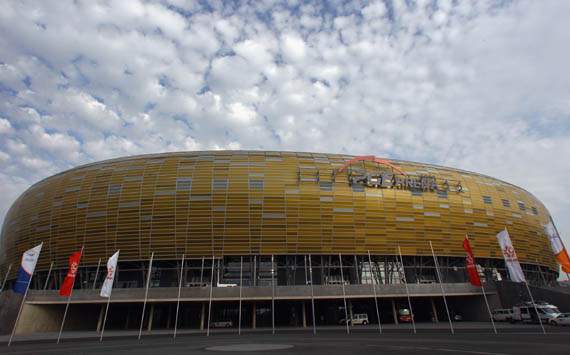 Euro 2012 Matches
Jun 10: Group C1 vs Group C2, 18.00 CET
Jun 14: Group C1 vs Group C3, 20.45 CET
Jun 18: Group C4 vs Group C1, 20.45 CET
Jun 22: Group B winner vs Group A runner-up, 20.45 CET
Located
The stadium is situated in the northern part of Gdansk [Letnica district], Poland. Fans will be able to choose from bus, rail and tram links to the ground.
Atmosphere
Without the inclusion of an athletics track, fans have the opportunity to get close to the action at the PGE Arena. A glowing exterior will make the ground an interesting spectacle during evening fixtures.
Did You Know?
The stadium's unique exterior is made up of 18,000 polycarbonate plates in six shades of amber, which combined amounts to a total area of 4.5 hectares.