Tonight, in Puerto La Cruz, one of the world's great goalkeepers will stand between the sticks for
Spain
. He's a three-time Champions League winner, a world champion at club level, he's the guardian of the greatest team in the world – and he's been beaten less than any other custodian in the Spanish league in each of the last three seasons.
But he's not Spain's first-choice – and he probably never will be.
Victor Valdes is a quite brilliant goalkeeper. The Barcelona No. 1 commands his area with authority, is an excellent shot-stopper, uses his feet fantastically and operates as something of a sweeper on many occasions, emerging from his area to distribute the ball and set his side's wonderful play in motion.
It seems hard to believe, then, that just over a year ago, Valdes was not even involved with the Spanish side. Media clamour in the build-up to the World Cup in South Africa demanded a place for Valdes and coach Vicente del Bosque – brushing aside rumours of a feud between the Catalan and Pepe Reina – duly obliged.
So Valdes is also a World Cup winner, albeit as third keeper – the 23rd squad member that no one ever remembers. It's not Valdes' fault; he has reached the top of his profession and the rewards have been outstanding. He just hasn't reached the pinnacle.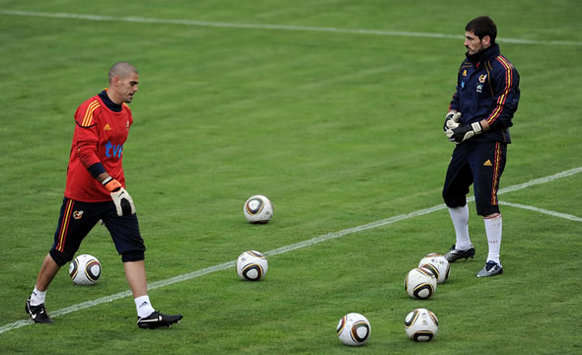 No way past | Valdes is unlikely to replace captain Casillas as first-choice for Spain
Valdes claimed last night that one of his aims is to become Spain's first-choice keeper. The task at hand, however, appears a difficult one. The Catalan's path is currently blocked by Iker Casillas, who is not only popular but also the captain – and quite probably the best goalkeeper in the world.
Then there's Reina, and behind him awaits the heir to Casillas' throne – David de Gea. The Atletico Madrid starlet is set to move to Manchester United this summer, and is already being compared to outgoing Old Trafford hero Edwin van der Sar, which is not bad at the age of 20.
So Valdes is a victim not only of his team's brilliance – many argue he is never truly tested at Barcelona – but also because of the golden generation of glovesmen of which he forms part.
Spain, champions of Europe and the world, are blessed with the planet's finest outfield players at the moment – but they boast the best custodians, too, and Valdes' situation serves to underline that.
There was a time, of course, when English goalkeepers were considered the world's best. And it wasn't so long ago, either – although it seems like an eternity. Now, England's most successful club of the last two decades, Manchester United, are placing their hopes on an - albeit brilliant - 20-year-old Spaniard who hasn't yet been capped.
Meanwhile, Arsenal, another of England's top teams, seem to have finally lost faith in Manuel Almunia, their own Spanish keeper. Almunia is a distinctly average shot-stopper who would struggle to make it into a top 10 Spanish list. Casillas, Reina, Valdes, Diego Lopez, and Gorka Iraizoz are all far superior, just for starters. But incredibly, Almunia was considered as a possible solution to England's goalkeeping crisis just a few years ago.
That, thankfully for all concerned, never happened. But if Valdes were to change nationality, he would walk into most of the world's top national teams. Tonight, against Venezuela, he'll be playing for the best one of all, and even though it's likely to be merely an isolated cameo, just being part of this golden goalkeeping generation is an honour in itself – and he wouldn't have it any other way.