Spain's 4-1 defeat to Argentina on Tuesday evening was their heaviest loss since their 3-1 disappointment to France in the last-16 of the 2006 World Cup. It was the first time they had lost by a three-goal margin since a 3-0 reverse at England in a friendly in 2001, and their first 4-1 defeat since their hammering by Germany in a 2000 friendly.
Many who looked just at the final score of La Furia Roja's 4-1 defeat to Argentina would have been stunned: the seemingly untouchable world and European champions torn apart by an incoherent side who themselves were mauled in the quarter-finals of the 2010 World Cup.
But those who watched the game would know it was a very different scenario. To begin with, it was a pointless and needless exercise where the Spanish Armada had to travel 13 hours from Madrid to Buenos Aires. There was little benefit for Spain as they had nothing to prove and nobody to convince. And coach Vicente del Bosque couldn't experiment with new call-ups as he had to utilise the same competitive 21-man group who had to play Liechtenstein in a Euro 2012 qualifier just four days earlier.
With Spain still recuperating from the burnout of South Africa 2010 and all the post-World Cup celebrations which included an equally gruelling trip and exhibition game at Mexico not four weeks ago, del Bosque opted to mix up his team and rest numerous key players.
He started the match with a second-choice backline, began the second half with a second-choice attack and ended the game with a second-string XI.
But excuses aside, Argentina were deserved winners, regardless of the scoreline and regardless of Pepe Reina's horrendous gaffe, which effectively ended the contest. They were rightly the more motivated, hungrier of the two... and they had lot to prove to the world and to their own fans in their own backyard after their disappointing 2010 World Cup.
But in any defeat, there's always positives to take from and for Spain, there are a few issues to resolve, as perfect as their team may be at present.
Puyol's heir
No pun intended. The heavy metal centre-back has agreed to postpone his international retirement until 2012, but Spain have to begin the process of looking for and grooming his successor. Players like Carlos Marchena – who deputised for 'Puyi' against Liechtenstein and Argentina – and Raul Albiol are his back up, not his permanent replacement.
In the next year and a half or so before Euro 2012, La Seleccion have to start integrating their second-choice or any young defenders more into the first XI in order for them to build up the understanding and cohesion that the current solid back-four of Sergio Ramos, Puyol, Gerard Pique and Joan Capdevila have.
Spain conceded their first two goals against the Albicelestes with a flat-footed defence after the backfour failed to communicate to spring an effective offside trap first on Lionel Messi and then on Gonzalo Higuain. It was an error that can only be rectified by spending more playing time together.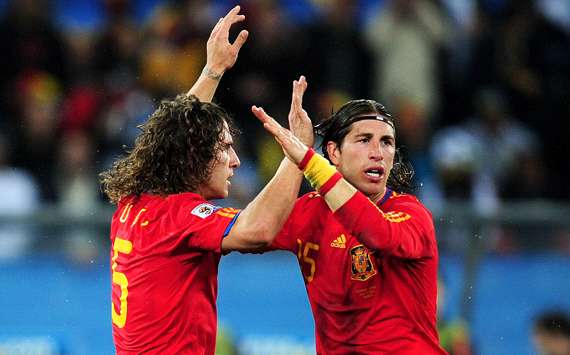 Defensive midfield deficiency
There was a big worry when del Bosque announced his 23-man World Cup squad that there was insufficient world-class defensive midfielders. Only Xabi Alonso, Sergio Busquets, Carlos Marchena and Javi Martinez could fill that role and none of them are natural ball winners in the traditional holding midfield sense.
But in the finals, Spain showed that there was no need for a midfield destroyer, thanks largely to the team's philosophy of having every player collectively hassle their opponents and fight for the ball regardless of territory, much the same tactic that Barcelona employ.
Against Argentina, however, there was little desire by the Spaniards to recover possession quickly as the players struggled to get out of first gear in a bid to conserve energy and more importantly, avoid straining themselves as club football kicks into full swing this weekend. But that's when the need for a true Marcos Senna-style midfield anchor comes in handy. The Argentines played with a midfield wall of Javier Mascherano, Ever Banega and Esteban Cambiasso and it was the trio who deprived La Roja of their fluent passing football. Spain do not have that kind of wall at their disposal at present.
Cesc needs to change his game
Fabregas was given yet another chance to shine and lead Spain's midfield as Xavi was rested, but the Arsenal captain failed to inspire. He never did impose his style and control the game like Xavi could and that was where the world champions lost their way at El Monumental.
Fabregas is unquestionably a very different playmaker to Xavi. The Gunner's best and most effective position – for Spain anyway – is to slot in just behind the frontline, or even double as a secondary striker where he can burst into the box and pinch a goal. His Barcelona counterpart, on the other hand, prefers to hang back and pull the strings on the halfway line.
But if Fabregas is to become Xavi's like-for-like successor in the national team set-up, then he needs to adapt his game to suit Spain's patient, possession, fluid passing football so that he can dictate the game and allow the team to continue playing in that familiar style of theirs. And that means getting rid of his route-one, all out attacking mindset that he has with Arsenal.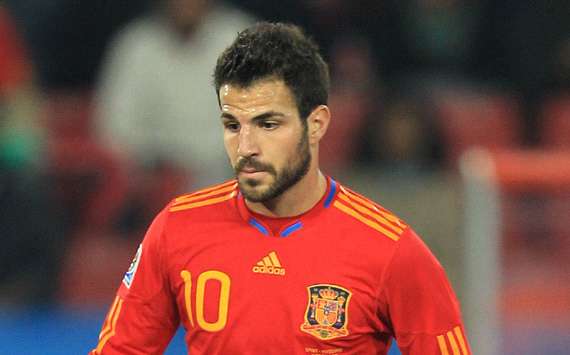 Villa must be the target striker
Spain's wealth of attacking talent means that their coach can tinker with a number of combinations upfront: a three-pronged strikeforce, a conventional two-man attack, or a lone striker.
But in the event where a target striker like a Fernando Torres or Fernando Llorente is omitted from the team, then David Villa has to be pushed into the middle.
Against Argentina and against the big teams in the knockout stages of the World Cup, Spain's lack of target man inside the box became a constant problem as they struggled to score against ultra-defensive opponents. For all their lovely tiki-taka build up, La Roja's midfielders and wingers did not have a frontman to aim for when it came time to deliver the killer pass.
Villa is only effective cutting in from the left when there's another striker inside the box who can lure two or three defenders away and open up a channel for 'El Guaje' to run into. Otherwise, he would just be barricaded by a line of defenders.