What does losing CR7 mean for a Portugal team already rife with problems?
After a
World Cup
, many national teams that came up short of their respective country's expectations on the world stage soon enter a period of transition.
Some see coaching changes, while other sides see their veteran players bid farewell to the rigorous demands of elite competition.
To say that Portugal has entered such a time of transition might be something of an understatement . In the wake of coach Carlos Quiroz's six-month ban from international football for having insulted and hindered the work of anti-doping officials who wanted to test some of Portugal's players at a pre-World Cup training session in May, the national team has rapidly shifted into a state of tenuousness and instability.
In fact, the recent developments are even said to have potentially damaged Spain and Portugal's joint 2018 World Cup bid.
Queiroz's assistant Agostinho Oliveira is set to steady the ship in the coach's absence, but given the fact that Queiroz will, pending appeal, miss a great number of Portugal's Euro 2012 qualifying matches, it is quite conceivable that he will be sacked and the country's FA will seek a new direction.
On the pitch, Portugal has also seen a great deal of change. In the wake of the South Africa 2010, three of Portugal's most-capped veterans — attacking midfielder Deco, winger Simao, and iconic defender Paulo Ferreira — have announced that they will be hanging up their international boots and retiring from national duty. With the Seleccao's coaching leadership in flux and a number of the team's grounding players having bid adieu, Os Navegadores are wavering upon the precipice of instability.
It is in times like these that a team's captain is most needed to rally the troops and provide an example of inspiration and leadership both by way of composure and by way of performance. In Portugal's case, of course, that man wearing the armband is Cristiano Ronaldo.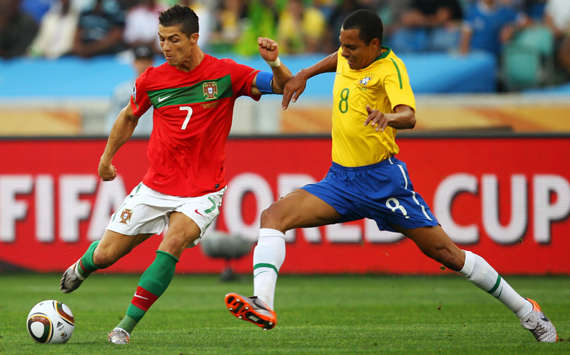 Man in the middle | Ronaldo is caught up in Portugal's current troubles
For pundits and fans alike, CR7's performance this past summer at the World Cup was largely judged as underwhelming. Never quite able to gain the measure of the over-inflated Jabulani beach ball (a problem Diego Forlan was able to harness and use superbly to his advantage), Ronaldo disappointingly blazed his trademark free kicks either directly into the wall or directly into the stands.
Coming out of the tournament he finished with just one solitary goal, a strange strike that involved the ball fortuitously rolling over the goalkeeper, up Ronaldo's back, onto his head, and falling to his right foot.
In his defence, the Portuguese talisman did enjoy the full and undivided attention of opposing defences in South Africa. Some firmly and steadfastly argue that the true legends put their teams on their shoulders and soldier on to somehow forge a way to win. But through the development of the modern game though, such blanket statements are not entirely applicable.
Football has evolved substantially, now filled with bigger, faster, stronger, and more specialised defenders that are so well coordinated tactically, that only a balanced team effort can bring success - especially at such competitive levels as the international game. Such a theory would also support why Lionel Messi found the back of the net so difficult to come by this summer.
Ronaldo is, of course, now out for at least three weeks, having sustained an ankle injury after being taken down on a clumsy challenge in Real Madrid's La Liga opener at Mallorca, a match that began the Mourinho era with an unceremonious 0-0 draw.
As such, Portugal will be missing both the exceptional talent of the world's most expensive player and the leadership of the captain's armband.
In light of the tumultuous events that have impacted the Portuguese national team in recent weeks, both of these qualities are very much needed as the squad prepares to take on their first two 2012 European Championship qualifying matches against Cyprus and Norway.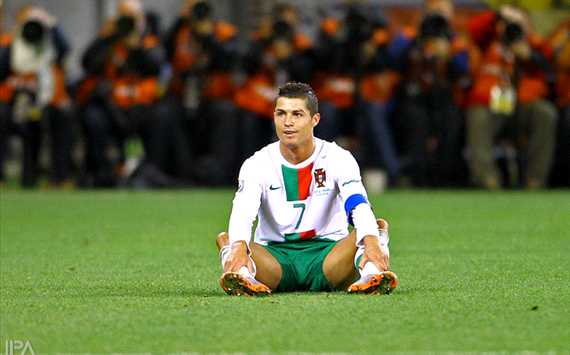 Heavy pressure | Ronny's club exploits have raised expectations internationally
Thus, as the Seleccao prepare to take on the challenges of Euro 2012 qualification without their coach, some of their most iconic veterans, and their talismanic superstar captain (incidentally, Pepe and Pedro Mendes are also unfit to play), Portugal will have to rely on players like the recently-recovered Nani, the dynamically young Fabio Coentrao, and Ricardo Quaresma - who has been afforded yet another bite at the apple to prove himself - to provide the much-needed invention and creativity that will be missing in Ronaldo's absence.
If not, Portugal could once again find themselves in a similar situation as the one they were in preceding the World Cup - only managing to scrape into the tournament by the skin of their teeth.
By that time, the military Order of Christ cross emblazoned on the Portuguese shirt may more closely resemble that of the International Committee of the Red Cross.