COMMENT
By Ben Hayward in Barcelona
A new era begins.
Luis Enrique
was unveiled as
Barcelona
boss in a press conference at Camp Nou on Wednesday and gave a glimpse into the club's new sporting project. Whatever happens, he's going do it his way.
All smiles as he was introduced by Barca president Josep Maria Bartomeu and sporting director Andoni Zubizarreta, the 44-year-old took on almost all of the questions that he was asked by the Catalan journalists and even cracked a few jokes. Having not always been on good terms with the local press pack as coach of Barca B between 2008 and 2011, he was keen to make the right impression on Wednesday.
Asked to describe himself, he said: "Handsome, tall, likeable, Asturian." Later, he was questioned over the possible role of a sports psychologist and joked: "Don't worry, the psychologist is just for me!" Then, another journalist enquired as to whether he'll be using a "firm hand" with the players. "A firm hand?" the former midfielder replied. "I'm always positive, eh ... always positive," in a reference to one of the favourite expressions employed by his former Barca boss Louis van Gaal.
That raised more laughter, but there was also pride. "It's a very special day," he told the reporters and club staff gathered for his presentation. "We want to build a Barca team that will excite people. I never set myself the goal of coaching the first team because it's one of those things that's so wonderful that you don't imagine it will happen - but here I am."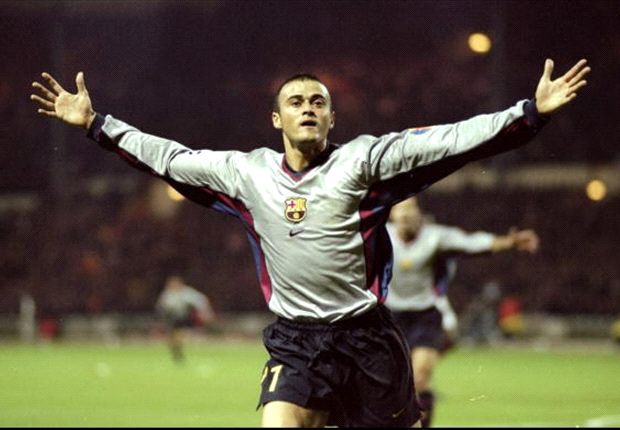 Barca legend | Luis Enrique was a popular player in his eight years at Camp Nou
On his philosophy, Luis Enrique added: "I like to attack." However, his serious side soon appeared when he was asked about individual players. First up, predictably, came a question on Lionel Messi. "I am delighted to be able to coach the best player in the world," he said. "Even if this season he hasn't been quite as incredible as usual, he's still the No.1. We hope to see his best version."
That was an easy one, but more testing questions followed. On Xavi's future, he said: "Xavi is a friend of mine and an ex-team-mate. I could speak wonders of him and others. Now he has a huge date with the World Cup. After that, we'll sit down and talk - and we'll see."
On Javier Mascherano's possible position and role next season, the new coach refused to comment but did say: "Mascherano is a clear example of what a captain represents." Then he was asked about Cesc Fabregas and, perhaps tellingly, chose to say nothing at all.
"Xavi, Mascherano, Cesc ... don't keep asking me about names," he complained later on. "We don't have to make any decisions now."
But, earlier, the Asturian had revealed that he had already begun planning for next season and said that some "difficult decisions" had already been made.
For the former Roma and Celta boss, it was a first taste of life in one of football's most difficult jobs, a post in which he is the fourth man to lead the team in as many seasons, after Pep Guardiola in 2011-12, Tito Vilanova in 2012-13 and Tata Martino in 2013-14.
"Don't compare me to Pep," the Asturian said after a journalist had hinted at that very idea but there are definite similarities. Like Guardiola, Luis Enrique knows this club inside out. Like Pep, he is well-dressed, polite and charismatic but also in common with his former team-mate is a stern side which is undoubtedly needed in such a high-pressure role to deal with not only top players but also the press.
"I suppose if you're comparing me to Pep later on then it means I'm winning trophies," he added afterwards. That's the plan - and, just like Guardiola, he'll do it his way. It's going to be anything but dull.
Follow Ben Hayward on