COMMENT
By Ben Hayward | Spanish Football Writer
Living La Liga loca. Between them,
Barcelona
and
Atletico Madrid
have led the Primera Division for 34 of the 37 rounds. And as the two teams prepare to do battle for the sixth time this season on Saturday, just three points separate the pair. At Camp Nou, the winner takes all.
Barca need the victory to tie with Atleti on 89 points and retain La Liga thanks to what would be a superior head-to-head record in meetings between the two teams this term (the league match in Madrid ended 0-0). Diego Simeone's side, meanwhile, require only a draw at Camp Nou to be crowned champions and will fancy their chances after going unbeaten in their five fixtures against the Catalan club in 2013-14. Barcelona, however, have home advantage.
"The players know this is a unique opportunity, playing for the title at home against a direct rival," Barca boss Gerardo Martino said on Friday. "I want with all my soul to win this game against Atletico."
For Simeone, meanwhile, it is the first of two huge games which will define the side's season, with the Champions League final to follow against Real Madrid in Lisbon on May 24. "We have 10 days of competition ahead, but we're focused on this game," he said on Friday, true to his one-game-at-a-time philosophy. "It will be complicated and tough, but we'll go there aiming to compete. The work that this team has done is enormous."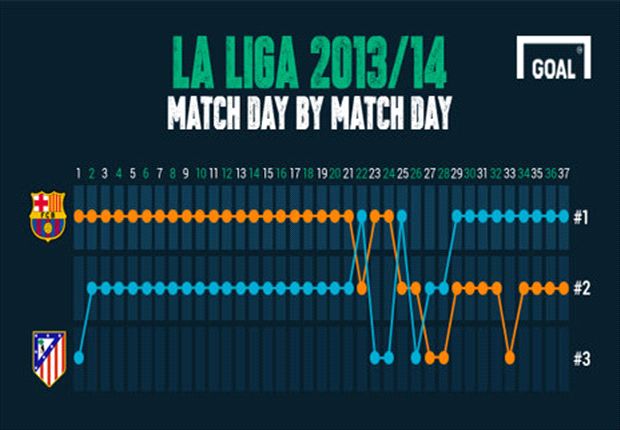 Barca led La Liga for the first 21 rounds of the competition, having been in first from start to finish under Tito Vilanova in 2012-13. But defeat at home to Valencia on February 1 allowed Atletico to move to the top following the passing of their former player and coach Luis Aragones that very Saturday.
But it didn't last long as Atleti lost at Almeria the following weekend and Barca returned to the top for two more weeks. Defeats at Real Sociedad and Valladolid saw the Catalans crash to second and then third in early March, however, as Real Madrid moved to the summit for three weeks in a row.
But Barca's 4-3 win at the Bernabeu brought the Catalans back into the race and Atletico returned to the lead following the 29th round of matches. Simeone's side have been there ever since, despite drawing at home to Malaga last Sunday when another goal would have given them the title, and losing at Levante the previous weekend.
Madrid, meanwhile, saw their title tilt end with back-to-back draws against Valladolid and Valencia recently and Carlo Ancelotti's men are now out of the picture, while Barca remain in the race despite losing at Granada last month and picking up only a point at home to Getafe and away to Elche.
So it's now between Barca and Atleti in a historic one-off 'final' as the two teams teeter towards the finishing line. La Liga loca looked like it would be over some time ago, but has now gone right to the wire and the way the Primera Division has panned out so far, don't rule out one final twist in the tale on Saturday.
Follow Ben Hayward on