ANALYSIS
By Ben Hayward | Spanish Football Writer
There is no margin for error. Atletico, Real Madrid and Barcelona are all in contention as La Liga draws towards an enthralling climax. And after the Catalans claimed
Clasico
victory in a spectacular seven-goal thriller at the Bernabeu on Sunday, only one point separates all three teams. So who will win it?
All of the momentum was with Madrid. Four points clear of Barca prior to the
Clasico
and three ahead of Atletico, Carlo Ancelotti's men looked firm favourites to claim La Liga. Indeed, even a draw would have kept
los Blancos
in pole position. Defeat, however, at the hands of Lionel Messi et al has thrown the race back open and Madrid's final fixtures appear tougher than those of Barca.
Tricky tests come immediately for the men in white, with a tough trip to Sevilla lying in wait for Madrid on Wednesday, while Barca and Atletico face what should be comfortable home matches against Celta Vigo and Granada, respectively. So Madrid must react quickly to Sunday's disappointment or risk losing ground on their two biggest rivals.
A local derby at home to Rayo Vallecano should present few problems at the weekend, but the following fixture at Real Sociedad is another which will test Madrid's mettle. Come away with all three points from Seville and San Sebastian and Madrid will have the hard work done ahead of home matches against Almeria, Osasuna, Valencia and Espanyol, plus visits to Valladolid and Celta Vigo in the coming weeks.
Last season, though, Real lost at Sevilla and drew at Real Sociedad, where Barca were badly beaten recently. Similar results this time around are unlikely to be good enough for Ancelotti's side.
"Up until the last game it will be open," the Italian coach said after
Clasico
defeat on Sunday, adding: "We need an immediate reaction."
Atletico currently sit top of the Primera Division thanks to their superior head-to-head record in games played against Madrid in La Liga (a 1-0 win at the Bernabeu and a 2-2 draw at the Vicente Calderon). After the home match against Granada, Diego Simeone's side face a testing trip to fourth-placed Athletic Bilbao at San Mames, where Barca lost and Madrid drew earlier this season. They did become the first away team to win at the new stadium with a 2-1 success in the Copa del Rey in January, but repeating that result will be another big ask.
Villarreal at home, Getafe away and Valencia at Mestalla are also tricky fixtures for Simeone's side, while a trip to Levante could also prove problematic and
los Rojiblancos
finish the season with a potential title decider at Barcelona. However, with the nature of the games ahead in the coming weeks, they will do well just to stay in contention by then.
Simeone, as is his way, will not talk about the title. "The win [over Betis on Sunday] gives us peace of mind," he said. And asked about the race for La Liga recently, he replied: "I'll talk about it if we are still up there with five games left."
Barcelona, by contrast, appear to have already played their toughest games. The
derbi
at local rivals Espanyol is never a pushover, of course, but Barca's record in that fixture has been excellent in recent seasons. Home dates against Celta, Betis, Athletic and Getafe are also unlikely to prove overly difficult for the Catalan club, while trips to Granada and Elche should be overcome with relative ease. And that leaves only two fixtures: Villarreal away and Atletico at home. Four points from those and wins in all of the other seven fixtures and Barca should be crowned champions.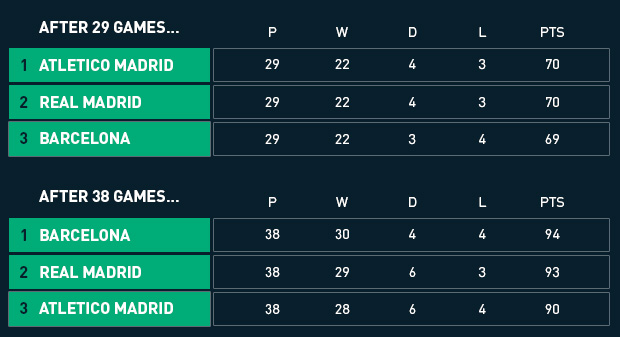 Easier said than done, though, and to win it Barca will need not only to raise their game for the big matches as they did on Sunday, but produce performances against smaller sides and avoid any repeat of such misdemeanours as the dismal defeat at Valladolid recently, which looked to have put paid to their title hopes at the time.
"Many thought we were dead and buried, but now we're back in the race for the title," Martino said on Sunday. "La Liga starts again..."
So it does and what until only recently was being written off as a two-team league is now geared for a fascinating finale as Atletico, Madrid and Barca battle it out for the Primera Division trophy. Nine lives left, for three teams, but only one winner - the mini Liga starts here.
Follow Ben Hayward on