ANALYSIS
By Kris Voakes | International Football Correspondent
Whatever the whys and wherefores of his departure, Barcelona fans will no doubt look back on Sandro Rosell's period as president of their club with great pleasure.
It is far from an easy task to take over to best team in the world, which is exactly what Barca were when Rosell replaced Joan Laporta as head of the Catalans on July 1, 2010, yet the 49-year-old ensured that the
Blaugrana
continued a fantastic run that had begun midway through the last decade.
A club who boasted 11 fewer Liga titles than rivals Real Madrid and had won only their third European title in 2009, Barcelona were going through a period of huge success by their own standards. As with anything, there was a danger that any drop-off in achievements would leave Rosell being forever known as the man who oversaw the downfall of the club. Despite his ignominious departure on Thursday, the
Blaugrana
remain in great shape upon his exit.
His first season at the helm was a most magnificent one. It could be argued that the team that swept Manchester United aside in the Champions League final after winning a 21st Primera Division crown and reaching the Copa del Rey final was among the finest to ever play the game.
David Villa had been brought in from Valencia for €40 million, with Javier Mascherano's flexibility following his €22m switch from Liverpool also proving crucial over the course of the season. Adriano and Ibrahim Afellay also added to the squad's depth, as the
Blaugrana
went about taking on all-comers.
| | |
| --- | --- |
| | BARCELONA'S TITLES UNDER ROSELL |

MORE ON BARCELONA


| | | |
| --- | --- | --- |
| Champions League | 1 | 2010-11 |
| La Liga | 2 | 2010-11, 2012-13 |
| Club World Cup | 1 | 2011-12 |
| Copa del Rey | 1 | 2011-12 |
| Supercopa de Espana | 3 | 2010-11, 2011-12, 2013-14 |
| Uefa Super Cup | 1 | 2011-12 |
That Real Madrid scored 102 goals and achieved 92 league points should not be forgotten when judging Barca's achievements of the 2010-11 season. They hadn't gained 96 points by coasting through the final weeks knowing the title was in the bag. No, they had been forced to play to the limit throughout the campaign. That also meant that Champions League games needed to be negotiated between key Liga encounters, and yet they continued to be simply magnificent.
The Copa del Rey final loss to Madrid in Valencia was one of few drawbacks, and they arguably won all the big games against the
Blancos
anyway. Who could forget the destructive 5-0
Clasico
success at Camp Nou that saw Barca go top for the first time? They would never again fall from that perch, and would even get the last laugh against their great rivals with a two-legged semi-final win in the Champions League, with Lionel Messi scoring twice late on at the Bernabeu.
The performance in the Champions League final against Manchester United was simply awe-inspiring, and the public's love affair with Barcelona only got stronger as a result. The task was to keep such success going, but 2011-12 was to be a mixed campaign.
Cesc Fabregas returned to the club in a €35m deal that underlined the
Blaugrana
's commitment to keep a Catalan heart in the side, while Alexis Sanchez's big-money switch from Udinese was a shot across the bows to the likes of Manchester City and Manchester United, who had also taken a liking to the Chilean flyer.
The additions would help Barca to pick up four pieces of silverware over the course of the season, but they were to miss out on the big two. A tempestuous Supercopa win over Real Madrid opened the campaign, and they soon added a second crown by beating Porto in the Uefa Super Cup. A 4-0 win over Santos and Neymar in the Club World Cup final and a 3-0 success in the Copa final against Athletic would later follow, but they were only second best in La Liga.
Mourinho's continued commitment to attacking football saw Madrid collect 100 points after netting 121 goals. It would have taken a super-human effort to stop them, and - for once - Barca couldn't deliver. There was further disappointment in the Champions League too, as a winning position against 10-man Chelsea was squandered in the semi-final at Camp Nou with Messi missing a crucial penalty. Just as in 2009-10, they were big favourites to become the competition's first back-to-back winners, but again they fell two steps short.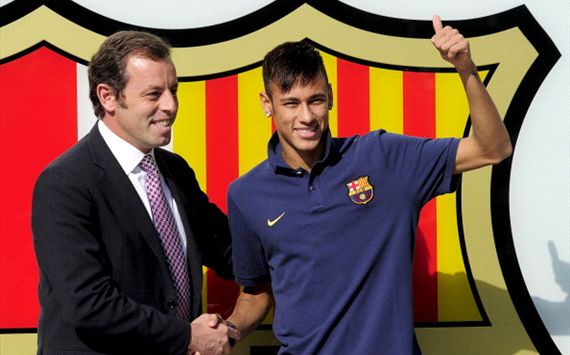 Beginning of the end | Rosell's successful stint was brought to a close after Neymar deal
With their resolve strengthened, Barca looked to bounce back in 2012-13 even after Pep Guardiola's decision to leave the club after four years in charge. After Tito Vilanova was appointed as coach, they added Jordi Alba to their back line for €14m, while a widely-questioned decision to spend €19m on Arsenal's Alex Song bolstered their numbers in midfield while adding further defensive depth too. The resulting 100-point league tally and 22nd Liga crown more than justified the moves, even if Messi's 60-goal campaign had the longest-lasting effect.
It was to be their only title of the season, though, with Real Madrid beating them in the Supercopa as well as the Copa del Rey semi-finals. Most worrying of all, though, was the huge gap in quality displayed when Bayern Munich effected a 7-0 mauling upon them over the two legs of their Champions League semi-final.
Messi's mounting injury issues late in the season again had people questioning the club's resources, while Vilanova's health worries had left Jordi Roura in charge for much of the run-in. Rosell responded by splashing out on the now infamous Neymar deal, while Tata Martino was brought in to replace Vilanova.
With Barca sitting atop La Liga right now and still having an interest in both the Copa and the Champions League, the club are well on the way to another memorable season. Yet the turbulence that is bound to be felt by the events of the past few days could yet allow one or both of Atletico Madrid and Real Madrid to take advantage domestically, while the build-up to a crunch tie against Manchester City could easily be effected too.
On reflection, though, Rosell has arguably given much more than he's taken away from the club. He leaves with the
Blaugrana
still champions of Spain and oversaw one of the best seasons on record not three years ago. Rosell's Barcelona was a very, very successful one.
Follow Kris Voakes on