ANALYSIS
By Alberto Pinero | Goal.com Spain's Real Madrid Correspondent
Cristiano Ronaldo
is sad. That's exactly how the player himself described his current state of mind after Sunday night's 3-0 win over Granada, in which he scored twice, but refused to celebrate. His post-match quotes set the alarm bells ringing at
Real Madrid
, already aware of Cristiano's unhappiness following a meeting the previous day with president Florentino Perez and sporting director Jose Angel Sanchez. But while the club were aware of the issue, they had not imagined it would cause such a furore the following day.
Ronaldo's reasons remain unclear, with Florentino, coach Jose Mourinho and even agent Jorge Mendes said to be in the dark regarding the player's problems with the club and his decision to air his grievances to the press on Sunday.
According to some of Spain's most prestigious press, it seems to be a combination of factors which have contributed to Cristiano's current melancholy. They all agree on one thing, however: at the root of the problem lie the negotiations for a new contract which are yet to bear fruit.
Ronaldo's agents have been in discussion with Madrid for some time over a deal to renew the Portuguese's contract. Cristiano has a deal until 2015 and receives around €10 million (£8m) each year before tax. Performances on the pitch have been outstanding and, as the club had agreed in principle to extend his deal, the signature seemed a forgone conclusion.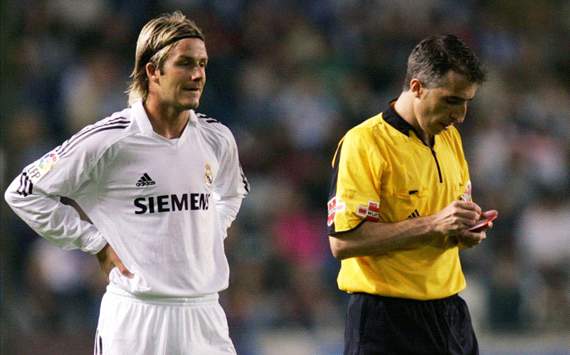 The 'Beckham Law' | The Englishman benefited from low tax rates in Spain


Over the last three years, players such as Zlatan Ibrahimovic and Samuel Eto'o have earned more money than Ronaldo, despite performing at a lower level than the 27-year-old. And it is believed Cristiano was keen on upping his salary to become the world's highest-earning footballer this summer. Madrid, meanwhile, are aware of his worth - both on and off the pitch.
The problem, however, lies in the abolition of the so-called 'Beckham Law', which allowed foreigners who had lived in Spain for less than 10 years and who earned above €120,000 (£95,000) per annum to pay a lower tax rate of around 23 per cent and not the usual 45%. David Beckham was one of the first to take advantage of the law after his move in 2003.
Having arrived when the law was still in force, players like Cristiano and Kaka still benefit from those advantages, too, but will cease to do so as soon as they sign new contracts. That means Madrid are currently paying around €15.5m (£12.3m) per year in wages to allow Ronaldo to take home €10m (£8m) after tax. But if the reported raise to €15m (£11.9m) becomes a reality with a renewal, the club will be forced to fork out a massive €31m (£24.5m), losing over half of that total to the taxman every year.
It is conceivable, then, that Madrid are currently unwilling to renew Ronaldo's deal on those terms, given that they can keep Cristiano until 2015 and save around €45m (£35m) in taxes by letting him see out his present contract, albeit with the considerable risk of losing their star player for free at the end of his deal.
Follow Alberto Pinero on