COMMENT
By Kris Voakes | Italian Football Editor
The Rossoneri fans staged an impromptu wake of the home clash against Fiorentina in January 2009. They sang "Don't sell Kaka" from the time the gates opened nearly three hours before kick-off until long after the game had started. They held up banners all over the ground, with one mimicking a credit card advert to state supposed player values: "Eto'o: €80 million. Ronaldo: €120m. Messi: €180m. Kaka: Priceless."
It was all in response to Manchester City's first big show of their new financial muscle: a €120m bid for the Brazil international.
But a few days later, he was waving to the AC Milan fans from the club's Via Turati offices having decided to stay on at San Siro after Silvio Berlusconi intervened. The supporters had got their wish, but it would be less than five months before he was gone - for almost half the price - to Real Madrid.
This year, a similar story has taken place, only in a shorter space of time. This time Thiago Silva was the object of an Arab billionaire's desire. And it took less than four weeks for Milan to go back on their honorary president's decision to keep their main man, with the defender signing a new five-year deal only to then be turfed out within a fortnight for Paris Saint-Germain's 42 pots of gold.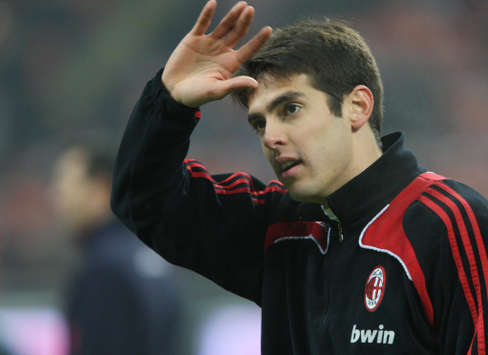 Kaka | The proceeds from his sale were largely left to fester


Add in the sale of Zlatan Ibrahimovic and the loss of a handful of experienced stars, and it has hardly been the most perfect of summers so far for the Diavolo. But the club's hierarchy have nobody but themselves to blame for the directionless farce that has become of their transfer window so far.

As they scramble around looking for replacements among the likes of Andrea Dossena, Alessandro Matri, Aleksandar Kolarov, Edin Dzeko and Lassana Diarra, the footballing world is left wondering what exactly was the Rossoneri's plan coming into the summer window?

Did they really let the entire spring pass by without even considering what they would do to replace Thiago Silva or Ibrahimovic? And if not, why were they sold? When they let Kaka go three years ago, it came as a surprise to very few. After the Manchester City near-miss, it became clear that he would be Madrid-bound come June, and yet the best they could muster with the €65m fee they gained was Klaas-Jan Huntelaar and Ignazio Abate at a combined cost of €17.8m.
REPLACING THE LOST BOYS


SUMMER 2009



SOLD:
KAKA
YOANN GOURCUFF

BOUGHT:
KLASS-JAN HUNTELAAR
IGNAZIO ABATE

€65m
€13.5m


€15m
€2.8m

SUMMER 2012

SOLD:
THIAGO SILVA
ZLATAN IBRAHIMOVIC

BOUGHT:
FRANCESCO ACERBI
GABRIEL


€42m
€13m


€4m
€500,000

Excludes loans and free transfers
The following season they paid the price for not doing more with their mullah. When Leonardo's devil-may-care approach did not work, there was nothing else there. No extra something. Just a warchest welded shut over at Via Turati. Again, it was as though they'd had some naive perception that Kaka would actually stay.
But with their fingers having been burnt once, it is unforgivable that the club now sit where they do. Having dillied and dallied over the Thiago Silva sale, called Berlusconi's intervention "heroic", handed the player a new deal, and then sold him for €4m less than the reported June agreement, one wonders what exactly they have realised now that they did not know a month ago. Did the €102m saving not dawn on them at first or what? Whatever the reason, they have wasted their own time and energy.
Light in quantity and quality in comparison to three months ago, Milan are staring down the barrel, and with each passing day the current situation looks more and more concerning. This time, it cannot be down to naivety, but rather sheer pig-headedness.
Thiago Silva was first linked with Barcelona a year ago, and the very second that agent Mino Raiola said that Ibrahimovic was "99 per cent certain" of staying at Milan, the whole world knew that was Mino-speak for "Zlatan's off". So why did Adriano Galliani not realise as much? Why wave goodbye to two massive names and not prepare properly for the season ahead without them.
As much as money cannot be spent before it is earned, the very least the club should have done was arrange a structured summer market, getting to work early on both incomings and outgoings. Yes, five players have come in, with Francesco Acerbi and Gabriel joined by Bosmans Bakaye Traore and Riccardo Montolivo, plus loan signing Kevin Constant. But when you put that up against the 13 first-team squad members who have gone out of the same door, it is clear that something does not add up.
The various moves so far have added €57.5m to Milan's balance sheet, plus cleared a wage burden of around €100m. If they had made the decision to sell Thiago Silva in June, Ibrahimovic would likely have departed quicker to boot, leaving them a month better off in preparing their squad for the new season.
As it stands, they are left with a mild panic which is seeing them turn to rejects, cast-offs and hand-me-downs from the clubs that they can no longer compete with. Galliani claimed on Monday that Ibrahimovic would be replaced by "a champion", only to go back on his statement two days later.
"I agree with Mino Raiola, who says that top players are no longer coming to Italy," Galliani told reporters. "The top players no longer come, but we can form a team. We see they are not arriving, but we will see what we can do."
It is a crying shame. They obviously need to recoup money, but they did that three years ago and it got them nowhere. This time around, it should have been handled so much better, but it has not been. It has been nothing less than amateurish. Actually, it has been appalling. Where is the direction? Where is the kind of clever administration which won them so many trophies in the past 26 years?
Galliani and the powers that be have a hell of a lot to answer for. They need a miracle in the market over the next month to appease the Milanisti. Their excellent supporters deserve so much more.