SPECIAL
By Ben Hayward | Spanish Football Editor
It all started in sleepy Santpedor. This tiny town in the deepest Catalan countryside gave birth to the best Barcelona team in history; the finest footballing side of a generation - perhaps of all time. For it was here, 41 years ago in January, that Pep Guardiola was born.
January 18, 1971 probably seemed an insignificant date at the time in a village famed more for its medieval architecture and metal-work industry than for football. But Barca were a big deal in Santpedor, like everywhere else in Catalunya, and kids here grew up with the dream of pulling on the famous red and blue jersey. It was a dream fulfilled by Guardiola.
"He would kick the ball around all day long in the square where he lived," remembers 41-year-old Genis Cos Rubio, a contemporary of the Catalan coach.
"He would break windows and knock down power cables. People complained at the time and were annoyed, but now they are happy."
That small square was the Placa de la Generalitat, although it is a far cry from the home of the Catalan government in bustling Barcelona, which shares the same name. There, at number 15, Guardiola grew up in a small home with his parents, Valenti and Dolors, brother Pere and sisters Olga and Francesca.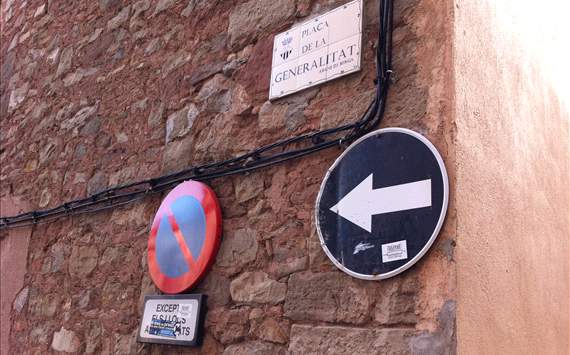 Early signs of promise | The Placa de la Generalitat in Santpedor


"Nobody thought he would make it so far," Genis admits. "He played well and he went to join [local club] Manresa, and then moved on to La Masia. It was exciting and people talked about it, but we didn't imagine he would end up in the Barca first team."
Two decades later, however, Pep would stand on the balcony of the Placa de la Generalitat in Barcelona, with the European Cup in his hands. Back in that small square in Santpedor, meanwhile, he was becoming quite the celebrity.
"I don't remember him as a youngster as he is a little older than me, but I remember him returning as a teenager," says Santpedor mayor Laura Vilagra Pons. "He had a girlfriend here and he would come back when he was at Manresa and when he was at La Masia. People were interested in how he was getting on."
Pep's parents eventually moved to a new house right on the edge of Santpedor, a stylish but simple structure which has become a point of interest among football fans from far and wide, along with the property in which Guardiola grew up.
"We have a lot of tourists who come to look at the house, last month we had a large group come by in a coach. They take photos and ask questions - they all want to see the house where Guardiola grew up," revealed Khalid Abid, who is from Morocco but has settled in Pep's anterior abode with his young family.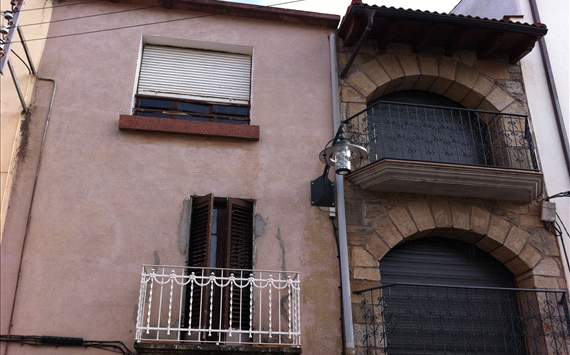 Terrace view | The house (left) where Pep Guardiola grew up


"We have been here for seven or eight years. When we came here, we didn't know who Pep was, but people soon told us," he added. "It's really special to know you live somewhere like this, somewhere people want to remember and see."
But others were less enthusiastic when Pep was hitting the heights for the Barca first team, claims supporters' club president Toni Valverde, a long-time friend of Guardiola.
PEP'S PARTING Guardiola steps down as Barcelona coach

"There was plenty of envy around that time; some people were happy for Pep, but others were jealous of his success," he revealed.
"It was hard to see him getting to where he is now of course, but he had talent," Valverde added. "He was only little but we spent so many hours kicking the ball around on the school patio. So many hours.
"There was one boy who went on to play for Espanyol's youth team, while another played in the third division with Terrassa. But Pep stood out."
And by the age of 13, he was gone. Off to La Masia he went as a dreamy teenager, famously phoning home to tell his parents that he could see the Camp Nou from his bedroom window. He never looked back.
At what is now widely considered to be the world's finest football academy, Guardiola's education continued, with further formative years in the first team, then in Italy, Qatar, Mexico and with the Spanish national side, before he embarked on his ultra-successful sejour as coach.
These days, he is rarely spotted in Santpedor.
"He comes back now and again and you sometimes see him in church with his parents during the festive season," said Santpedor priest Joan Hakolimana, originally from Rwanda.
Pena president Valverde added: "He comes back but he usually just goes to see his family in order to avoid all the attention; it's quite a big deal when he is here."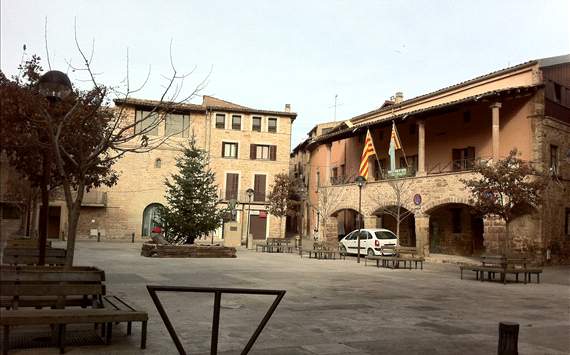 Humble beginnings | The main square in Santpedor


But Pep's pueblo past and formative years some 75 kilometres away from Barcelona made their mark on a man who was voted Coach of the Year at the Fifa Ballon d'Or ceremony earlier this year and can surely be considered the best in the business after winning 13 trophies as Barca boss.
"You have to know where you have come from," explains Valverde. "And Pep came from a working-class home like we all did. We went to a nuns' school and even though he later changed, I think in a way some of those ways stayed with him; the politeness and the morals, the ethics - he has retained all of that."
Town mayor Vilagra also believes the core values of rural Catalan life have helped make Pep what he is today. She said: "He is simple and straightforward; he grew up in a small place and learned how to live with very little.
"He also had some tough times as a player and had to work hard; he is humble, just like Xavi and [Andres] Iniesta, who is also from a small town.
"And he's very Catalan. Whereas some spend a fortune, the Catalan ethic is to work hard together in a collective, working like ants - he understands that and it can be seen in his work."
It is that philosophy which elevated Pep from his humble beginnings to the highest echelons of the game. He came a long, long way to get here.
Follow Ben Hayward on