ANALYSIS
By KS Leong
So, Real Madrid have negotiated their toughest title run-in pre Clasico, winning two out of three as they thumped Osasuna at the Reyno de Navarra 5-1 and Atletico Madrid 4-1 at the Vicente Calderon. Curiously, they dropped two points against Valencia at the Santiago Bernabeu, a ground that up to a few weeks ago had been their fortress.
Now, for Barcelona to keep the Liga race a nail-biting affair until the end of the season, they must do their part in overcoming one of their tougher tests: a trip to Levante.
Not many would have expected the Valencian outfit, relegated in 2008, whose entire transfer budget is not enough to rent Lionel Messi for a week, to be one of Barca's main hurdles in the title hunt. But they have enjoyed a remarkable, even miraculous resurgence. Winning promotion just two seasons after their drop, they are now challenging for a place in next season's Champions League.
Like Real Betis, Levante made a blistering start to La Liga this term, but unlike the Andalusians, who have since faded to mid-table mediocrity, Juan Igancio Martinez's side have kept battling throughout the campaign and apart from the opening three matchdays, they have not dropped any lower than seventh in the table.
Barca's six Liga visits to Levante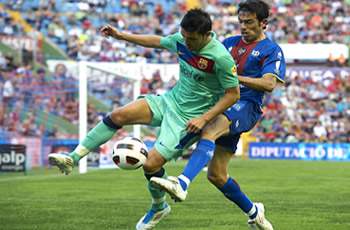 10 Nov 1963: Levante 4-5 Barcelona

11 Oct 1964: Levante 5-1 Barcelona
13 May 2005: Levante 1-1 Barcelona
02 Dec 2006: Levante 1-1 Barcelona
29 Sep 2007: Levante 1-4 Barcelona
11 May 2011: Levante 1-1 Barcelona
Levante are the classic grafters, a team of hard workers who bind together to suffocate their more illustrious opponents. Real Madrid know all about their defensive resilience and counterattacking threat when they lost 1-0 at the Ciutat de Valencia earlier in the season. It's the same trap waiting to be sprung against the Catalans.
With a date against Chelsea in the Champions League looming and suspension worries ahead of the Clasico, Pep Guardiola could decide to rest several key players again, much like he did last week at Zaragoza. The Catalans were lucky to grind out what ended in a comfortable-looking 4-1 win against their 10-man opponents, but they were outplayed for much of the opening period, and could have gone 2-0 down before fighting back to equalise and subsequently storm away.
Another squad-rotation approach might not work for Guardiola at the Ciutat de Valencia. Levante will not shy away from putting every man behind the ball and should Pep start without the likes of Xavi, Andres Iniesta, Alexis Sanchez or even – albeit unlikely – Lionel Messi, they could find themselves just running into a brick wall.
Even more precarious for Barca is their need to constantly shuffle their back line. Levante will hit the Catalans on the break and they will relish taking advantage of a defence that is not completely in sync. Juan Ignacio's men are extremely effective in front of goal. Despite averaging only 41.5 per cent of ball possession, the second lowest in the league ahead of just Racing Santander, and 4.03 shots on target per game – also one of the poorest – they have scored 46 times so far, the seventh-best attack in the league.
THE TABLE WITH SIX GAMES LEFT
Barcelona have not always done well at Levante, or even trips to the Valencian Community, and this season drew at both Villarreal and Valencia. The Blaugrana have also only ever won twice at the Ciutat in six league visits, the most recent a 4-1 triumph in the 2007-08 season when Levante were unceremoniously relegated, and the other all the way back in 1963-64.
Yet the ground seems to be a good omen for Barca. It was in that stadium where they clinched their Liga titles in 2005 and 2011 when a 1-1 draw was sufficient to get them across the finish line. But a similar draw this time around, ironically, could send the title to the Spanish capital.
Guardiola's side are currently on a 10-game winning run in La Liga, and they may need to equal their own all-time record of 16 to stand any chance of retaining their crown. Madrid would love to put an end to both at Camp Nou next week, but they might just be beaten to it by Levante if Barcelona leave one eye on Chelsea and the other on the Clasico.
Follow KS Leong on