Goal.com is publishing exclusive extracts from Luca Caioli's new book, Ronaldo: The Obsession for Perfection, which charts the Portuguese forward's spectacular rise from a poor childhood in Madeira to superstardom with Sporting Lisbon, Manchester United and Real Madrid.

At six years of age, Cristiano has made his first foray into the footballing world. His cousin Nuno plays for Andorinha and Cristiano has been to the ground a number of times with his father. Nuno invites him to come and see him play, and asks him if he would like to join one of the teams. Cristiano joins the practice and decides to give it a go.
Dolores and Dinis are happy with their youngest son's decision – they have always loved football. Dinis and his older son Hugo are Benfica fans, while Dolores adores Luís Figo and Sporting Lisbon.
In the 1994-95 season, nine-year-old Cristiano Ronaldo dos Santos Aveiro is awarded his first sporting licence, number 17,182, from the Funchal football association, and dons the light blue strip for Andorinha. It's a local club with a long history, founded on 6 May 1925. The name Andorinha is Portuguese for a swallow, which according to legend derives from one particular footballer's superb shot which was followed by the flight of a swallow.
Primary school teacher Francisco Afonso, who taught Cristiano's sister Katia, has dedicated 25 years to coaching in the Madeira junior leagues. He was Ronaldo's first coach and he has never forgotten the first time he saw him on the Andorinha pitch, age seven.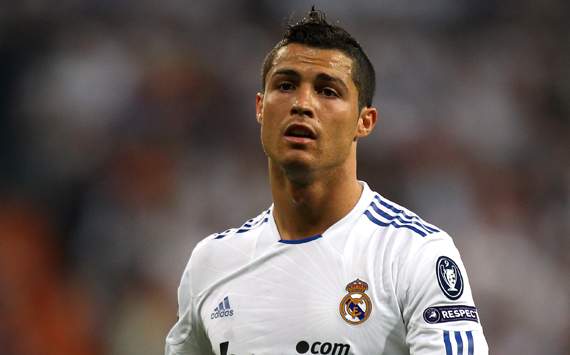 Getting his way |
Cristiano fought hard for his move to Real Madrid
"Football was what Cristiano lived for," Afonso says. "He was fast, he was technically brilliant and he played equally well with his left and right foot. He was skinny but he was a head taller than other kids his age. He was undoubtedly extremely gifted – he had a natural talent that was in the genes. He was always chasing the ball, he wanted to be the one to finish the game. He was very focused, he worked equally hard regardless of where he was on the pitch. And whenever he couldn't play or he missed a game he was devastated."

Club president Rui Santos tells a juicy anecdote about a match during the 1993-94 season: Andorinha versus Camacha, who at that time were one of the strongest teams on the island. At half-time Andorinha were losing 2-0 and "Ronaldo was so distraught that he was sobbing like a child who's had his favourite toy confiscated. In the second half he came onto the pitch and scored two goals, leading the team to a 3-2 victory. He definitely did not like to lose. He wanted to win every time and when they lost he cried."
| | |
| --- | --- |
| He was nicknamed 'cry-baby'. He cried and got angry very easily - if a team-mate didn't pass him the ball, if he or someone else missed a goal or a pass, or if the team team wasn't playing how he wanted | |
"That's why he was nicknamed 'cry-baby'," explains Dolores. "He cried and got angry very easily – if a team-mate didn't pass him the ball, if he or someone else missed a goal or a pass, or if the team wasn't playing how he wanted."

The other nickname he acquired was abelhinha, 'little bee', because he never stopped. Like a busy bee, he was always zig-zagging across the pitch.

"A footballer like Ronaldo doesn't come along every day," adds Rui Santos. "And suddenly when he does, you realise he's a superstar – different from all the other kids you've seen play."

Unfortunately Andorinha were one of the weakest teams in the league, and when they faced the likes of Maritimo, Camara de Lobos or Machico, the matches were something of a whitewash. Ronaldo didn't want to play because he already knew they would lose. But his father would come home, cheer him up and persuade him to put his kit and boots on and join his team on the pitch.

Only the weak give up, he would say – and it was a lesson that little Ronaldo would never forget.


www.corinthianbooks.net
Follow Luca Caioli on

With every extract published, Goal.com will be giving away one copy of Luca Caoili's new book. To have a chance of winning an ebook or hard copy of Ronaldo: The Obsession for Perfection, answer the following question: Where is Cristiano Ronaldo on the list of all-time Real Madrid goalscorers? Send answers to competitions@goal.com - the winner will be announced in next Friday's extract.
Last week's winner: Abdul Karim