The Portuguese had endured his toughest week since taking over at the Santiago Bernabeu, but saw his team respond to reports of unrest with a positive performance in the cup exit
ANALYSIS
By Ben Hayward | Spanish Football Editor
It was Barcelona who were celebrating. Coach Pep Guardiola had marked his 41st birthday on January 18 with a 2-1 win over Real Madrid at the Santiago Bernabeu in the sides' first-leg match last week; then Xavi entered his 33rd year amid a party atmosphere at Camp Nou as the Catalan club held on to eliminate their enemies from the Copa del Rey exactly a week later.
But on Thursday, in the cold light of day, as he emerges from another Clasico hangover, there will be less birthday cheer for Jose Mourinho.
The Portuguese turns 49 today but he is unlikely to be in any mood to celebrate following yet another disappointment against the team becoming a near nemesis in his ultra-successful career. Tales of dressing-room unrest and a possible player mutiny after the first-leg loss, jeering from his own fans on Sunday and a series of attacks from the media had led to reports of a Real rift - and a possible summer departure for the self-styled Special One.
It had been Mourinho's worst week since taking over at Madrid in the summer of 2010 and its calamitous conclusion, with the predictable Copa del Rey exit at the hands of his sides' fiercest foes on Wednesday, represented the worst possible ending.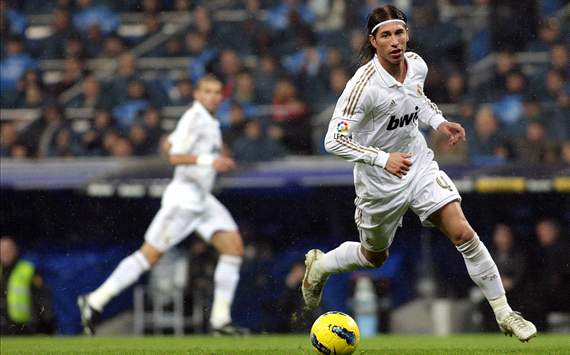 Leading by example | Ramos put the reported rift with Mourinho behind him


But Mourinho will not be downcast or dejected as he enters his 50th year, because what happened on the pristine playing surface at Camp Nou on Wednesday painted another, altogether prettier picture for the Madrid coach; it told a tale of togetherness, of fight, comradeship and courage - a story of hope and optimism with plenty of cheer in the coming chapters and perhaps even a happy ending, too.
Mourinho's men stood up to be counted at Camp Nou. Cristiano Ronaldo played with a confidence rarely seen in him against Barca, scoring a fine goal to start the comeback and working tirelessly to track Dani Alves on the wing; Mesut Ozil returned to the side and looked close to his brilliant best with some wonderful link-up play, an assist for Cristiano and a superb stinging effort which rattled the crossbar; Karim Benzema came off the bench to hand the visitors a lifeline with the leveller; Kaka showed moments of real quality and tremendous technique; Pepe, despite yet more rushes of blood to the head, made important interventions; even expensive summer signing Fabio Coentrao looked the part on the left of defence.
But there was one man who symbolised Madrid's makeover more than anyone: Sergio Ramos. The Sevilla-born defender had been in the eye of the storm ahead of this match following the leaking of his training ground argument with the coach, but the 25-year-old led his side superbly with some tremendous tackling, brave blocks and immaculate interceptions at the back. He was also rather unlucky - although it was probably fair - to see his header ruled out for a push on Dani Alves and he was certainly unfortunate to receive his marching orders for an alleged elbow on Sergio Busquets in the closing stages, when he had merely jumped alongside his international team-mate to dispute a loose ball.
That brought the night's most poignant moment as Ramos left the pitch, not to walk past an estranged Mourinho, but straight into an emotional embrace with his coach and an extended dialogue from his much-maligned manager. It may have been out of earshot in the Camp Nou's cacophony of sounds as the game approached its frenzied finale, but the image spoke a thousand words.
I am super-proud of my team. Real Madrid played the football on the night. I would like to thank all of the Madrid fans for their support. This team never gives up and we know the way forward



- Sergio Ramos

Madrid had fought back from two goals down to level at 2-2 on the night and move to within a whisker of advancing to the semi-finals of a competition they won last season. The players showed spirit, style, dedication and determination, demonstrating positivity, passion and above all, a willingness to work for their boss. In the end, they came up just short, but they went down fighting and, tellingly, not with each other.
So reports of Mourinho's demise do seem, in the words of Mark Twain, greatly exaggerated. The Portuguese needed a reaction from his players - and he got one. And that, surely, was the best birthday present of all.
Mourinho may yet leave the club in the summer, but with the past week behind him, he and his players can return to work on the battles that lie ahead. Defeat to Barca will be hard to swallow as the Catalans march on - deservedly - to the last four. But with the cup claimed in his first season at the Bernabeu, the Portuguese has greater ambitions and agendas in 2011-12, and Wednesday night showed that this Madrid side, crucially, can match Barcelona. Even at Camp Nou.
That will give Mourinho's men confidence as they look to preserve their five-point lead in La Liga, with an April fixture in Barcelona still to come, and ahead of what seems an inevitable meeting later in the Champions League, too.
They may have been defeated in last night's duel, but when the dust settles on the latest Clasico clashes, perhaps Mourinho can find some birthday cheer after all. The civil war is over: Now the biggest battles begin.
Follow Ben Hayward on