COMMENT
By Peter Staunton
From ACME explosives to elaborate booby traps, Wile E Coyote tried everything within his realm of reason to ensnare Road Runner in the Looney Tunes cartoon. No matter the audacity, no matter the theory, Coyote's machinations for trapping his quarry ultimately went awry. Each passing minute of every episode, Coyote became increasingly desperate, increasingly pitiful. Perpetually without his prey, Coyote trudged into the sunset with a dynamite-charred face or a boulder-flattened body; unrewarded, despite his best efforts, and forced back to the drawing board.
These days, Jose Mourinho brings to mind Coyote in his attempts to best Barcelona. The Real Madrid coach personifies a fervent zeal to overcome the challenge that will define his tenure in the Santiago Bernabeu hotseat. Granted, the Chamartin team are top of the pile currently in La Liga by virtue of their performances against Spain's also-rans. However, to claim victory over the Catalans, and to sustain supremacy, is now as important to Real Madrid as the attainment of trophies. It was a challenge before Mourinho arrived; it is now a necessity, although Jose would not be quick to admit it.
Mourinho's record as Real Madrid coach against Barcelona

| | | |
| --- | --- | --- |
| Competition | Result | Date |
| La Liga | Barcelona 5-0 Real Madrid | November 29, 2010 |
| La Liga | Real Madrid 1-1 Barcelona | April 16, 2011 |
| Copa Del Rey | Real Madrid 0-0 Barcelona (1-0 AET) | April 20, 2011 |
| Champions League | Real Madrid 0-2 Barcelona | April 27, 2011 |
| Champions League | Barcelona 1-1 Real Madrid | May 3, 2011 |
| Spanish Supercopa | Real Madrid 2-2 Barcelona | August 14, 2011 |
| Spanish Supercopa | Barcelona 3-2 Real Madrid | August 17, 2011 |
| La Liga | Real Madrid 1-3 Barcelona | December 10, 2011 |
| Copa Del Rey | Real Madrid 1-2 Barcelona | January 18, 2012 |
So far, the coach appointed in 2010 has not been able to match the ends with the Machiavellian means deployed to overthrow the world's best team. Nine times he has come up against Barcelona and has come out victorious only once. And that victory is marked with an asterisk. The solitary win in nine attempts came in the Copa Del Rey final after extra-time.
For all their efforts and all their coach's chutzpah, Madrid have been beaten five times in the other eight encounters, drawing three. Their home record has been miserable. If there is a blueprint for victory in Mourinho's artillery, he has yet to come across it or implement it consistently.
Admittedly, his Real Madrid team did look capable of toppling Barca during that Copa final. Cristiano Ronaldo, deployed as the spearhead in a 4-1-4-1 formation, scored the winning goal in the most complete Madrid performance against Barcelona since the installation of the coach. In that match, los Blancos found the golden balance of physicality and football. Although they ceded possession to Barcelona, as they have done in each of their encounters, Madrid limited Barca's control of the ball to areas from which they could not score. There was discipline, unity and competence in front of goal.
It followed the league encounter at the Bernabeu which finished level; a game which hinted that Jose was capable of eroding some Barca dominance on the field. It wasn't quite that he'd cracked it but he certainly seemed to be on the right track. That match also saw the debut of Pepe in a central midfield position for Clasico combat.
And if one player has come to typify Madrid's attitude in the recent Clasico matches, it is he. Pepe's physical prowess was key in the 1-1 draw and also key in the Copa victory. His ability to disrupt Barca attacks in midfield won a rare victory for Mourinho's inventiveness over Pep Guardiola; as effective as using Ronaldo as a central attacking hub. But the line between aggression and brutality is a fine one, and one on which Pepe has often trampled. His presence in midfield, which brings with it fouls and gamesmanship, has come to be abhorred by observers on both sides of the divide.
Barcelona's players and fans paint Pepe as a thug and a bully. Real Madrid's fans are beginning to think so too. To start a match with Pepe while Mesut Ozil and Kaka kick their heels on the bench is anathema to Madrid's traditions and style. It is one thing sacrificing poetry for pragmatism in the name of results but when those results are not achieved, the man making the decisions is left with some explaining to do.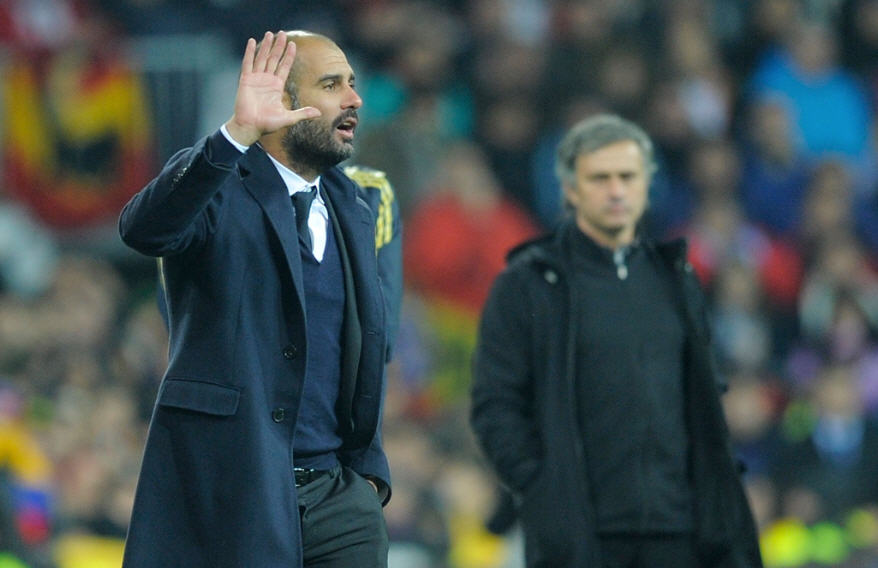 In his wake | Despite a superior league position, Jose has yet to get the better of Pep
Mourinho will point to his first Clasico experience, a veritable hazing, as evidence why Madrid cannot stand toe-to-toe in pure football terms with Barca. At 5-0 in Camp Nou, they were battered and Mourinho looked to have aged 10 years in two hours. By the time the two-legged Champions League semi-final came around, Mourinho knew that silky football, outright thuggery or a mix of the two was not enough to gain an advantage. And he turned conspiratorial.
Barcelona's partnership with Unicef was behind a perceived leniency from referees, he audaciously claimed. Uefa was afraid of a Barca-less Champions League final, he said. Pep should be ashamed of winning trophies in the manner he did, Mourinho concluded. Events on the pitch remained beyond his control when Barca comprised the opposition so he reverted to the snide insidiousness he spat while manager of Chelsea.
A summer cool-off ended abruptly when the two teams participated in the Spanish Supercopa - the prelude to the Liga season. A raucous, breathless battle at Camp Nou, following a Bernabeu draw, again ended in ignominy. Marcelo welcomed Cesc Fabregas to the Clasico jungle with an assault on the touchline; Mourinho took his cue in the ensuing melee to poke Barcelona's assistant manager in the eye and subsequently called Tito Vilanova a "dick" in the post-match press conference.

Many have been looking to find the antidote, including Real Madrid and Jose Mourinho, but they have been unable to stop them



- Fabio Capello

Two more defeats have left Mourinho a little more sunken around the eyes, greyer on his thatch, ever more unpleasant in his engagements with media and now, indeed, his players. Sergio Ramos and Iker Casillas, the club captain, are seemingly mutinous - scandalised by their team's approach to matches against Barcelona and disdainful of their manager's record as a player.
But Mourinho has nowhere left to turn. No matter the formation; 4-3-3, 4-2-3-1, 4-1-4-1, no matter the personnel, no matter the level of aggression, no matter the attacking balance in the team, Jose Mourinho cannot manage to beat Barcelona. Pep continues to leave him eating dust.
Wile E Mourinho again consults his ACME handbook before the Copa Del Rey quarter-final second leg. He is outwardly defiant. Nonetheless, he must be prepared for it all to blow up in his face as Road Runner Pep 'beep beeps' on by.
Follow Peter Staunton on