ANALYSIS
By Ben Hayward | Spanish Football Editor
Another year, another Clasico. But 2012's first meeting with Barcelona ended in an all-too-similar fashion for Real Madrid and their fans, with a 2-1 defeat at the hands of their fiercest foes on Wednesday night.
There was a sense of deja-vu as Madrid took an early lead, as they had done in December's match at the Santiago Bernabeu, but were unable to hold on as Barca bounced back and showed their superiority in the second half. Once again, Jose Mourinho's Real Madrid had taken the initiative. But once again they had flattered to deceive.
Mourinho was brought to Madrid with the specific mission of breaking Barca's stranglehold at home and in Europe, but after disputing nine Clasico clashes with the Catalans, the Portuguese appears no closer to cracking the code. He may yet win La Liga, but will even that be enough to save the Portuguese his job at the end of the current campaign?
In his first Clasico, Mourinho suffered his worst-ever defeat as coach, losing 5-0 to the Catalans in a one-sided encounter at Camp Nou. And although credit was restored as Mourinho's men beat Barca to win the Copa del Rey last April, the Catalans claimed the biggest prizes: La Liga and the Champions League, the latter following a convincing two-legged semi-final victory over the capital club in April and May.
This term, however, things were supposed to be different. Mourinho's much-heralded second-season improvement was supposed to see Madrid step up their game and finally Barca toppled. But so far, things haven't exactly gone according to plan.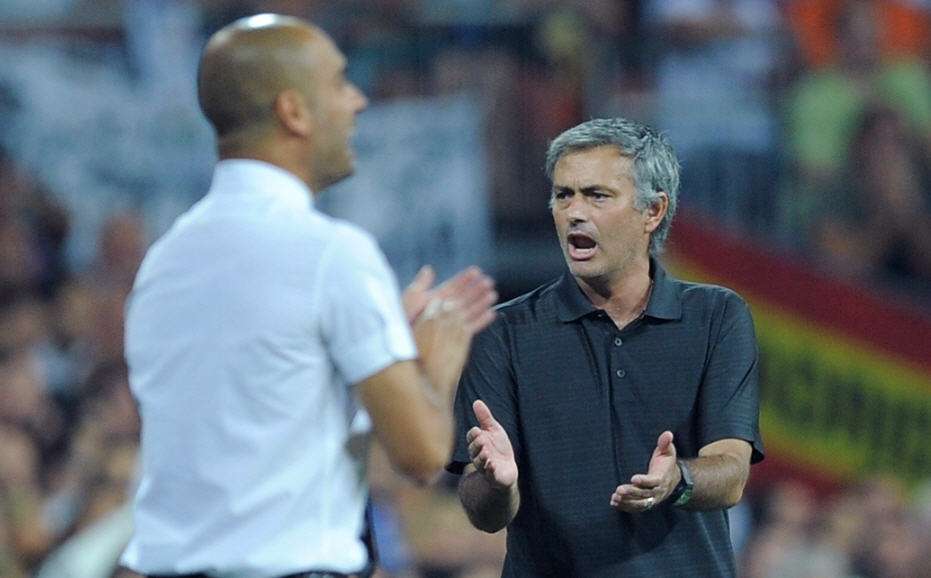 A different philosophy | Barca chose Guardiola over Mourinho in 2008


The 2011-12 campaign began with the Spanish Supercopa and it was a positive performance by Madrid in both legs, but even with the pertinent preparation in pre-season and arriving in superior shape to their rivals, Mourinho's men saw themselves edged out 5-4 on aggregate.
And there was more optimism ahead of December's La Liga clash at the Bernabeu, with Madrid effectively able to open up a nine-point advantage with a victory. But after the early gift of a goal on 22 seconds, Barca once again assumed control and triumphed 3-1.
It was similar story last night, too, and the frustration was tangible at the final whistle as jeers ran around the famous home of European football's most successful side.
Down in the press room, Mourinho accepted full responsibility for the reverse. There were no excuses or protests from the Portuguese this time; they had bean beaten and that was that. But he had heard the murmurs of discontent from the crowd, and is having to deal with a prickly press pack, too, after this latest Clasico calamity.
I have a lot of confidence and I don't think about being sacked. Four years of contract is enough to win, to build a strong team for the present and future



- Mourinho after he was unveiled at Madrid

After the game,
Marca
ran a report entitled "Mourinho, that's not how you do it either" while Spain's best-selling newspaper also published a video montage in which Real fans called for the Portuguese coach to step down.
Also, in the build-up to the game, a journalist from the network's radio station had questioned the Portuguese in the pre-match press conference. "How many titles do I have to win in order to avoid being questioned?" the Portuguese responded.
The answer wasn't clear.
The Mourinho message last night, however, was clear: attentions will be switched back to La Liga at the weekend. Yes, they would try to overturn the tie in Barcelona next Wednesday, but for now the Primera Division takes priority. And would he be happy to win it without beating Barca? "Yes," he said. "I'd feel great."
Madrid lead Barca by five points with 18 games played and La Liga looks theirs for the taking, even though another trip to Camp Nou awaits between now and the end of the season. By then, the teams' fate in this cup tie will long have been decided, while the fierce foes may meet again in the Champions League, too.
The responsibility is mine, especially when the team loses. Victory has many fathers; defeat only one. I have been in football a long time and I understand this





- Jose Mourinho last night

A league win would represent a satisfactory outcome in Mourinho's second season at the Santiago Bernabeu, and it would see him claim a title in a fourth different country, having racked up championship successes in Portugal, England and Italy already.
That is a personal goal for the Portuguese and once attained, he may decide he is better off elsewhere. Or the decision may even be made for him. Madrid have dispensed with winning coaches before, famously axing Jupp Heynckes after he had won the Champions League in 1998, sacking Vicente del Bosque following a period of sustained success a few years later and then firing Fabio Capello after the Italian ended a trophy drought by winning La Liga in 2006-07.
Capello's case is a similar one to that of Mourinho. The Italian's Madrid side played pragmatically, but lacked style and substance. It was not the Madrid way. And the same thing can be said for Mourinho. At the moment, Madrid fans would tolerate inferior possession and even poorer play if it meant beating Barcelona on a regular basis.
The problem is that it doesn't and Wednesday night's match, although played with something of a makeshift line-up by Madrid in terms of the defence, showed the Catalans' control may yet remain for some time to come. And if that pattern continues to the end of the season, winning La Liga may just be Mourinho's parting gift to the Madrid cause.
Follow Ben Hayward on