By Sergio Aguilera in Madrid
Cristiano Ronaldo was the star attraction at the premiere of his new documentary in Madrid. 'Castrol EDGE: Ronaldo Tested To The Limit,' which will be broadcast in the UK tonight (September 8) on Sky Sports HD2 at 8pm, had its first showing at the Palacio de Vistalegre in the Spanish capital on Wednesday night.
The Palacio de Vistalegre was turned into the spectacular stage for the world premiere of the film which scientifically examines Ronaldo's abilities. A crowd gathered for the Real Madrid superstar who swapped the green grass of the football pitch for the red carpet of the Madrid social scene.
Devoted supporters of the Portuguese attacker gathered around Vistalegre hoping to get a snapshot of the player who arrived in spectacular style. The world's most expensive footballer was chauffeured to the occasion in an Audi R8 Spyder driven by former Spanish world rally champion Carlos Sainz.
Also in attendance was Ronaldo's former team-mate Jerzy Dudek who participated in the shooting of the documentary recently in Madrid. Dudek accompanied his old club colleague on stage to introduce the feature film which was hosted by Ronaldo's Portuguese compatriot Pedro Pinto of CNN who is a keen fan of
Goal.com
.
Dudek told Goal.com" "It was very exciting for me to take part in this documentary. They needed a goalkeeper and I was in Madrid at the time. It was fantastic experience."
The former Liverpool shot-stopper was warm in his praise for Ronaldo: "He trains hard and always tries to be better and better as a player. As a person he is a normal guy. It seems like if he was a rock star sometimes but he is really a normal guy."
Almost a thousand spectators turned up to witness the first airing of the feature which will soon be be broadcast on television channels around the world. In the film Castrol EDGE's sports scientists put Ronaldo under the microscope to discover his unique skills which has made him of the greatest players of his generation.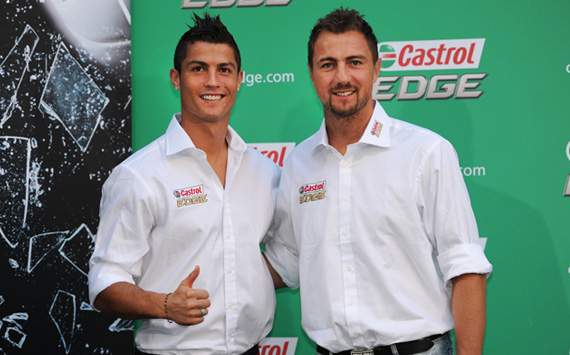 Ronaldo is put through a series of elaborate tests to help understand what gives him the strength to perform at an elite level. Viewers will also be able to see how the Portuguese player fares against an elite sprinter in a battle of speed and agility. He is also put to the test in a further challenge as he attempts to outwit laser gun snipers.
The film shows a side of Ronaldo we have never seen before as he undergoes challenges to prove if the forward is able to respond positively to the tasks or if he will surrender instead.
After shooting the documentary Ronaldo said: "The challenges were really tough, but I think I did well on the day."
Those who attended the premiere at the Palace of Vistalegre already know the outcome of this fascinating film. The rest of the world will do so very soon.
'Castrol EDGE: Ronaldo Tested To The Limit,' will be broadcast in the UK tonight (September 8th) on Sky Sports HD2 at 8pm
Visit CastrolEDGE.com Ronaldo tested to the limit for more