The European champions remain deep in debt and have spent the summer raising the funds to bring back their former youth-team player, but there's an element of risk in the move too
ANALYSIS
By Ben Hayward
Within Spain, Catalans have a reputation for being misers. Hard-workers, astute businessmen and shrewd spenders, the proud people from the north east are known for their pragmatic policy when it comes to money. And most will admit there is at least an element of truth in the tale.
Said stereotype cannot explain the perpetual prevarication and repeated wrangling with Arsenal on the part of Catalan club Barcelona over a fee for their former player, Cesc Fabregas, however. This was different; the Catalans were willing to spend. They wanted to. But they just couldn't find the cash.
Barca bid twice for their former youth-team midfielder last summer and were told by Arsenal to up their offer on both occasions. In the end, they admitted defeat, preferring to wait, and refusing to pay over the odds. Previous president Joan Laporta, the most successful chief in the history of the club, had hoped to sign Cesc as a leaving present, a parting gift, as his term in office came to an end last summer. But having lavished lucre throughout his reign and seen the Ibrahimovic investment not only fail to pay off on the pitch, but also plunge the club into further debt, the funds just weren't there. "We are interested in signing Cesc and Arsenal know that, but we won't pay an exorbitant price for any player," Laporta said. But Arsenal also knew that Barca had shelled out a massive €65 million (£57m) for Ibrahimovic, and sent one of the world's best strikers, Samuel Eto'o, in the opposite direction for free.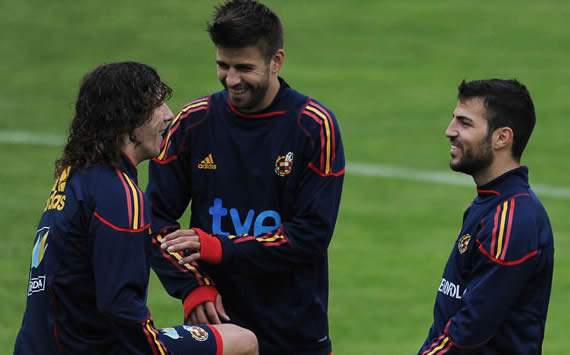 Friends reunited | Fabregas is returning home after an eight-year spell at Arsenal
With Cesc, though, there was also reluctance to spend so freely. Fabregas emerged at La Masia and shone in the youth ranks at the Catalan club – he was one of theirs. Paying so much for a locally produced, homegrown talent, didn't seem to make sense, so Laporta's hopes of bringing in the midfielder were frustrated.
In came Laporta's foe Sandro Rosell as president and while the two were constantly at loggerheads, they were in agreement over Fabregas. The new boss saw a €35m (£30.7m) bid rebuffed and told the press: "The whole world knows that he wants to come and that we want to sign him, but we will never pay €50 or €60m for Cesc."
Rosell, in fact, was more concerned with the club's immediate future. Debts of around €442m (£387m) meant the Catalan club could no longer even pay player wages and against Guardiola's wishes, defender Dmytro Chygrynskiy was shipped out for €15m (£13.2m) as Barca set about raising much-needed funds. A bank loan of €150m (£131.5m) was also taken out.
BARCELONA SUMMER SIGNINGS
Alexis Sanchez (£23m, Udinese)
Cesc Fabregas (£35m, Arsenal, to be confirmed)

Since then, despite the club's best efforts to curb their spending, the debt has risen. Earlier this summer, Barca's economic vice-president Javier Faus revealed that the Catalans now owe €483m (£423m), having lost €83m (£72.8m) and €21m (£18.4m) in the last two years respectively. An incredible income of €420m (£368m) this year alone is a reason for optimism, although prudence is advised. "In two or three years we will be one of the most solvent clubs in the world," Faus explained. But there was a caveat: "We can't go on losing money."
So while Real Madrid, who have a similar debt, continue to assemble an expensive group of players in all positions in order to compete with Barca, the La Liga and European champions would need to spend more wisely – despite their sensational success on the field.
At the beginning of the summer, the club announced a budget of €45m (£39.5m) for transfers – a lot of money in layman's language but barely enough to buy one of the world's top players. And to improve their era-defining side, only the elite would be good enough.
Back then, Barca's transfer targets were numerous. Striker Giuseppe Rossi was a priority, along with Cesc himself, a reserve left-back to deputise for Eric Abidal and a central defender as a long-term replacement – or at least as cover – for the ageing and ailing captain, Carles Puyol, who missed much of last season through injury.
BARCELONA SUMMER SALES
Bojan Krkic (£10.5m, Roma)
Jeffren Suarez (£3.3m, Sporting Lisbon) Oriol Romeu (£4.4m, Chelsea)

Barca bid for Rossi, but their offer was dismissed as derisory by Villarreal president Fernando Roig. The Yellow Submarine were willing to do business, and the striker was delighted at the prospect of joining Barca. However, negotiations broke down as Villarreal sought a fee of around €25m (£21.9m) upfront – no nonsense, no installments, no variables. Roig's ceramics business, which earned him the fortune with which he bought and nurtured the small-town club, had been hit hard and Villarreal needed money.
Barca, however, were unwilling to pay all of that cash upfront and turned their attentions to Chile winger Alexis Sanchez. The Catalans tried to reduce the fee for the forward by offering first striker Bojan Krkic and then winger Jeffren Suarez. Neither wanted the move, so after much wrangling, the two teams agreed a deal which will see Barca pay the initial fee of €26m (£23m) in installments over the next two years. In the end, Udinese were left with no choice but to agree to Barca's proposal, fully aware that the player had set his heart on a move to Camp Nou and nowhere else.

"We have paid €29m for Fabregas, not €40m
. We said that we wouldn't pay more than €30m, so we have every reason to rejoice."

- Sandro Rosell
The same could be said of Cesc. AC Milan and Real Madrid would have loved to sign the midfielder, but Fabregas pined for the lush green fields of La Masia; in his mind, the only pastures new would be the Camp Nou. Arsenal wanted €45m (£40m), but with the player pressuring for a move the Gunners knew they would have to settle for less. In the meantime, Barca set about raising the funds to bring home the 24-year-old.
The Catalans reluctantly sold Bojan to Roma for €12m (£10.5m) in a unique deal which will mean they are obliged to buy back the striker for more money in two years' time. The thinking being that they will have the money then, with the transfer negotiated to ease their current cash-flow crisis. Jeffren also departed to join Sporting Lisbon, for a fee of €3.75m (£3.3m), while another La Masia product, Oriol Romeu, joined Chelsea for €5m (£4.4m). In an ideal world, Guardiola would have kept all three, but needs must and the club realise their much-heralded youth academy can be a valuable source of funds.

"We don't need to bring in any more defenders. We miss Puyol - badly
. But we hope to have him back with us very, very soon."

- Pep Guardiola
The sale of that trio gave Guardiola and his staff the green light to go for Cesc. A fee of around €40m has been agreed with Arsenal, with €29m paid up front, €5m in variables and an extra €5m put in the player himself as he renounces monies owed to him by the north London club. It has taken all of Barca's business acumen to complete the protracted purchase and they have done so without using any of next season's transfer budget – an idea mooted by Rosell earlier this summer.
Whether the deal will pay dividends on the footballing front remains to be seen. Guardiola has claimed no more players will be arriving this summer and injuries in defence could yet deplete the double-winners. All of Barcelona's defeats last season came when Puyol was missing and that cannot be coincidence. Putting all their eggs in a midfield-shaped basket by signing Fabregas may come back to haunt the Catalans if Puyol cannot get – and stay – fit this season. And there would be nothing shrewd about that.