COMMENT
By Paul Macdonald
The four Clasicos that occurred at the culmination of the 2010-11 campaign can be likened to a pair of poker players, reluctant to reveal their tells. Cagey self-preservation prevailed over expressionism, and given the multitude of talent on show, the concept may have seemed obtuse to the neutral, expecting to be swept off their feet by La Liga's finest.
Barcelona and Real Madrid were then, and still are now, the two best club sides in the world by a considerable distance, and the superlative nature of the players on show - coupled with the familiarity that exacerbated the contempt between the two - led to games that were underwhelming as a spectacle in the game's purest form. At Santiago Bernabeu on Sunday night, however, the shackles were off, and the viewer was treated to a scintillating airing of attacking football.
Most criticised for their mentality in the now-infamous quartet of matches were Madrid; at certain moments they appeared to operate without a recognised striker, to the chagrin of most, including their own talisman Cristiano Ronaldo. There are those who felt that with an injection of ambition to test what was a patchwork Barcelona back-four, the end of last season may have reached a distinctly different outcome.
So to see Mourinho's men crash through their self-created image and come hurtling toward Barca with wave after wave of offensive momentum was as refreshing as it was, to a certain extent, irrelevant. This was the Supercopa, no more than a curtain raiser in the minds of all, and although the preeminent rivals of Spanish football doing battle can never be regarded as insignificant, tactics in a tie such as this can't be used as an indication of future intent.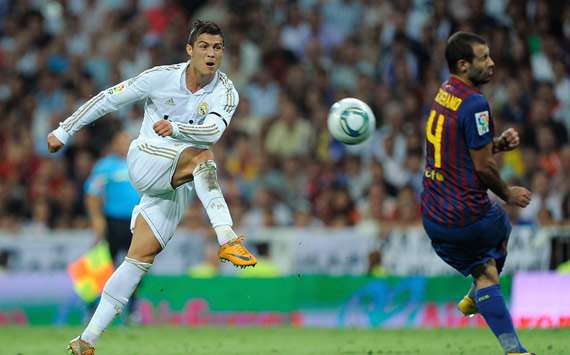 Rocket Ron | Ronaldo went close as Madrid took the game to Barca
And yet, it was how the neutral - and presumably a number of Madridistas - would have wanted their club to tackle the immovable force from Catalunya. Taking the game very much into the territory of their opponents, Barca were unnerved, uncomposed, and fortunate not to be beaten.
The fixture may have finished 2-2, giving Pep Guardiola's side the ascendancy heading into the return at Camp Nou on Wednesday, but Madrid didn't do a whole lot wrong; after controlling possession and taking the lead through Mesut Ozil, they were the only side who appeared capable of threatening the scoreboard for the opening 30 minutes.
That was until David Villa fashioned a chink of light on the corner of the area and executed a perfect shot that traversed around the body of Sergio Ramos and nestled in Iker Casillas' net. It was a goal that must simply be applauded rather than be subject to analysis as to how it could have been stopped. Then, on the stroke of half-time, a lucky break and a Pepe slip allowed the previously anonymous Lionel Messi to put Barca ahead.
Mourinho must have been baffled. But his team responded in kind, courtesy of a controlled Xabi Alonso side-foot that found the corner, and had Karim Benzema's finishing been sharper, Ronaldo's fizzing free-kick been a foot further to the left, or Valdes punished for his cheeky trip on the Portuguese, then victory could have been theirs.
It was at times breathless, and more free-flowing and lacking in positional discipline than we have become accustomed to seeing from Mourinho in recent years. And whether or not we can extract any information as to how the class of 2011-12 will tackle Barca, for sheer spectacle it vanquished all of the tetchy encounters from last season, but retained an aggressive, competitive element.
"Whether or not we can extract any information as to how Madrid will tackle Barca, for sheer spectacle it vanquished all of the tetchy encounters from last season.
"
And, after all that, Barcelona could not be overcome. Despite the spine of their team, namely Xavi, Sergio Busquets, and Gerard Pique, all warming the bench from the start, Madrid didn't have the ruthlessness to take advantage of their superiority, and Barcelona should be complimented for their role in the contest just as vociferously as Madrid.
For the manner in which they escaped the match without defeat, despite showcasing little of the style and finesse that have granted them worldwide acclaim, represents the mark of champions. Cliched it may be, but a weaker side from both a mental and a physical sense would have crumbed at the sheer ferocity of Madrid's collar-clutching, high-octane outlook.
As it was, we were able to enjoy two sides free from the burden of the significance of the occasion, and in turn they gave us a mouth-watering prologue to the new season, offering as many questions as answers as to who will reign in Spain.