FEATURE
By Ben Hayward
Juan Mata
is on a journey. Born in Burgos and raised from the age of five in the northern province of Asturias, the forward embarked on a route to the top via Madrid and
Valencia
, taking in South Africa and, most recently, Denmark.
It is a tour which has seen the player represent Spain at every level from Under-16 upwards, win a World Cup, a European Under-21 Championship and play in the Champions League – all in his tender 23 years. And this summer, that journey looks set to continue.
The bright lights of London are calling, with Arsenal said to be willing to make Mata their most expensive ever signing. The Gunners are one of several English sides interested in the player, with Manchester United, Manchester City and Liverpool also monitoring his movements. Inter have also sent scouts to watch the forward this season, while Barcelona and Real Madrid have also been linked.
A simple soul with a humble head on his solid shoulders, Mata is something of an atypical character in the game. Intelligent both on and off the pitch, the young forward boasts interests beyond football. He is concerned by world events, picked a museum when asked by a newspaper to choose the location to give a recent interview, has taken classes at university and says the person he would most like to meet is Nelson Mandela. And he's also learning English.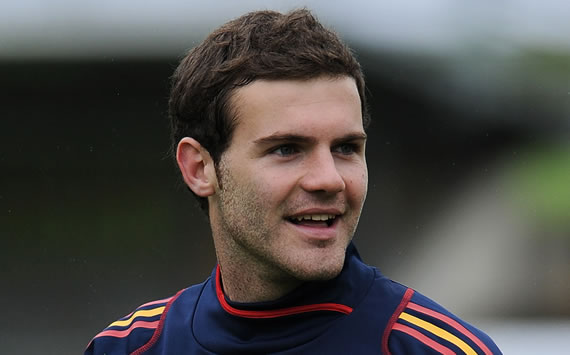 Juan for the future | Mata is a rising star in Spain
But while he may be keen to broaden his horizons, he is also happy at home. "I like living in Valencia," he has said. "I like going into the city once a week, to the cinema; I like the beach."
But Mata is not one for parties. Unlike some other players at Valencia, he has never been pictured falling out of a nightclub, nor does he seek a lifestyle of glitz and glamour. He has had several girlfriends, but his personal life had stayed such. Private, polite and politically correct, the 23-year-old is often described in Valencia as 'the perfect son-in-law – the boyfriend every mother would like for their daughter'. He is young, successful, well-mannered and polite.
These attitudes are also reflected in the dressing room. Although a popular presence among players – his best friends in the game are Valencia midfielder Pablo Hernandez, and fellow Asturians David Villa and Adrian Lopez – Mata is often reluctant to voice strong opinions, unwilling to upset his colleagues. Since the departure of Villa and David Silva from Valencia last summer, however, he has assumed more of a leadership role at Mestalla. And should he stay at the club next season, he is likely to be handed a position of authority as Valencia's first three captains, Joaquin, Cesar and Vicente, have all left the club, while the fourth, defender David Navarro, fails to figure in the plans of coach Unai Emery, who holds Mata in high regard.
JUAN MATA AT VALENCIA | First-team appearances




| | | | |
| --- | --- | --- | --- |
| Season | Appearances | Goals | Assists |
| 2007-08 | 29 | 5 | 0 |
| 2008-09 | 47 | 14 | 13 |
| 2009-10 | 56 | 17 | 4 |
| 2010-11 | 44 | 10 | 15 |
| Total | 176 games | 46 goals | 32 assists |
Mata's career is managed by Juan Manuel Mata Senior, a decent footballer himself in the 1980s. The two share a name, a profession and a love for the beautiful game. Indeed, Juan Mata Junior is very much his father's son. Lately, however, a more developed version of the player has emerged, both at Valencia and with Spain. "I have had to mature quickly," Mata has said. "I was at Oviedo at the age of 12 and at Madrid at 15".
Mata starred in Madrid's youth team alongside Sevilla striker Alvaro Negredo in a formidable front line, but opted to join Valencia when a contract offer at Castilla was not forthcoming. The player then endured a difficult time, being left out of the Madrid B team by coach Michel. On arrival in Valencia, he was also barely used by boss Quique Sanchez Flores, although he was given a run in the side by next coach Ronald Koeman and hasn't looked back since. Last summer, he ran away with the ball under his shirt after Spain has won the World Cup; this summer, he played a different part, as the oldest player for La Roja in the side's Under-21 Championship success, revelling in the role of father figure.

"I'm happy to stay with Valencia. It took me four years to break through into the first team but now I can play regularly for the team and for Spain.
"
- Juan Mata
Mata's father remains a very powerful presence behind the scenes. He wants the best for his son and is pushing the player to achieve all of his goals in football, perhaps living some of his own frustrated dreams through those of his talented child. Mata Senior has a prickly relationship with the press and, at times, with Valencia. Mata the player is determined too, though. "I demand the maximum from myself at all times," he has remarked.
Unhappy at Valencia's unfulfilled promise of a new contract last year, Mata eventually signed a new deal in the summer. The buy-out clause was set at a massive €60 million (£53.5m), although a gentleman's agreement was reached for the player to leave for between €20m (£17.8m) and €25m (£22.3m) should a suitable offer come in. At the moment, despite interest, no bids have been made.
Things are unlikely to change this week, either. Having returned from Denmark in the early hours of Sunday morning as a European champion, Mata then left Spain to go on holiday. After a week of relaxation, the player will return to Asturias to spend time with family and friends, and it is likely to be then that he will decide on his next move.

"Mata is like a brother
. I love him very much. He is a great person and a great player."
- David Villa
He will do so with an open mind. The Champions League is an attraction, of course, but Mata has also played in the Europa League for Valencia and those close to the player believe he will give greater importance to the sporting project on offer. And that could give hope to Liverpool. Barca failed to follow up their real interest from last summer and Madrid are looking to more exotic targets in the shape of Neymar and Sergio Aguero. England, then, appears to be the player's most likely destination. "I watched a lot of English football [growing up]," Mata once said. "United, Chelsea… I remember liking Arsenal with Dennis Bergkamp." Gunners fans will have fond memories of that era, too, and will hope they can add a new talent to the armoury this summer.
Wherever he does end up, Spain's emerging star looks certain to move on. His intelligent forward play, either on the wing or as a support striker, has won many admirers and, as with the moves to Oviedo, later Madrid and subsequently to Valencia, the youngster appears ready to take another step and continue his journey - as a Mata of progress.
Follow Ben Hayward on