It's that time of year when transfer talk dominates conversation - and
Goal.com
offered readers the chance to gain the inside track on everything Spanish by grilling La Liga expert Ben Hayward on Tuesday afternoon.
Our
Twitter
page was inundated with questions from all across the world, as fans demanded to know what was happening with some of the world's best talents.

Click here for a full transcript of the Q&A
- here are some of the highlights:
Q: Is Juan Mata going to Liverpool when the European transfer market opens? - Luke

Ben Hayward:
"Well the market's open, but Mata is away with Spain's under-21 side in Denmark at the moment so nothing is likely to happen until that tournament concludes at the weekend.
"Mata signed a new contract with Valencia last season but he has a gentleman's agreement with the club that he can leave for around €20-25 million (£17.7-22.1m). Liverpool wouldn't be his preferred destination at the moment.
"He would be more likely to opt for Manchester City to link up with his friend and former team-mate David Silva. City could also offer higher wages and Champions League football. And as they are set to miss out on Alexis Sanchez, they may just be in for Mata.
"Chelsea is another option, but it remains to be seen which players Andre Villas-Boas will look to sign. If neither of those sides make bids, Liverpool is a possibility. Mata wasn't keen on joining them when Roy Hodgson was there, but may be more enthusiastic about a move now. City, Chelsea and Liverpool in that order though. Sorry."
Q: Could Karim Benzema be heading to Arsenal? - Brett Cornelius

BH:
"Benzema had a difficult start at Real Madrid and was frozen out in the early days under Mourinho, but he came good after Gonzalo Higuain's injury and was the first-choice striker towards the end of the campaign.
"Emmanuel Adebayor won't be at the club next season, but Benzema, if he stays, will have to compete with Higuain and probably a new signing – Neymar and Sergio Aguero are the two linked – and Madrid are likely to sign one of the South American duo.
"So with Higuain returning to full fitness and a new man set to arrive, Benzema may decide it's time to move on. And if he does, I would say Arsenal is the ideal destination. The Gunners could do with a top-class striker and the French connection could see Wenger get his man."
Q: Where would be Sergio Aguero's most likely destination at the beginning of the season? - Poffy Oguejiofor

BH:
"As Maradona said a few days ago, Madrid! Aguero is in a difficult situation now because he has said he wants to leave and he has also flirted with Real Madrid, despite saying a few years back he would never join a club beginning with R (referring to Real and his former club Independiente's fiercest rivals Racing).
"Kun looks to have set his heart on Madrid but interest appears to have cooled. It's hard to see Real signing both Neymar and Aguero, so the Argentine may have to reconsider his options.
"A move to Chelsea is also a possibility, although that depends on what targets new coach Andre Villas-Boas has in mind. City is another option and Tottenham made a bid in January, but Kun is way out of Spurs' league now because they don't pay high enough wages and they aren't in the Champions League either.
"Barcelona were never really interested and Juventus are likely to be put off by the €45m (£39.9m) transfer fee. So if all else fails, he may decide to stick where he is and stay with Atletico, but he will have to win the fans over again after events in recent weeks."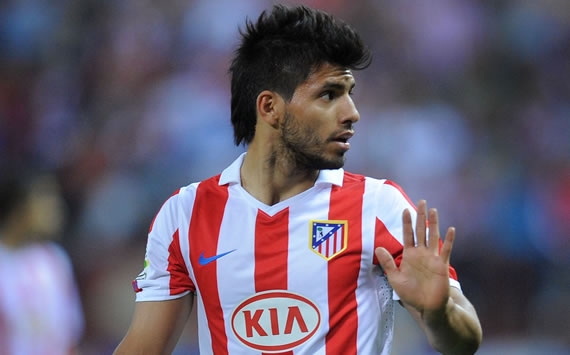 Hold it | Aguero will have to reconsider his options if Real sign Neymar
Q: Whose spot is Neymar likely to take if he joins Real Madrid? - Eldee Sefadzi

BH:
"Madrid look set to change to a 4-3-3 formation next season and in that case, Neymar could operate in any of the front three positions.
"Obviously he won't be displacing Ronaldo, so that leaves two other possible spots. Of those two, he would be more suited to the right-forward position, but he could also start as a roaming forward in the centre.
"In that case, he could replace any of Ozil, Di Maria, Higuain or Benzema as we await Mourinho's first-choice team for next season with interest."
Q: If Barcelona signs Cesc Fabregas and Alexis Sanchez, who would be benched to make way for these players? – Adesanya SamuelBH:
"Both Alexis and Cesc would be fighting for a place in Barcelona's first XI, although I would say the Chilean has the better chance of being an automatic starter. I believe he can win a place in the side ahead of either Pedro or David Villa.
"It may be more difficult for Fabregas, not because he isn't a great player – he is – but because of the quality he has in front of him. Xavi and Andres Iniesta cannot possibly be dropped, but what both of these signings will do is to allow Pep Guardiola to rotate more, keep his players fresh and reduce the risk of serious injury to any of the team's star players.
"Barca missed Carles Puyol and Eric Abidal for extended periods last season, but were lucky in that none of the important midfield or forward players suffered any notable injuries. Cesc could either be used to give Xavi some rest or alongside his international team-mate, with Iniesta promoted to a left-forward position. In that case, Villa would be the most likely to miss out."