COMMENT
By Ben Hayward
A Barcelona player scored the first goal last night and was hugged by Real Madrid players. Another Barca star dispatched the second and was embraced by Madrid colleagues. Then, a Madrid midfielder scored the third and was swamped by Barcelona representatives. It was a happy sight for Spain fans and the message was loud and clear: the Clasico clashes are a thing of the past.
Two games in two countries, with seven goals scored and none conceded represents a successful end-of-season tour for Vicente del Bosque's side. "We have shown that we are alright," the coach said after last night's 3-0 win over Venezuela. "We have a good group of players and it's better to talk about sporting topics."
Spain's stars - having thrashed the United States 4-0 in similar style on Saturday - were indeed sporting in the victory over Venezuela, and they did their talking on the pitch. Three goals up at the break, the world champions duly switched to cruise control for the second half. But it was still an impressive return from two friendlies at the end of a long, hard season.
It is difficult to know what conclusions can be drawn from a 3-0 triumph; Spain were expected to beat the South American side comfortably and they did. It hardly shows La Roja are back to the heights they reached in last summer's World Cup win, nor does it prove there will be no repeat of subsequent heavy defeats against Argentina and Portugal. But it highlighted, at least, that there is unity.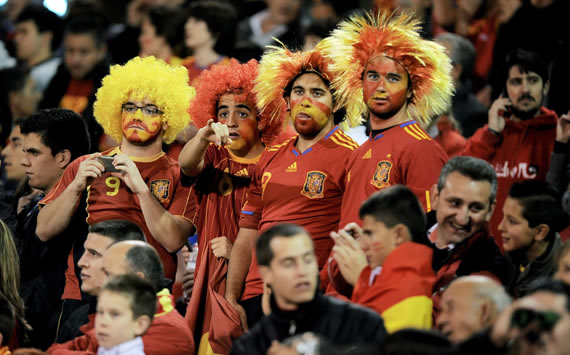 Showing their true colours | Spain united - on and off the pitch
That will be the most pleasing aspect of all for Del Bosque, who had admitted concern at how his players would behave in each other's company following the four ill-tempered Clasico clashes disputed over an 18-day period from mid-April to early-May.
Headlines had been dominated by play-acting, provocation, reported racist remarks, cynical fouls and, above all, ill-feeling. So how could the players wipe all of that from their memories and go back to being friends when they pulled on a Spain shirt?
After the 18-day war had ended, Del Bosque called a truce. And just over a month later, away from the pressure-cooker atmosphere of La Liga, peace and pacification were restored. Barcelona and Madrid players came together, put their differences to one side and delivered a professional performance, filled with passion and promise. And in doing so, they have ended the season in a positive fashion. Now, the players set off for their holidays and, as they lie on some of the world's most exclusive beaches, they can dream of European glory next summer – not Clasico revenge.
Follow Ben Hayward on