EXCLUSIVE
By Ben Hayward
Barcelona
midfielder Thiago Alcantara has no intention of leaving the Catalan club this summer, his father has told
Goal.com
.
Thiago has been linked with a move to Arsenal in a part-exchange deal for Gunners captain Cesc Fabregas, while a switch to Villarreal as a makeweight for Italy striker Giuseppe Rossi has also been mooted in the Spanish press.
But Mazinho, a World Cup winner with Brazil in 1994, says his son wants to continue his development at Barcelona.
"He is very happy here and he wants to stay," the player's father told
Goal.com
. "He is showing he has the ability to be able to play and compete for a place in this team."
Thiago, now 20, was restricted to 17 appearances this past season, scoring three goals.
But the young midfielder is a big hit with Barca fans and Mazinho insists his future lies in Catalunya.
"Thiago would like to play more, but he has a fantastic relationship with [coach] Pep Guardiola and his wish is to continue developing here in Barcelona."
A move to Arsenal - or anywhere else - has not even been discussed, his father claims.
"You never know because it also depends on the club," Mazinho said. "But the talk [of a move to Arsenal] is just rumours from the press - we have not discussed any transfer with anyone."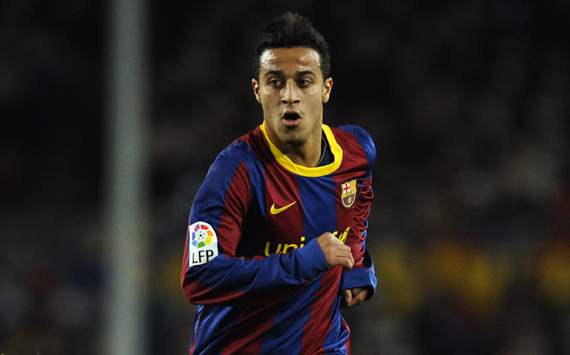 Thiago-ing nowhere |
The Spain Under-21 star has no intention of leaving Barcelona
Thiago's brother Rafinha is thought to be an even better prospect and has received rave reviews for his performances in the youth sides at Barcelona.
The 18-year-old attacking midfielder, who has also been linked with Arsenal, is expected to be a huge hit in the future and could make his first-team debut as early as next season.
But Mazinho says Thiago's future does not depend on Rafinha.
"We are all happy here in Barcelona," he said. "Thiago is happy and Rafael is happy, but they each have their own careers and they will look to do what is best for them individually.
"At the moment, that's Barcelona."
Follow Ben Hayward on