COMMENT
By Ben Hayward
Your team has just scored 102 goals in 38 games, including eight in the last match of the season. Your best forward has just smashed the Pichichi record by bagging 40 goals in the league and more than 50 in all competitions. And your side has just outscored the champions – believed by some to be the best team in the history of football – by seven. So what do you do next? You look for a new striker, of course…
Madrid, it seems, have set their sights on a player who has been exhibiting his brilliance right under their noses at city rivals Atletico: Sergio Aguero. The Argentine forward ended the season superbly, scoring in seven successive matches and then bagging a hat-trick in what he said will be his last game for the club – a 4-3 win over Mallorca.
Such succulent success on the lush green fields of Madrid will see Kun seek pastures new this summer. Whether the grass is greener on the other side, however, remains to be seen – for both Kun and Mourinho.
From the player's perspective, the move is a risk. A transfer to the Premier League would ensure Aguero's hero status at the Vicente Calderon; a move across the capital will destroy it. But that appears to be what he wants, at least according to team-mate Tomas Ujfalusi, and it is also what he has been advised to do by his famous father-in-law, Diego Maradona.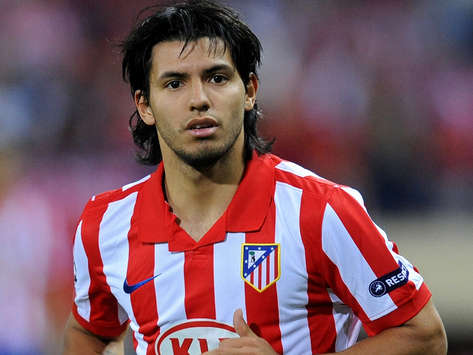 Crossing the divide | Aguero once said he would never join Real
Mourinho, meanwhile, has shown he is unperturbed by upsetting people since moving to Madrid. The Portuguese has upset Barcelona, he has upset Uefa, he has upset Jorge Valdano (who was relieved of his duties on Wednesday) and he has even upset some of Madrid's more traditionalist
tifosi
. But the one thing he will not want to upset is the balance of his side. And that's what makes this unusual.
For Mourinho, the prospective deal would appear to represent a departure from his usual system-styled strategy. Kun is not a Drogba, an Ibrahimovic or a Milito, nor he is a Benzema, an Higuain or an Adebayor – he is a very different prospect.
Another Argentine and Atletico icon from days gone by, Diego Simeone, once claimed that in his homeland, football is not
fútbol
– it's
jugar a la pelota
; playing with the ball. That's how Maradona played, he said. That's also how Messi plays. And it's how Aguero plays.
There's an element of fantasy about Aguero's game – and he's the sort of signing Madrid fans crave. The Argentine is capable of magic, can score wonderful goals and set up others; he is the type of player who will get the supporters out of their seats – for all the right reasons. But he's also the type of player who could get Mourinho out of his seat – for all the wrong reasons.
Accused at times of tactical indiscipline, Aguero plays almost like a Brazilian forward and has been compared to the enigmatic former Barca striker Romario. He is hard to predict – both for rivals and team-mates; he is not a 9, nor is he a 10, he likes to drop deep, he roams free and he goes in search of the ball. Much like Wayne Rooney, he can be difficult to play with and his movement is often unpredictable. So Madrid's forwards will need to adapt quickly to his game – and he will need to adjust rapidly to theirs – because a few points dropped in the opening rounds could mean a premature end to the club's title hopes. And they can ill afford that.
On the other hand, Mourinho has proved consistently that he knows what he is doing – and his teams are usually considerably more competitive in his second season. The signing of Nuri Sahin and the pursuit of Aguero show not only ambition from Madrid, but a desire to play an exciting brand of attacking football as well. Indeed, this is a bold move to break Barca's dominance; uprooting to upgrade.
And Madrid need it. Higuain is a fantastic striker, but he misses too many chances and never looked like the classic No.9 Mourinho wanted anyway. Benzema is a great forward too, but he drops very deep, can disappear and he often leaves you cold, while Adebayor offers a decent threat, but is a notch below world-class – and it looks like he could be on the way out in any case. Aguero is better than all of them.
And Kun may also be the man to bring down Barcelona, given his positive record against the Catalans. The Argentine scored twice as Atletico beat Barca 4-3 in 2009, netted the fourth in a 4-2 win a year earlier and was on target in a 1-1 draw at Camp Nou in late 2006. The meeting two years ago remains the only time a team has scored four against Guardiola's Barca and that fact will not be lost on Mourinho. Aguero was sensational that day and a link-up with Cristiano Ronaldo and Angel Di Maria has enormous potential. Fantasy football and beating Barca – it sounds good for Madrid fans.
So if it happens, it's all about fitting in – and Mourinho is the master when it comes to tactics. Aguero may not seem like the player suited to Madrid's formation and style of play, but the Portuguese will be confident he can make it work. If it does, the results are likely to be spectacular – and the shock to the system could actually be for Barcelona.
Follow Ben Hayward on