COMMENT
By Ben Hayward
It may seem like a case of deja vu for
Barcelona
fans. As a third season under
Pep Guardiola
draws to a close, Catalan supporters will be looking back as well as forward, because for Barca, 2011 has many similarities with 2009 – and that is unlikely to be music to the ears for followers of
Manchester United
.
Barca and United face off at Wembley – the scene of both sides' first European Cup success – later this month. But it's only two years since they last met, in the 2009 final, in a game most United fans will want to forget. Unfortunately for them, however, there are many parallels between now and then for Barca. The fact that these two sides meet again is a curious climax to what has been a successful season for both sides.
The similarities for Barca don't end there; back in 2009, Barca secured the Primera Division title with three games to spare in a season of supreme dominance which included a historic
goleada
over their fiercest rivals, Real Madrid. For the 6-2 at the Santiago Bernabeu, read 5-0 at Camp Nou this time around. Both games will forever be etched on the memories of Barca fans old and young, and with three games to spare this term, the Catalans need just a point to win yet another league title.
In the Champions League, Barca advanced to the final in 2009 after knocking out Chelsea in controversial circumstances. This time, Guardiola's side have also seen off English opposition – Arsenal – en route to Wembley, and just like the game at Stamford Bridge two years ago, there was plenty of polemic in this season's semi-final.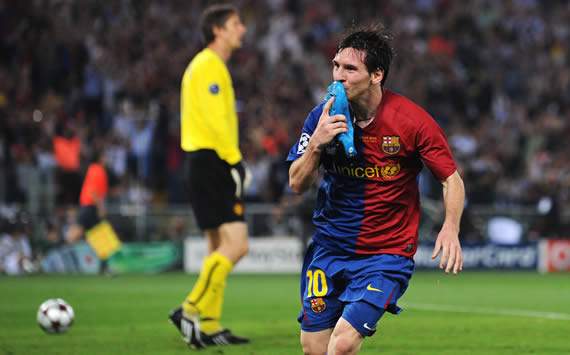 Two years on | Barca face Man Utd in the Champions League final - again
Then, Barca were lucky not to concede at least one penalty before Andres Iniesta's heroic intervention sealed an away-goals victory deep into added time. Against Madrid in this season's semi-final, there was controversy in both legs, surrounding the dismissal of Pepe at the Bernabeu in the first match and a disallowed goal for Gonzalo Higuain in the return game at Camp Nou.
The most worrying constant of all for United fans, though, is Lionel Messi. The brilliant Argentine has reached another level under Guardiola and scored 38 goals in the 2008-2009 campaign – his best tally in a season by more than 20. Nine of them came in the Champions League, including a majestic header in the final, to make Messi the youngest top scorer in the competition's history. And two years later, he is there again – this time with 11.
Messi may have decided the 2009 final with the goal that made it 2-0 and essentially killed off United's hopes, but Barca had problems at full-back ahead of the final. Both Dani Alves and Eric Abidal were suspended and Guardiola was forced into a rethink. He brought in veteran Sylvinho on the left and switched captain Carles Puyol to right-back. Two years on, Barca again have problems at full-back, with left-backs Adriano and Maxwell currently sidelined and Abidal having just returned from an operation to remove a tumour from his liver.
Should those players be deemed unfit to start in London, Guardiola may be forced to field a midfielder at the back. In the absence of Puyol, Milito and Abidal, both Sergio Busquets and Javier Mascherano have filled in recently and may have to do so against United, just as Yaya Toure did in 2009, when Rafa Marquez and Milito were missing.
Toure, now at Manchester City, charged out of defence to score a brilliant goal for Barca in the final of the 2009 Copa del Rey, in which the Catalans thrashed Athletic Bilbao 4-1 at the Mestalla. Guardiola's side returned to the final this season, also at Valencia's ground, but this time they were on the losing side as they went down 1-0 to Madrid after extra time.
That defeat means Barca will be unable to complete the treble they sealed two years ago and is probably the only omen United fans can look to right now, unless they choose to remember the last time they beat the Catalans in a final, exactly 20 years ago in the 1991 Cup Winners' Cup showpiece. Ferguson was in charge of a 2-1 win over Johan Cruyff's legendary Dream Team back then and led the Red Devils to a treble of their own eight years later – in Barcelona. But for Barca, the memories are fresher and the omens stronger - and 2011 is starting to look very much like 2009 for the Catalan club.
Follow Ben Hayward on