EXCLUSIVE
Last week we invited
Goal.com
readers to ask the world's best player –
Lionel Messi
– your very own true or false questions. You replied in your thousands and a lucky five were selected and got to have their question answered by the Barcelona superstar.
Goal.com's
Spanish chief editor, Sergio Aguilera, travelled to Barcelona to meet up with Messi and was granted an exclusive interview with the double Fifa Ballon d'Or winner, which we will be publishing tomorrow.
Messi spoke to
Goal.com
during an
adidas
promotion for their new range of boots – the
adidas adizero F50
– in Catalonia, where he also met five lucky youngsters who had won a competition run on
Goal.com Spain
in association with adidas.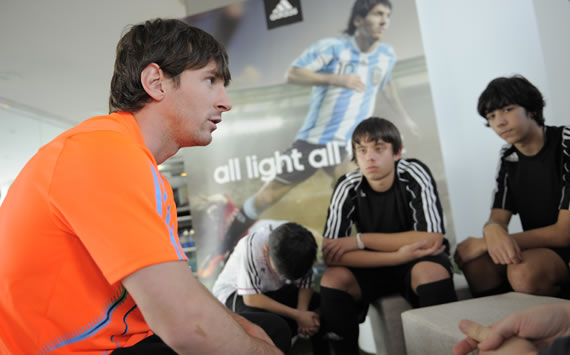 Goal.com: True or false – Is it true that you wish to come to the English Premier League sometime in your career? (Mike in Dorset, England)
Messi:
(hesitates) Erm, well it's possible that I said so at some point... erm, no, false.
Goal.com: True or false – Was your family strongly considering moving to Australia when you were younger? (Alex from Sydney)Messi:
False.
Goal.com: True or false – Would you rather quit football than join Real Madrid? (Ivane Makharadze) Messi:
That's never going to happen but yes, I would retire from football.
Goal.com: True or false – Did you consider playing for the Spanish national team instead of the Argentine national team? (Mikhail in Trinidad) Messi:
False.
Goal.com: True or false – Do you really dedicate all your goals to your grandmother by raising your hands to the sky after goals? (Selin Akdegirmen from Turkey)

Messi:
Yes, that's the truth.
* The five above winners will each receive a Champions League football signed by Messi plus a pair of the latest adidas boots in their size.
After speaking to
Goal.com
the superstar took time to chat with the adidas competition winners. Five Messi fans won the dream chance to meet their idol after piecing together the clues to find the player's boots which had been stolen from the adidas headquarters in Germany.
The five youngsters discovered the clues and solved the mystery which had been published on the adidas facebook page and on
Goal.com Spain
. Messi presented his young admirers with autographed footballs and the big kid even took time to play video games with his fans.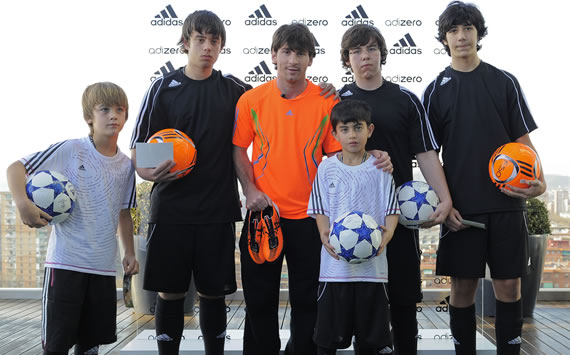 Click back tomorrow for Goal.com's world exclusive interview with Lionel Messi where the best player on the planet reveals his thoughts on his latest Ballon d'Or prize, dealing with his critics, Barcelona's chances in the Champions League, his favourite goal plus much, much more.