In a new weekly series, Goal.com will be compiling the statistical data, expert analysis, and progressive season records on the two best players in the world, Lionel Messi and Cristiano Ronaldo.

For this week's head-to-head battle, we look at Leo and CR7's appearances in Goal.com's La Liga Team of the Week selection after 11 rounds of the season.
How They Played This Week
Who came out on top in the recent round of La Liga action?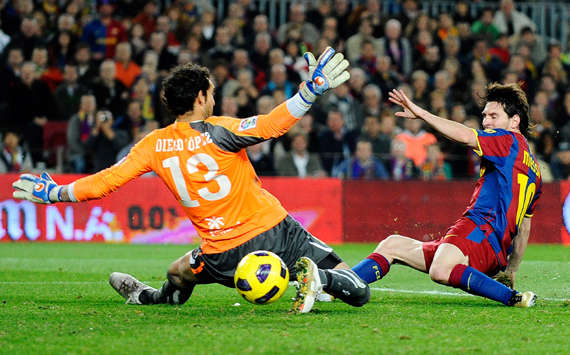 Lionel Messi (Barcelona 3-1 Villarreal)
Messi extended his insatiable goalscoring streak to seven goals in his last four La Liga games by netting twice against Villarreal on Saturday. The Argentine scored his side's second goal against the Yellow Submarines, pouncing on a quickly-taken free-kick before trading slick one-twos with Pedro and then finishing with aplomb with a delicate chip over Diego Lopez from a tight angle.
His second goal demonstrated his increasingly heightened striker's instincts when he ghosted in behind Villarreal's unsuspecting defence to stab home a deflected cross/shot from Pedro.
While last week he had a goal disallowed, this week he had an assist chalked off after an unselfish lay-off for Pedro was over-ruled for offside.
Goal.com Player Ratings Comment:
Top of the match hands down. Took both of his goals superbly and did not disappoint his many fans tonight. Simply unplayable at times.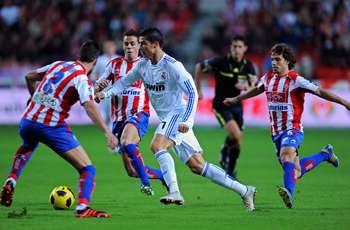 Cristiano Ronaldo (Sporting Gijon 0-1 Real Madrid)
For the second La Liga game in a row, Ronaldo failed to find the back of the net after being shut out by Atletico Madrid last week. CR7 was particularly quiet in front of goal against Sporting Gijon. Not only did he fail to score, but he did not muster even a single shot on target. He did, however, provide two incisive through balls which Gonzalo Higuain and Karim Benzema failed to finish.
But despite the high-octane and tempestuous nature of the clash at El Molinon against Sporting, the Portuguese still found a number of opportunites to show-off his quicksilver feet and dribble past opponents, including a late burst down the wing which forced Alberto Botia into a rash tackle and consequently a sending-off.
Goal.com Player Ratings Comment: Showed some nice touches and good vision to set up team-mates who were in better positions. Very much in the periphery tonight.
Lionel Messi
(vs Villarreal)

Cristiano Ronaldo
(vs Sporting Gijon)
Goals
2
0
Shots (On Target
6 (4)
1 (0)
Assists
0
0
Balls Lost
11
9
Balls Recovered
2
2
Fouls Suffered
1
7
Goal.com Rating
8.0
6.0
La Liga Team of the Week Selection
Who has graced Goal.com's Team of the Week more often?


Lionel Messi - selected five times in 11 rounds
Messi's consistency has seen him selected in
Goal.com's
La Liga team of the week on five separate occasions so far this season, and his brace against Villarreal meant that the Argentine has now been included for four weeks in succession.
He first entered the XI in jornada three, when his performance tore Atletico Madrid to shreds in a 2-1 win at the Vicente Calderon.
From week eight onwards, Messi has retained his spot in the side, such has been the high standard of his displays. A double at Zaragoza was followed by a stunning display in the demolition of Sevilla.
He then delivered two goals and an assist to overcome Getafe, and as described above, another double ousted the Yellow Submarines.
Cristiano Ronaldo - selected four times in 11 rounds
CR7 has matched Messi week-on-week as the two guide their respective teams to victory, and his performances have been of a suitable quality to be included in four separate teams of the week.
After a slow start to the season, he earned his first selection in round four, when his goal and assist helped see off Espanyol at the Santiago Bernabeu. In week seven, his brace and wonderful cross to set up strike partner Gonzalo Higuain put Malaga to the sword, and Ronaldo enjoyed inclusion in weeks eight and nine.
Racing were destroyed to the tune of four clinical goals, while Hercules also fell foul of the Portuguese, as a late double strike in Alicante helped los Blancos through a difficult clash.
Story of a season


Who's had the best campaign so far in La Liga?
Season Stats






Minutes Played
849
1041
Goals


Penalties
Freekicks
First goals

10

11

Total Shots (On target)

44 (24)

82 (31)

Assists

3

5

Passes

553
520

Passes Completed

462

382