Club president James Pallotta declares that the proposed new ground will become the latest "icon" in Italy's capital city and could be ready for the 2016-17 season
Roma
have unveiled plans for a brand new state-of-the-art stadium to be built over the next few years.
The provisionally titled Stadio della Roma, with a standard capacity of 52,000 - which could be enlarged to 60,000 for specific events - will be constructed within the Italian capital and allow the
Giallorossi
to move away from the Stadio Olimpico, which is shared with rivals Lazio.
"The Roma fans deserve their own stadium," Francesco Totti told the new ground's official website.
"Something personal, something that belongs to them. A stadium that, in reality, makes you tremble."
The ground, designed in part as a homage to the Colosseum, will include a complex consisting of bars, restaurants and a top-class training facility, as well as shops and the new Roma Hall of Fame.
The project is being partly funded by outside investment from firms including Nike, Disney and Goldman Sachs and is committed to using sustainable architecture in its construction.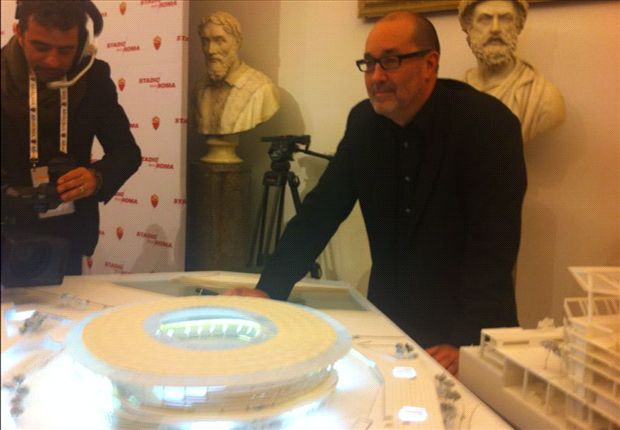 Roma on the rise | Architect Dan Meis with a scale model of the stadium, whose slogan is "Rise to glory"
Roma president James Pallotta is confident that the arena will become a source of intimidation for visiting teams as well as an important source of economic growth within the city.
"The stadium will be able to scare our opponents but, meanwhile, it has to become a new icon for the city of Rome," he told reporters. "Building this new stadium will create a lot of new jobs and stimulate the economic growth in the city.
"The Stadio Olimpico is a wonderful stadium but we feel the need for a change and a new challenge. We come from experience in Boston and we feel that we can do the same here in Rome."
Mayor of Rome Ignazio Marino was especially pleased to see the construction work take place in an area of the city where building complications would be kept to a minimum.
"The stadium will be built in an already urbanised area and that's a big point for us," he enthused. "My wish is to watch Totti and his team-mates playing in the new stadium from the 2016-17 season."
Architect Dan Meis added of the stadium's design: "To be able to try and capture Roma and some of the world's most passionate fans and wrap that incredible history into a modern building was the opportunity of a lifetime for any architect."