COMMENT
By Kris Voakes | International Football Correspondent
Once upon a time, Adriano Galliani had the best job in football. As vice-president and CEO of AC Milan, he got to play with somebody else's money as he helped to build one of the most successful teams in the sport's history.
A close friend of media entrepreneur president-come-politician Silvio Berlusconi, Galliani was arguably the key man behind the remarkable rise of the Rossoneri, which saw them collect five European Cups, eight Serie A championships and many other honours both at home and abroad.
With every new engagement Berlusconi took on in the pursuit of political advancement, Galliani increasingly became recognised as the man with much of the control at San Siro, as the likes of Ruud Gullit, Marco van Basten, George Weah, Ricardo Kaka and Andriy Shevchenko were brought in to take the club to a new level. With that success came plenty of prais, too. As transfer chiefs went, he was considered the best of the best.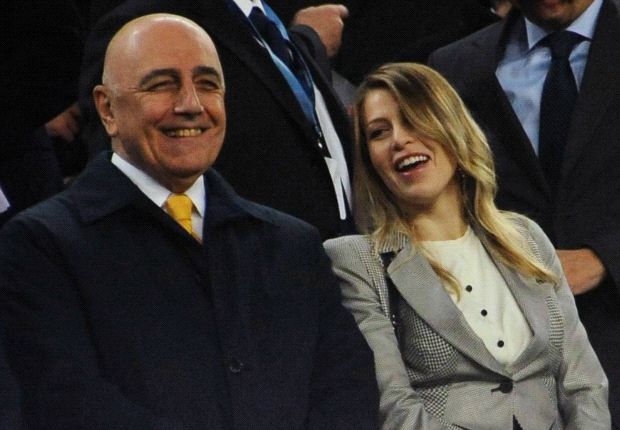 Adriano & Barbara | The boardroom power battle is looking increasingly one-sided
However, this particular fairy story appears set for a rather rocky end. These days, Galliani is coming across more as the big bad wolf than the man with the midas touch, as Milan's fortunes continue to slump in the face of several underwhelming transfer campaigns and mounting financial constraints. In a world where so many coaches feel the backlash when their team is not performing, it is the CEO copping all of the flak at Milanello.
The very fact that Rossoneri boss Massimiliano Allegri has been able to deflect attention away from his coaching inadequacies and remain in a job says much about the hand he has been dealt by Galliani. If anything, the fact that Allegri is still in Milan's employ has been used another stick with which to beat the 69-year-old.
He hasn't been helped by Berlusconi either. Whenever there has been a major signing in recent years, it seems to have been the club owner who has taken the entirety of the praise. When Zlatan Ibrahimovic and Robinho were signed in 2010, we were told – even by Galliani – that these were nothing less than generous gifts from the former Italian prime minister. Yet when Ibrahimovic was sold to balance the books and a buyer could not be found for the struggling Brazilian, it was Galliani who was made to shoulder most of the blame.
Frivolous, useless signings haven't exactly boosted Galliani's share price though. Following the sales of Ibrahimovic and Thiago Silva – for a fee €2 million shy of the one they had turned down only two weeks previously – to Paris Saint-Germain in 2012, €12.5m of that much needed cash was spent on Inter reserve Giampaolo Pazzini, with €4m going to Genoa for the signing of Francesco Acerbi. Further cash was splashed on first-team contracts for the likes of Bakaye Traore and Bojan Krkic, Bartosz Salamon and Cristiano Zaccardo over the coming months, but when Mario Balotelli was brought in from Manchester City, it was again Berlusconi who was attributed much of the credit.
SIGNS OF DECLINE | Milan's difficult recent transfer activity

INS

OUTS

PLAYER
FROM
COST
PLAYER
TO
CREDIT
Giampaolo Pazzini
Inter
€12.5m
Thiago Silva
PSG
€42m
Kevin Constant
Genoa
€8m
Zlatan Ibrahimovic
PSG
€21m
Francesco Acerbi
Genoa
€4m
Alexandre Pato
Corinthians
€15m
Bartosz Salamon
Brescia
€3.5m
Kevin-Prince Boateng
Schalke
€10m
Mattias Silvestre
Inter (loan)
€1m
Mathieu Flamini
Arsenal
free
Bakaye Traore
Nancy
free
Last summer, Milan again dealt badly. For a club supposedly hoping to keep a tight rein on finances, the signing of Alessandro Matri was phenomenally baffling. Taking into account transfer fee, salary, taxes and additional fees, the striker's move from Juventus will end up costing the
Rossoneri
in excess of €30m.
Add in the decision to turn down a €35m bid from PSG, only to sell him for just €15m one year later, and it is clear that Milan have fallen behind in the transfer market in recent years.
Galliani has been working with one hand behind his back thanks to Berlusconi's delayed realisation that times are harder than they once were – particularly during the age of Financial Fair Play – but even considering that, the club's dealings of late have been underwhelming at best. With no clear direction, an inability to identify and deal with the glaring issues at the back and in goal, and the continued insistence that Allegri is the right man for the job, there are plenty of reasons for fans to want Galliani out. Sticking by a coach is one thing, but standing by a man who has been unable to add anything tactically or technically to any of his players over a two-and-a-half year period as his team quickly declines is quite another.
The good news for Milanisti is that at least one person sees the need for a change of direction at San Siro. But since that person is Barbara Berlusconi and not Galliani, then the wily old CEO may well soon be cut adrift. The young director has patiently developed her knowledge of the business in recent years, but now looks set to make a move that could alter the course of the club's future.
One must never forget the huge influence that Galliani has been in the past, but the present does not paint him in such a great light. And when Milan make their big moves on the market in years to come, it may well be at somebody else's hand. The Adriano Galliani story is fast approaching its final chapter.