COMMENT
By Kris Voakes
At the start of the season, nobody gave them a chance. After three years of rampant underachievement, Roma were expected to take a little more time in their quest to return to the top three spots of Serie A as Rudi Garcia's reign got under way.
The summer sales of Pablo Daniel Osvaldo, Marquinhos and Erik Lamela had even suggested that an assault on the podium was years away, since three of the key members of the former Lille boss' first-team squad had immediately been sold from under him. Garcia was a card shark relieved of most of his aces.
ALLEGRI ON THE VERGE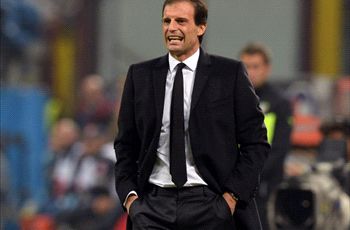 At their lowest point in 2012-13, Milan fell 12 points behind the top three before a Stephan El Shaarawy-inspired run saw them narrowly clinch qualification for the Champions League.

Saturday night's 2-0 home loss to Fiorentina left them an unforgivable 16 points off the pace this time around, and Massimiliano Allegri is fast running out of allies in his bid to hold on to the top job at Milanello.

Goals in either half from Juan Vargas and Borja Valero sent the Rossoneri to a much-deserved defeat on an evening during which they showed a serious lack of direction, decision-making, verve, creativity and heart.

Right now, Allegri has little going for him. Even Adriano Galliani, the club CEO who has stuck by his coach steadfastly over time, stormed out of the stands 16 minutes from time having clearly seen enough.

Having had some of his better players sold under him, Allegri retains sympathy with some. Yet the disinterest being shown by his troops - most of whom are playing well below their capacity - suggests the 2011 Scudetto winner's time is almost up.

Yet just 10 games into the new campaign, they have signalled a massive middle finger to their doubters with a winning run unparalleled in the history of Italian football. Now, with a two-point lead over pre-season favourites Juventus and Napoli (with a game in hand), the Giallorossi's immediate goal needs not to be focused on prize-giving in May but rather on continuing to exert their authority on the league one game at a time.
While some have suggested that Roma have had something of an easy run so far, they have already negotiated a trip to Inter and home fixtures against the likes of Napoli and local rivals Lazio. There may still be clashes with Fiorentina and AC Milan to come before Christmas, but other than those back-to-back fixtures in December, there is not a lot for Garcia's men to fear in the remaining weeks of 2013.
Also in their favour is the fact they have demonstrated a strength in depth belying the talk of weakness that followed the three big-name exits of the summer. Despite being without the likes of Douglas Maicon, Federico Balzaretti, Michael Bradley, Gervinho and, most notably, Francesco Totti at various points so far, the capital club have still been able to collect three points per game.
With players such as Alessandro Florenzi, Adem Ljajic, Dodo and Vasilis Torosidis having shown their ability to step in and play their part in the Roman revolution, there are signs that the Giallorossi may have enough mettle than first thought. Tie that in with the lack of European assignments this term, and the midweek rest that that brings, and Roma suddenly look like a decent bet. But even taking that into account, any more than three or four absences at one time could well begin to trip them up. Look beyond the first 16 and Roma remain a squad short of title credentials.
Garcia's ability to make a previously porous defence appear unbeatable is their current trump card, but with Leandro Castan suspended for the visit to Torino on Sunday night, the central core that has been so successful thus far will finally be broken for the first time. Toro may well not be the toughest side Roma will face this season, but they do have a good record in front of goal and will be sure to test the Lupi's weakened back line.
Still, there is plenty of reason to believe that Roma could remain unbeaten well into December at least, but only if they continue to take things one step at a time. Perhaps the best part of the fantastic story they have written so far is the lack of belief from outside of the squad itself. Only recently have bookmakers narrowed their odds on Totti lifting the Scudetto at the end of the season, while most fans beyond the citta eternal are still sceptical of Roma's championship challenge.
A 10 out of 10 start cannot be knocked, but if they suffer a series of injuries and suspensions all at once, you still fear that the title dream could die. Right now, though, they are riding a wave, and the longer they can keep it going the better. If Juve and Napoli begin to close in, the pressure could well begin to show. In the meantime, every time they extend their advantage they will turn another doubter into a believer.
Rudi's Roma need to forget about that dream Scudetto for the time being and just keep racking up the wins.
Follow Kris Voakes on