No wedding is complete without photos of the happy bride and groom, but one couple have gone a step further to make it the perfect day.
Italian's Stefania and Alessandro Albini flew over 10,000 miles from their homeland to have a wedding snap taken with their idol, Juventus icon Alessandro Del Piero.
The 2006 World Cup winner now plays for A-League side Sydney FC, and devout fans Mr And Mrs Albini showed up at the club's training complex wearing their wedding attire.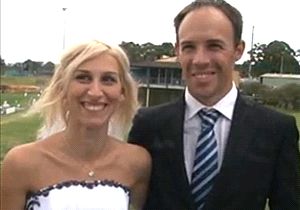 "We are big fans of Alessandro Del Piero, we follow him everywhere," explained bride Stefania.
"Our wedding was very special but it was only black and white. We had flowers in the colours of Juventus and our table had pictures of Del Piero."
The recently appointed Sky Blues captain did not disappoint and duly arrived to pose for pictures and pass on his best wishes.
"He was surprised and shocked to see us, but I don't think it's strange," Stefania added
"We are supporters of Sydney FC and my husband has a sky blue tie.
"We came in February last year, and we will return in February next year to see the team again."